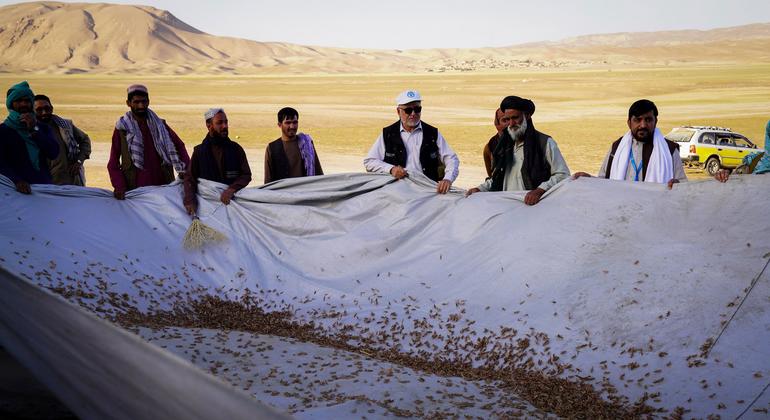 Food and Agriculture Organization of the United Nations (FAO) Alarm was raised on Wednesday after locusts were spotted in the north and northeast of the country. FAO Said there could be a "full outbreak" this year destroy up to 1.2 million metric tons of wheator a quarter of the total annual harvest.
Richard Trenchard, FAO's representative in Afghanistan, said the agency, together with partners, was rushing to help mitigate the impact of the outbreak.
With insecticides in short supply, thousands of people in the communities of the affected provinces were working "day and night" to eliminate the pests using "conventional mechanical control methods" before they become adults and begin to swarm. Go, he said.
Left untreated, Moroccan locust populations Can grow 100 times in next one yearAccording to FAO.
Earlier this year, the UN's World Food Program warned that six million Afghans were one step away from famine.
'high anxiety'
Locust sightings in various stages of development have been reported in Badakhshan, Badghis, Baghlan, Balkh, Kunduz, Samangan, Sar-e-Pul and Takhar, with fresh reports coming in from Dil and Ghor provinces.
Reports of Moroccan locust outbreak in Afghanistan's wheat basket Is a big concern", said Mr. Trenchard.
"Moroccan locusts feed on more than 150 species of plants, including tree crops, pastures and 50 food crops, all of which grow in Afghanistan. This represents a major threat to farmers, communities and the country as a whole," He added.
The last two major infections that occurred 20 and 40 years ago cost the country an estimated 8 percent and 25 percent of production, he said.
The FAO representative continued, "This year's crop forecast is the best we have seen in the last three years – but this outbreak threatens to destroy all these recent gains and dramatically worsen the food insecurity situation. "
The Moroccan locust is ranked among the most economically damaging plant pests anywhere in the world, and its value Potential damages range between $280 million and a staggering $480 millionGiven today's prices, FAO has warned.
The agency said the north and northeast have seen "perfect" conditions for locust outbreaks so far this year, with overgrazing, drought and very limited control measures, providing an "ideal environment for locusts to hatch and swarm". has been made.
springing into action
"The alarm bell rang late, but FAO, its incredible NGO partners, local communities and local authorities swung into immediate actionMr. Trenchard said.
"The chemical was in short supply across the country so we were forced to focus on traditional 'mechanical control' methods to minimize the impact of the outbreak."
They said cash for work is a way Put money in the pockets of the most at-risk farmers Intensifying mechanical control in communities in the North and Northeast regions", and "There has been a strong, rapid and encouraging response from the Ministries of Agriculture, Irrigation and Livestock, although their ability to respond is heavily constrained by resource constraints". .
ominous danger
Typically, after grassland is destroyed, large locust hopper bands and adult locusts move into cropped areas and feed on rain-fed and irrigated wheat and other crops.
FAO warned that not a single crop could survive the damage of Moroccan locusts.
If the number increases to 100 times, it will create an even bigger problem for agriculture and food security in Afghanistan and neighboring countries.
If the Moroccan locust population is left untreated, it could increase its numbers 100-fold over the next year, causing even greater problems for agriculture and food security for Afghanistan and its neighbors.
"Chemical control methods are much more effective than mechanical control", said Mr. Trenchard.
"Afghanistan used to have a very strong locust control system at Place. But it has been heavily destroyed in the last two years. At this point, all we can hope is that the mechanical control approach will reduce the overall impact of the swarms. But We must start now to prevent 2024 from seeing even bigger outbreaks", he concluded.