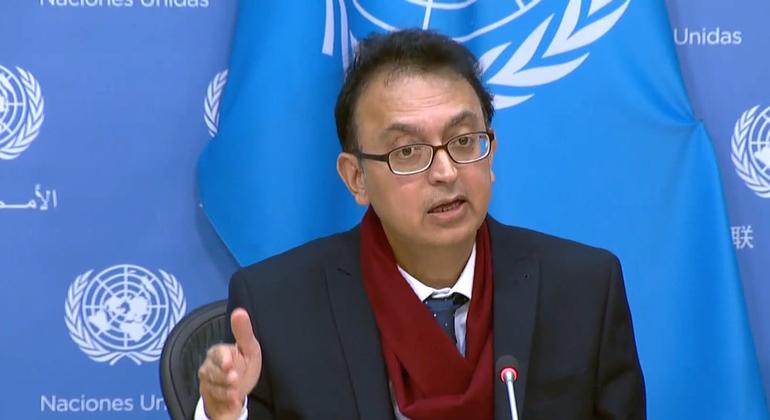 independent international fact-finding mission on Iran, said in a statement that the execution on Friday Majid Kazemi, Saleh Mirahshemi and Saeed YaghoubiWere "deeply related NOTING their alleged involvement in the protests that began in Iran on 16 September 2022 and their convictions and sentences confession obtained under torture,
The three-person body mandated to investigate all alleged violations related to the protests had previously sought information from Iranian authorities regarding the imposition of the death penalty on some of those who exercised their right to protest.
"The fact-finding mission reminds all state officials and persons involved in the process that Any execution following a violation of a fair trial would arbitrarily deprive of life and violation of international law", the statement concluded.
End 'terrible wave' of executions: Reporter
one in separate statementThree UN independent rights experts, or Special Rapporteurs, condemned the executions of the three men, urging the government to "stop the appalling wave of executions in Iran".
"We are concerned about Improper Action Report case is further deeply troubling that these people have allegedly been under torture or other forms of abuse to extract a forced confession," the experts said.
Three people were reportedly arrested on 21 November 2022 during protests in the city of Esfahan after the uprising The spark from the death of Mahsa Amini In police custody on 16 September.
The men were accused of participating in the murder of three Iranian officers, and were sentenced to death after being executed and charged with Mohrebeh (which translates as "enmity against God").
'Little respect' for international law
"The execution of three people this morning underscores our concerns that the Iranian authorities have little respect for international law," the experts said. "The death penalty has been imposed following judicial proceedings that have failed to meet accepted international standards of a fair trial or due process."
three experts Javed Rehman, Special Envoy on the human rights situation in Iran, Margaret Satterthwaite, Expert on the independence of judges and lawyers, And Morris Tidball-Binz, one who inquires into extrajudicial, summary or arbitrary execution – stated that the extent of the defendants' alleged involvement in the officers' deaths was highly uncertain and questionable.
Officers were reportedly killed by gunfire during protests in Isfahan province, yet the charges against the defendants do not explicitly charge them with "murder".
The three men appealed the verdict on 6 May, but Iran's Supreme Court upheld their death sentences despite pending requests for judicial review. On 17 May, their families were called to meet and told by prison officials that this would be their last meeting.
violation of right to life
"The death penalty is a violation of the right to life and most cruel, inhuman and degrading punishmentsaid independent experts.
at least 259 executions That's reportedly been committed since Jan. 1, experts said — mostly with drug-related crimes and including a disproportionate number of minorities.
"We are shocked that the authorities went ahead with the hanging pending judicial review"said the experts. "We urge the Iranian government to stop this appalling wave of executions."
Special Rapporteurs and other rights experts are all appointed by the United Nations human rights councilmandated to monitor and report on specific thematic issues or country conditions, are not employees of the United Nations and do not receive a salary for their work.