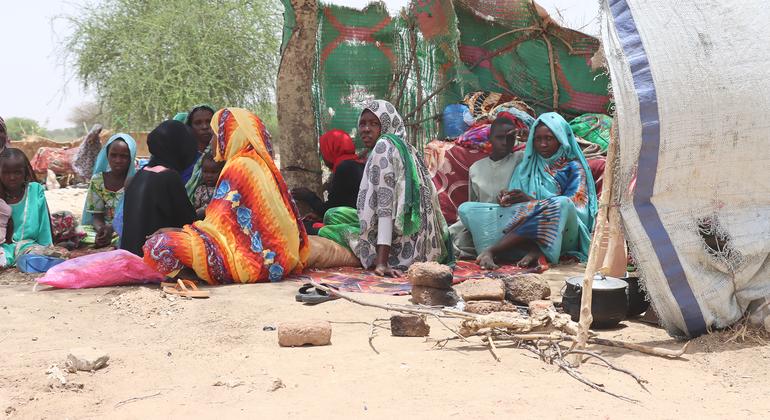 Volker Perthes – Special Representative of the Secretary-General for Sudan and Head of the United Nations Integrated Transitional Assistance Mission in the country (UNITAMS) – underlined that rival military leaderships had agreed to respect international humanitarian and human rights law and to withdraw fighters from hospitals and medical facilities.
Mr Perthes also said that the Sudanese Armed Forces (SAF) and Rapid Support Force (RSF) had committed to continue their talks in the Saudi city of Jeddah on a possible ceasefire.
one in statement issued by his spokespersonUN chief Antonio Guterres welcomed the announcement of the commitment to protect civilians and guarantee the safe passage of humanitarian aid:
"While humanitarian workers, especially local partners, continue to work under very difficult conditions, the Secretary-General hopes that this announcement will ensure relief operations Expand rapidly and securely to meet the needs of the millions of people in Sudan", it said.
"He reiterates his call for an immediate ceasefire and expands discussions to a permanent cessation of hostilities."
Ceasefire talks expected to continue
Speaking to reporters via Zoom from Port Sudan in Geneva, where the UN and partners have set up a coastal humanitarian centre, Mr Perthes said that building on this earlier mutually signed declaration, The aim was to reach a ceasefire that would also be "mutually agreed upon", unlike previous unilaterally declared ceasefires.,
It was his hope thatwithin the next few daysThe discussions in Jeddah, under the auspices of Saudi and United States mediators, would lead to such an agreement, give it "greater stability and greater respect", and clarify modalities related to troop movements and humanitarian stays. with provisions.
commitments must be honored
Mr Perthes also expressed hope that the parties would "do everything they can" to communicate the agreed humanitarian commitments in Jeddah up the chain of command. should be honored,
there was agreement welcomed by a "tripartite mechanism" composed of the United Nations, the African Union and the regional body known as the Intergovernmental Authority on Development in East Africa (IGAD).
over 200,000 have fled
Meanwhile, the number of people fleeing Sudan has decreased passed the 200,000 markUnited Nations Refugee Agency (UNHCR) said on Friday.
A The race is on against time to bring relief to those on the run Aid ahead of the coming rainy season makes logistics even more difficult. Lack of funds is increasing the humanitarian challenges, as UNHCRPrior to the conflict, operations in neighboring countries were only about 15 percent funded.
Malnourished children's lifeline destroyed
In another example of the devastating effects of conflict for Sudan's most vulnerable, the United Nations Children's Fundunicef) said on Friday that a factory producing ready-to-use medical food to treat children had been destroyed by a fire in Khartoum Suffering from severe acute malnutrition.
According to UNICEF, the The equivalent of about 14,500 children's meals destroyed In a fire, with machinery, future production compromised. Agency They say that Sudan has the highest rate of child malnutrition in the world Over three lakh children are severely malnourished,
UNICEF spokesman James Elder said that in the overall response to the crisis, about 34,000 cartons of medical food were on their way from France to Sudan.
He said that the cause of the factory fire is yet to be ascertained.
Fighters warned of consequences: Perthes
In an interview conducted in Arabic by the United Nations in Geneva on Friday with UNITAMS chief Volker Perthes, he said there were warning signs of a possible conflict between the rival armies before the outbreak of hostilities on April 15.
,We have warned of this possibility and both sides of this scenario", he said, and if they start fighting, "the country and society will be destroyed."
He added that both sides probably thought the battle would be brief, but there was now a realization that victory was "not going to be easy" and would ultimately result in loss for "a large part of the country".
distribution of life saving material
Asked how more humanitarian aid could be distributed to the millions in need across Sudan, Mr Perthes said the Jeddah Agreement was promising, but that access to the capital Khartoum was critical and impossible without secure humanitarian corridors.
"So we hope that yesterday's agreement will actually help to applied to the ground Through humanitarian agencies, the United Nations and their NGO partners.
On the speed of delivery, he noted that widespread looting throughout Sudan at the start of hostilities was a major impediment to the operation.
"Warehouses and cars were looted and Trucks carrying aid to Darfur from the east or center of the country were also looted…It is very difficult to help when your office and car are robbed.
"Today, there are also new arrangements in preparation for supplies to Darfur through Chad, which also require coordination with neighboring countries, with the state, with armed movements in Darfur and other actors."