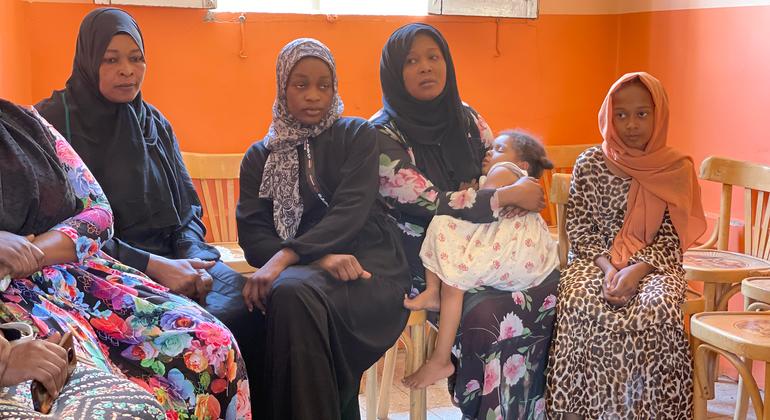 Antonio Guterres was speaking to reporters in the Kenyan capital, Nairobi, where he will chair a meeting of CEOs across the United Nations system.
Since the outbreak of violence in Sudan on 15 April, More than 334,000 are expected to be uprooted and more than 100,000 have fled neighboring countries, According to United Nations Aid Coordination Office, ocha,
Hostilities between the rival armies of the Sudan Armed Forces and the Rapid Support Forces (RSF) have continued for almost three weeks, despite repeated announcements and failed extensions of a ceasefire between the two sides.
The latest UN figures show that at least 528 people have been killed during the fighting, with around 4,600 wounded, although many more are believed to have died due to the disruption of vital services, including health services.
peace, and civil rule
"All parties should Put the interests of the Sudanese people first", said the UN chief," and It means the return of peace and civilian ruleAllows for the development of the country.
"We are keeping these goals front and center as we engage with the parties to the conflict, and work hand in hand with the African Union and the Intergovernmental Authority on Development (Regional Body, IGAD)."
Mr Guterres reiterated that the Sudanese people are "facing a humanitarian disaster", while millions of people now face food insecurity.
He said the UN was "ready to provide" the leadership of his Special Representative – and the head of the UN mission in Sudan, UNITAMS – Volker Perthes.
"Aid must be allowed into Sudan, and we need safe and immediate access to be able to distribute it to those who need it most", he said.
Relief chief calls for safe passage agreements
Martin Griffiths, the top UN humanitarian official, urged Sudan's warring parties on Wednesday to commit to safe passage of relief supplies, as fearful civilians flee the country.
He arrived just hours earlier at the UN aid station in Port Sudan on Sudan's Red Sea coast.
"We can and should get help from different parts of Darfur to Khartoum, …And The agency representatives I met with here this morning are unanimous that, But to do that, we need access, we need airlift, we need supplies that won't be looted," said emergency relief chief Griffiths.
fear of robbery
Speaking from Port Sudan, Mr Griffiths said the United Nations World Food Program (WFP)wfp) told Six trucks headed to Darfur robbed on Wednesday despite assurances of safety", amid the ongoing power struggle.
To help the most vulnerable communities in Sudan and stop the looting of relief supplies, Mr Griffiths stressed the need to "have". Make sure we have commitments publicly and clearly delivered by the two armies to protect humanitarian aid to meet obligations to allow people and supplies to move".
This commitment should be implemented even without a formal national ceasefire, he continued, through local arrangements "that can be relied upon".
desperate health needs
Highlighting the scale of need in areas hit by heavy shelling and airstrikes, the UN relief chief reiterated that restoring medical aid is top of the list of priorities in the capital, Khartoum, where More than six in 10 health facilities are closed, and only one in seven is functioning normally,
"Many patients with chronic diseases such as kidney disease, diabetes and cancer are unable to access health facilities or medications," the OCHA reported.
to make it available Safe water is also an important priority, encouraging communities to stay where they were so they can get help. Mr Griffiths said "we have a plan for how we're going to get supplies to these places" across the country, including Darfur. ,We know how we can do it and we're gonna start doing it,
rainy season deadline
Humanitarians fear that unless such assistance is guaranteed by the warring parties, the situation in Sudan could worsen.
"(United Nations Food and Agriculture Organization) FAO and talked to me today about the United Nations World Food Program Importance of getting food and seeds in hard to reach places Due to the rainy season coming in June, and with the planting season also coming from May to July," Mr Griffiths said.
"We will do so Agreements and arrangements are still needed to allow movement of staff and supplies…. It is a volatile environment", he said.
"I think you will If we have good funding we will be able to do exactly what the people of Sudan want us to do And deserves to see us do that."
'We must act now': IOM chief
in a statement released on wednesdayHead of the United Nations Migration Agency (iom) Antonio Vittorino said, the world "cannot turn a blind eye" to the crisis in Sudan.
it is It is imperative that we – as UN agencies, donors, individuals, as well as governments – act collectively And support the people of Sudan and neighboring countries."
He commended all nations that keep their borders open to people fleeing violence, calling for increased efforts to improve conditions at border points, so that more aid can flow.
Mr Vitorino said the IOM was working with partners on an inter-agency and coordinated response plan and appeal to increase life-saving assistance. So far, there are six warehouses with supplies in five states within Sudan, and more than 10,000 prepackaged CORE relief kits.