Sony has been betting big on OLED panel technology for years now, with many of its premium and high-end TVs using the technology. Over the years, these OLED panel TVs have helped Sony establish its dominance in the TV market, and now, to carry forward the good work, Sony has launched the XR OLED A80K in India, which flaunts forward-looking design and features. With the support of premium features like . 120 Hz refresh rate, low latency mode, ALLM, VRR, HDMI 2.1, and 3D surround sound. We've had the 65-inch model of the XR OLED A80K for a while now, which gives us enough information to get a sense of what this TV brings to the table.
Sony XR A80K review: Specifications
model name: Sony XR-65A80K
Panel Size: 65 inch
Panel Resolution: 3840 x 2160p (4K)
Panel Refresh Rate: 120 Hz
HDR 10 Support: Yes
HDR 10+ Support: No
Dolby Vision Support: Yes
HDMI 2.1 Port: 2
HDMI 2.0 Port: 2
USB port: 2
Bluetooth: yes, 5.0
WIFI: yes, dual-band
Ethernet: Yes
speaker: actuator x 3, subwoofer x 2
Built-in storage: 16 GB
Processor: Cognitive Processor XR
MRP: Rs 2,49,900 onwards, Review model Rs 3,49,900
best price: Around Rs 1,80,000 and Rs 2,50,000
Sony XR A80K: Picture quality and performance
With Sony's XR A80K, the company combines a WRGB panel with self-emitting pixels to help the TV achieve clear blacks and nearly infinite contrast ratios. This is the same combination that we saw in the A80K's predecessor – the A80J that was launched last year. However, since it's an upgrade, this new panel on the A80K also brings with it support for features like Contrast Pro, XR Triluminos Pro, and Cognitive Processor XR. All of these features work in tandem with OLED's self-emitting pixels to deliver deep blacks and rich details.
Additionally, due to the use of OLED technology, which ensures that there are no dimming zones on the panel, the Sony XR A80K also does not suffer from blooming issues. During our time with the TV, we didn't see any of the problems that plague other TVs, including the previously tested Sony X75K, which uses LEDs to generate the scene on the panel.
Sony's new OLED 4K TV also supports Dolby Vision, HDR10+ and HLG. When consuming content from streaming portals, the content automatically switches to the best available preset, which in the case of Netflix is ​​a special Adaptive Calibrated Mode that automatically adjusts picture brightness based on ambient room lighting. Is. For this type of content, the panel gets bright enough without losing out on details and highlights. This makes the TV not only great for consuming 4K HDR content but arguably one of the best TVs we've tested for HDR content.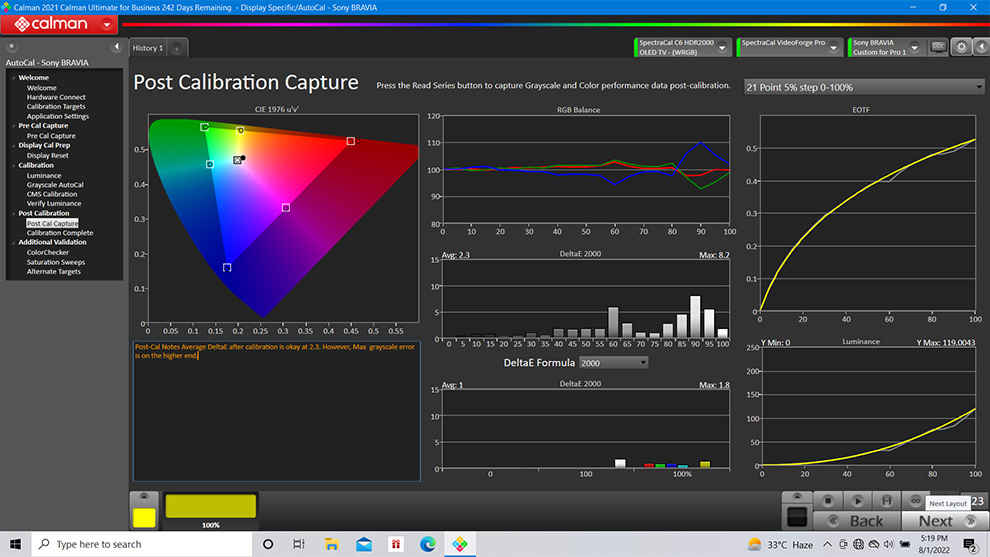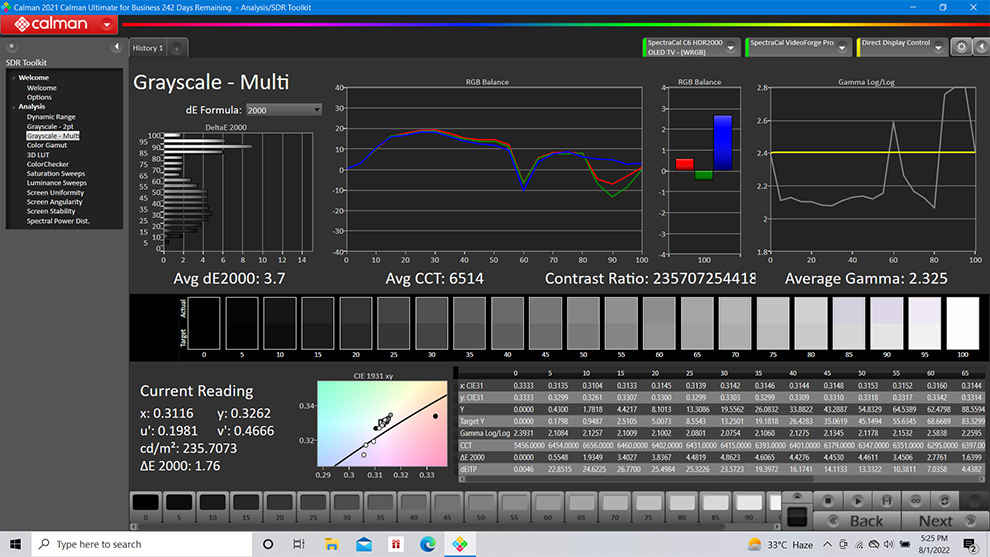 Of all the available presets, we got the best viewing results when the TV was set to the Cinema preset. But, during our tests, this preset gave us slightly higher delta errors in color accuracy, with the Custom For Pro preset giving the best results. Set to this color profile, the TV gave us an acceptable average delta of 4.21 with a maximum delta climbing to 8.8. These are good numbers. But sadly, it is not as good as what we saw in the Sony A80J last year.
Testing the panel using a Kalman Ultimate pair with a VideoForge Pro and Spectracal C6 colorimeter, we also found that the panel threw up decent brightness numbers for an OLED TV. For SDR content, it peaked at 273 nits, while for HDR content in Vivid mode, it reached around 780 nits. This makes the TV bright enough to consume content even in a well-lit room. However, dark scenes suffer a bit if the TV is placed in direct sunlight. But even this is an issue that can be resolved by tweaking things a bit in the Settings menu.
When we checked the gamut coverage of the TV, we got good results. For both sRGB and DCI-P3, the entirety of the color space was covered by the panel in our testing. As expected, the BT 2020 color space proved more challenging, but here again, the results were pretty decent.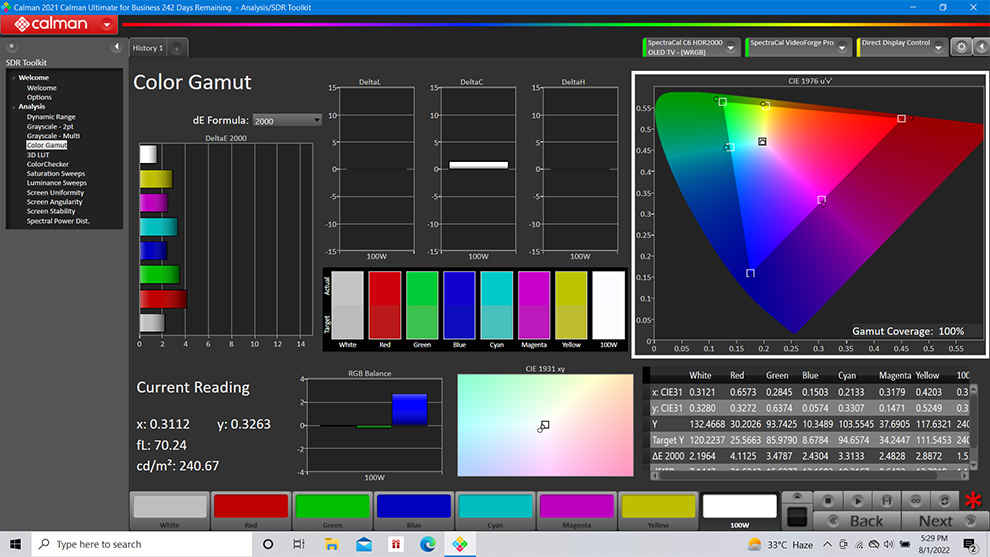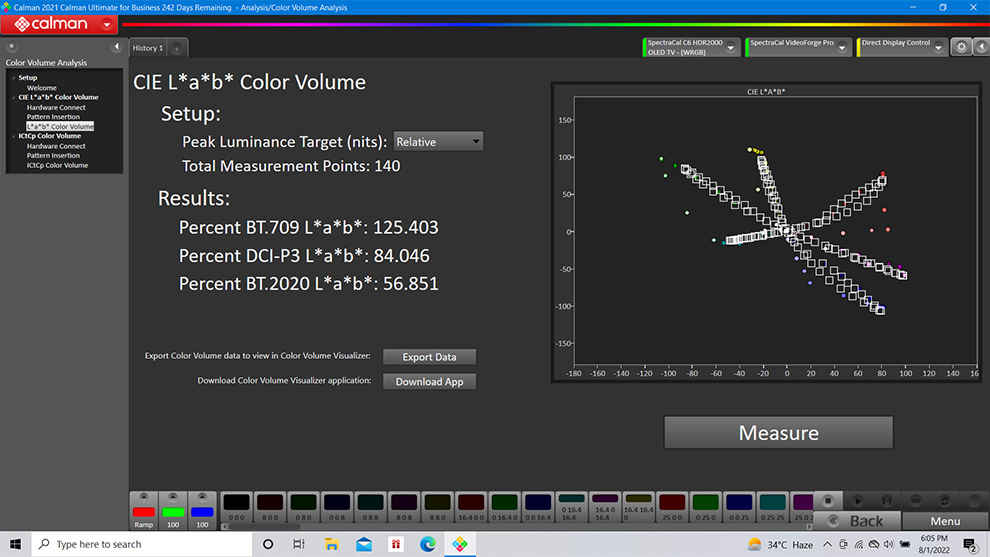 The A80K hides inside the frame Sony's Cognitive Processor XR, which is the company's top-tier chip for the year. While this chip helps TVs improve visual experiences because of its ability to analyze content and produce it similar to what humans see and hear in the real world, its greatest use is felt when you watch TV. but play non-4K content.
That's where the XR 4K upscaling engine powered by the Cognitive Processor XR comes into play and vastly improves the viewing experience consuming low-resolution or even SDR content on the TV. In terms of magnification, the Sony XR A80K gave us very good results. In fact, the upscale results were so good that I'm tempted to say it's possibly the best I've seen on TV to date. However, that doesn't mean that you won't notice any pixelation in the frames if you happen to stream 480p content on this 4K TV.
Sony XR A80K: Gaming
However, chances are if you're buying an expensive 4K OLED TV, it won't be just for content consumption. You might even want to play around with it a bit. And we are happy to say that for this the Sony XR A80K has got you covered.
So the TV does not disappoint in terms of picture quality. The moment you connect a console or gaming laptop, and fire up something like Dirt 5 or Assassin's Creed Valhalla, the Sony XR A80K takes your breath away with its visuals. HDR-ready games look gorgeous, with rich colors, deep blacks, and impressive contrast. Unlike last year's A80J, Sony's latest OLED also has two ports that come with VRR support and 4K at 120Hz. There are also ARC, eARC and ALM on these ports which make them good for gaming. In terms of features, the TV also gets Auto HDR tone mapping for the PS5.
With the latter, when your PS5 console is set up with a TV, the HDR settings on the TV are immediately optimized. During action, the PS5 automatically recognizes the XR A80k and optimizes HDR settings to suit the TV. This helps visual output in high-contrast scenes, where details and colors in the brightest and darkest parts of the screen are handled accurately by the TV.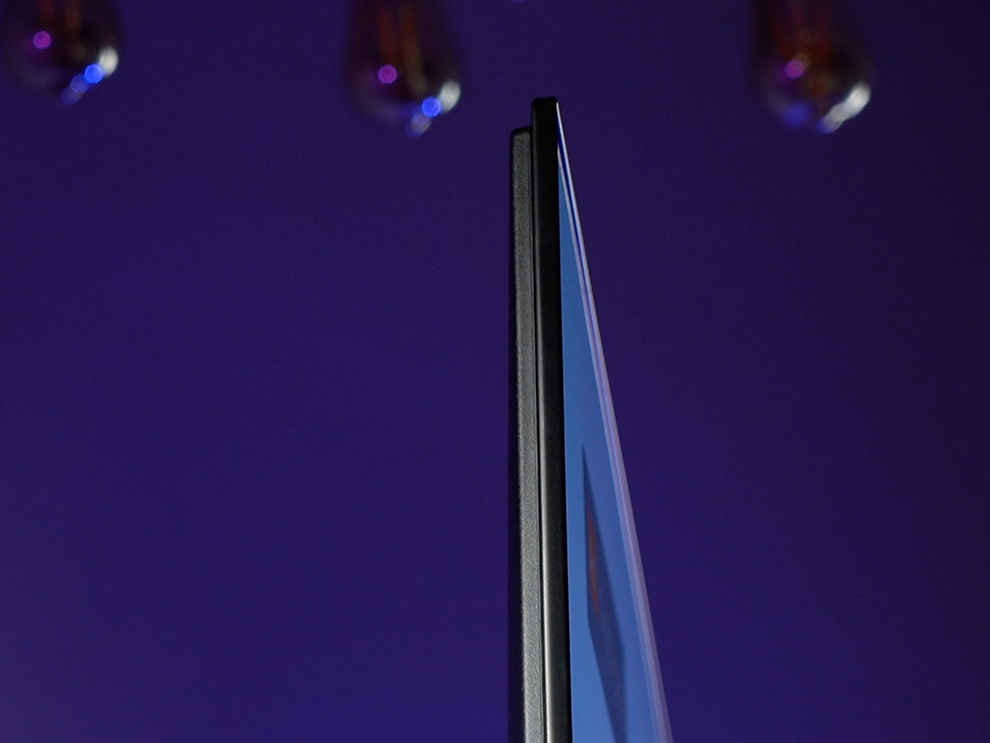 Sony XR A80K: Audio performance
For the premium end TV, the Sony A80K series comes with a slew of audio features that promise to enhance the experience of watching movies or playing games on the TV. One of these is Sony's Acoustic Surface Audio+ feature. As the company explains, for this the company has employed five actuators – three behind the screen and two on the sides – to create a full sound experience. These actuators are combined with two subwoofers for a more complete sonic experience. Sony has coupled this hardware with features like Acoustic Audio Calibration which automatically calibrates the sound output to improve the viewing experience. Additionally, there is support for Dolby Atmos sound and 3D surround sound upscaling.
While pairing your TV with a separate premium-range soundbar is always an option, the above-mentioned hardware and software on the XR A80K come together to ensure that even if you don't have a soundbar, the audio experience on the TV is still Not there. In low price. This is especially true for watching movies and shows, where dialogue is clear and loud and the speakers don't sound like they're giving up the moment you turn up the volume.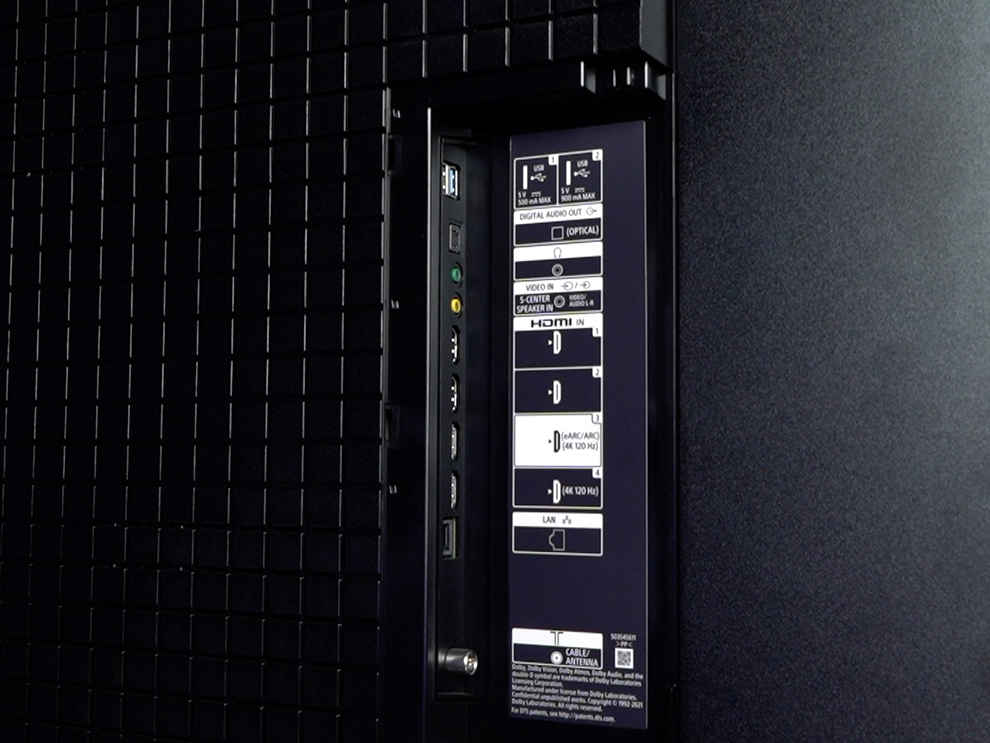 Sony XR A80K: Design, remote and connectivity
Sony's XR A80K is a very attractive looking unit, which is worth every penny Sony asked for it. One of the most striking features of the TV is just how slim it is. The slim panel is held together by a plastic enclosure that houses the TV's motherboard and other hardware, including connectivity ports. Talking about these, the TV comes with four HDMI ports, one AV port, one 3.5mm headphone port and two USB ports.
The Sony XR A80K comes with two metal stands that are adjustable for height to help you position the TV leaving room for the soundbar you have. These stands are also quite sturdy and keep the TV in place without wobbling. Although, in my opinion, these legs are located too far apart if you plan to place the TV on a table smaller than the size of the TV.
As for the remote, the Sony XR A80K comes with a new remote which does not bring a numpad with it. The remote looks premium and modern enough to match the aesthetics of your room. It also comes with a built-in mic for voice control with Google Assistant. Apart from basic playback controls, it also brings OTT hotkeys for some of the most popular platforms. Since this is a premium-segment TV, the remote offers Bluetooth as well as IR connectivity options. Overall, we were quite pleased with the remote as it is well made, ergonomic and will do well for whatever you want to do with the TV.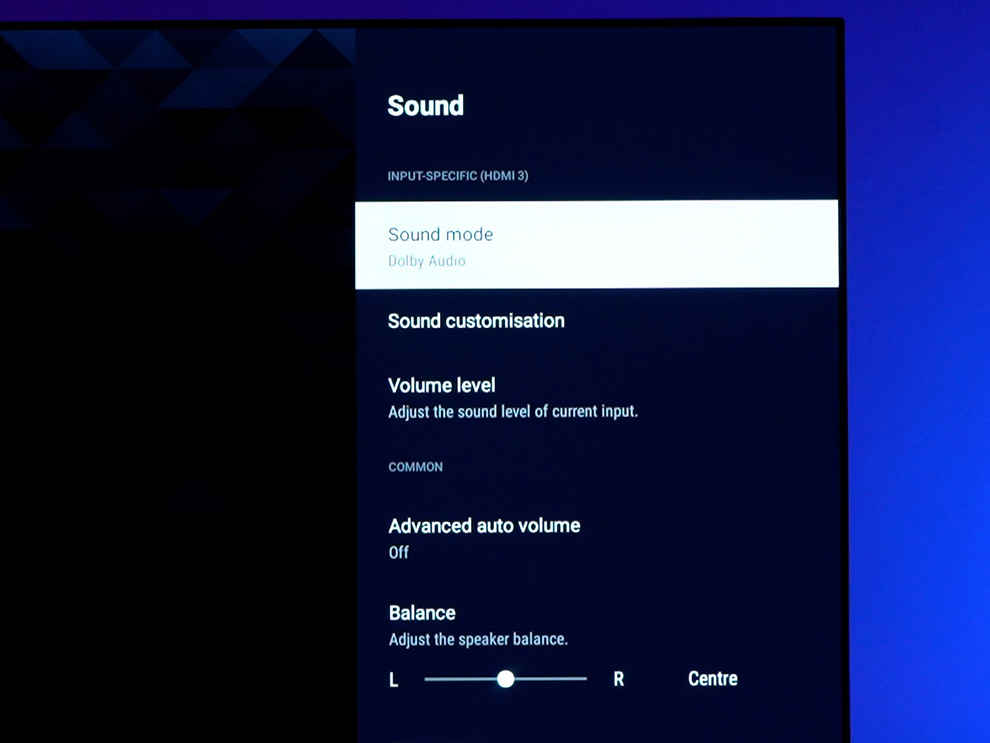 Sony XR A80K: Should you buy it?
So now we're on to the big question: should you buy the Sony XR A80K?
Well, if you are in the market for a premium segment OLED, then the XR A80K should really be a TV you consider. This TV will provide you a visual treat which very few TV sets in the market right now can match. It delivers decent brightness for an OLED and also good color accuracy when set to the Cinema preset. The contrast ratio of the panel is almost infinite giving you beautiful views where pitch dark meets some light.
But its superb handling of dark scenes or superb HDR performance aren't its only strengths. It actually offers decent upscaling of 720p content to 1080p or even 4K, along with decent viewing angles and fast refresh rates, VRR as well as low input lag if you're a gamer.
Overall, all these features combined make the XR A80K one of the best OLED options out there. The only problem here might be the money that Sony is asking for the TV. Currently, the TV can be bought from select physical stores at the best price of around Rs 80 lakh for the 55-inch model, with the 65-inch model likely to set you back around Rs 2,50,000. While this is aggressive for a premium-segment OLED TV, it may not be aggressive enough for some buyers. For such buyers, you have LG's A1 and even Xiaomi's OLED Vision TV as options.
But if money isn't a concern, and premium features and performance is what your heart desires, then there's little stopping you from buying the Sony XR A80K.