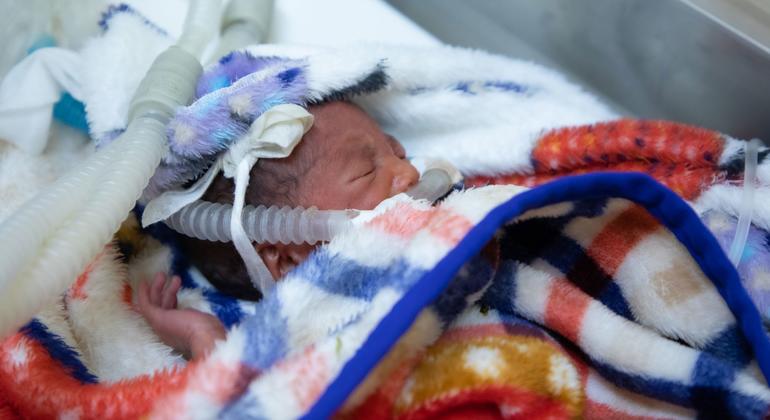 An estimated 13.4 million babies were born prematurely in 2020, of whom nearly one million died due to complications of prematurity. Born Too Soon: Decade of Action on Preterm Birth,
produced by several agencies including the United Nations Children's Fund (unicef) and the World Health Organization (WHO), with its Partnership for Maternal, Newborn and Child Health (PMNCH), reports outlines a strategy to address this event, which has long been recognized as of its scale and seriousness.
progress is 'flatlining'
,Progress is leveling off for maternal and newborn healthas well as prevention of stillbirth," said Helga Fogstad, executive director of the PMNCH.
The gains made are now being pushed back further through a disastrous combination COVID-19Climate change, increasing conflict and rising living costs, she warned.
"By working together in partnership – governments, donors, the private sector, civil society, parents and health professionals – we can sound the alarm About this silent emergency," she said.
This means bringing premature prevention and care efforts to the forefront of national health and development efforts, building human capital by supporting families, societies and economies everywhere.
born too early
Premature birth rates have not changed in any region of the world over the past decade 152 million vulnerable children The report showed that from 2010 to 2020, many were born too soon.
Preterm birth occurs before 37 weeks of an expected 40-week full-term pregnancy.
The report included updated estimates from WHO and UNICEF, prepared with the London School of Hygiene & Tropical Medicine on the prevalence of premature birth.
leading cause of death of children
Steven Lavarrier, director of health at UNICEF, said each premature death caused "loss and heartbreak".
,despite many advances What the world has done over the past decade, we have made no progress in reducing the number of small babies born too soon or at risk of dying. The toll is devastating. it's time we improve access to care for expectant mothers and premature babies and ensure that every child gets a healthy start and thrives in life."
Premature birth is now the leading cause of child death, with more than one in five children dying before their fifth birthday, the report said. premature survivors may face lifelong health outcomesWith an increased likelihood of disability and developmental delay.
too often, Where babies are born determines whether they will surviveThe report found, noting that only 1 in 10 extremely premature babies survive in low-income countries, compared to more than nine in 10 in high-income countries.
rising inequalities
Reported discrepancies shown race, ethnicity, income, and access to quality care, Determine the likelihood of premature birth, death, and disability, even in high-income countries.
Southern Asia and sub-Saharan Africa have the highest rates of preterm birth, accounting for more than 65 percent of global cases.
Other factors are also having an impact, increasing the risk to women and babies everywhere. For example, Air pollution is estimated to contribute to six million preterm births Every year, the report showed.
And according to a new analysis in the report, nearly one in 10 premature babies are born in the 10 most fragile countries affected by humanitarian crises.
parent-led activation
Around the world, groups of families affected by preterm birth have been at the forefront Advocating for access to better care and policy change and support from other families, the report showed.
In addition, the last decade has also seen an increase in community activism on the prevention of premature birth and stillbirth. Powered by Parents Networkhealth professionals, academia and civil society.
life saving strategy
United Nations agencies including the United Nations Population Fund (UNICEF), WHO and UNICEF are demanding that a set of actions to save livesBoost investment in newborn health, accelerate implementation of national policies, integrate efforts across regions, and support local-led innovation and research to support improvements in equity in quality and access to care.
"Ensuring quality care for these smallest, most vulnerable infants and their families is absolutely necessary To improve child health and survival," said Anshu Banerjee, Director of Maternal, Newborn, Child and Adolescent Health and Aging at WHO.
Progress must also go into prevention, meaning every woman should be able to access quality health services to identify and manage risks before and during pregnancy.
Learn more about what the United Nations is doing to help Here,