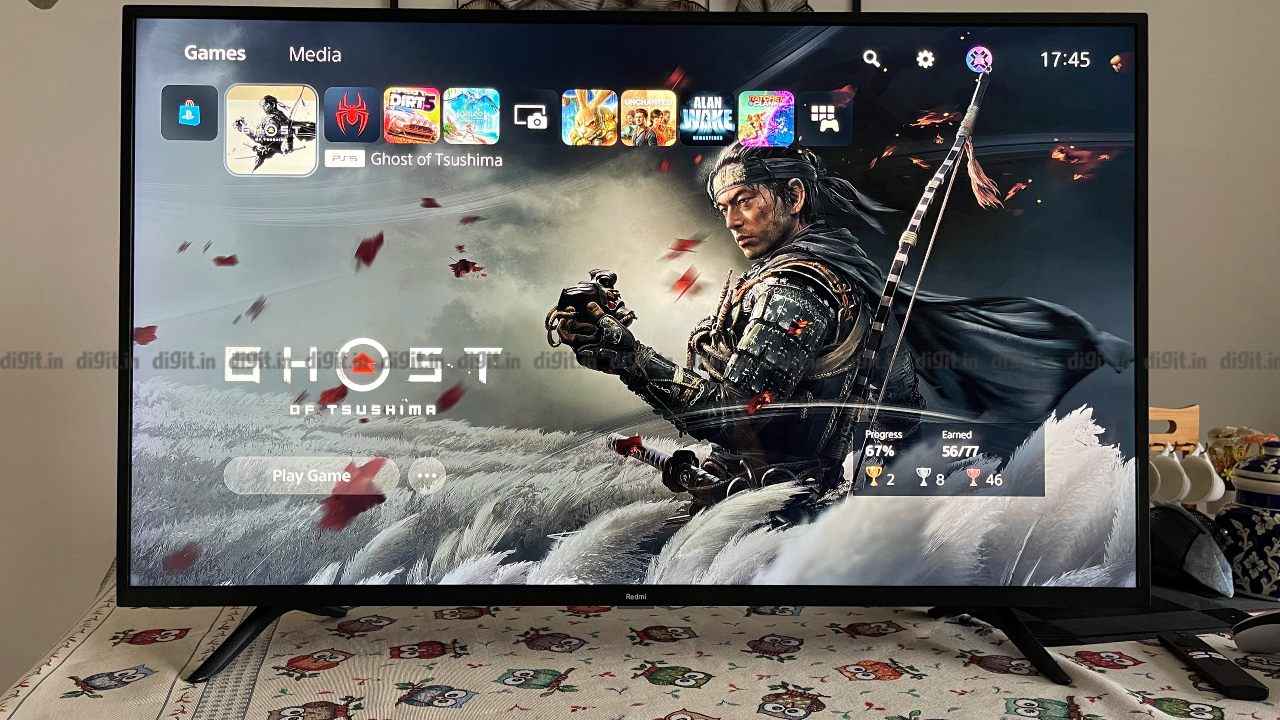 43 Inch Screen Size The only one in India where you have a choice of 4K TV and an FHD TV to choose from. More than the resolution, it is the representation of the content in HDR vs SDR that matters more. While a 4K image will look crisper than a 1080p one, it's the adoption of HDR on budget TVs that is underwhelming and at times, SDR images look better than HDR.
Today we have the Redmi Smart TV X43. This is a 43-inch addition to the Redmi Smart TV X series that is now available in 43, 50, 55, and 65-inch screen sizes. We have 65-inch Redmi Smart TV X65 reviewed and found it significant enough to offer money. in the space of 43 inches, we have Redmi FHD reviewed The price of which is currently Rs 24,999. we have also realme offerings reviewed Too. At the time of writing this review, the Redmi Smart TV X43 is priced at Rs 28,999 and comes with all the features of its bigger sibling, including support for Dolby Vision and HDR. Is it worth considering over the FHD Redmi Smart TV 43?
Specifications of Redmi Smart TV X43 at a glance
Panel Size: 43-inch (also available in 50, 55 and 65-inch screen sizes)
Panel Resolution: 3840 x 2160p – 4K
Panel Refresh Rate: 60Hz
HDR 10 Support: Yes
HDR 10+ Support: Yes
Dolby Vision Support: Yes
Weight: 6.5kg
HDMI Port: 3
USB Port: 2
Bluetooth: Yes, 5.0
Wi-Fi: Yes, dual-band
Ethernet: yes
Speaker: 30W
Built-in Storage: 16GB
RAM: 2 GB
Price: MRP: 28,999
Redmi Smart TV X43 display panel and picture quality
Redmi Smart TV X43 has D-LED backlighting. As far as peak brightness is concerned, in the Vivid preset, we recorded a peak brightness of 372 nits, but in the Movie and Standard presets, you can expect peak brightness of between 250 and 300 nits, which is decent for HDR content. is less. However, whether this affects your viewing experience, we will comment below. While the device impressed with the ColorChecker analysis, it was giving an average delta error of 2.9 which is pretty decent. Even at grayscale 2pt, the error was below 2 indicating good performance overall. In the saturation sweep, we have an average delta error of 2.5 which is very good, indicating a good representation of colors overall. So, while the TV's brightness may be low for consuming HDR content, its color reproduction is good enough.


Above: Peak Brightness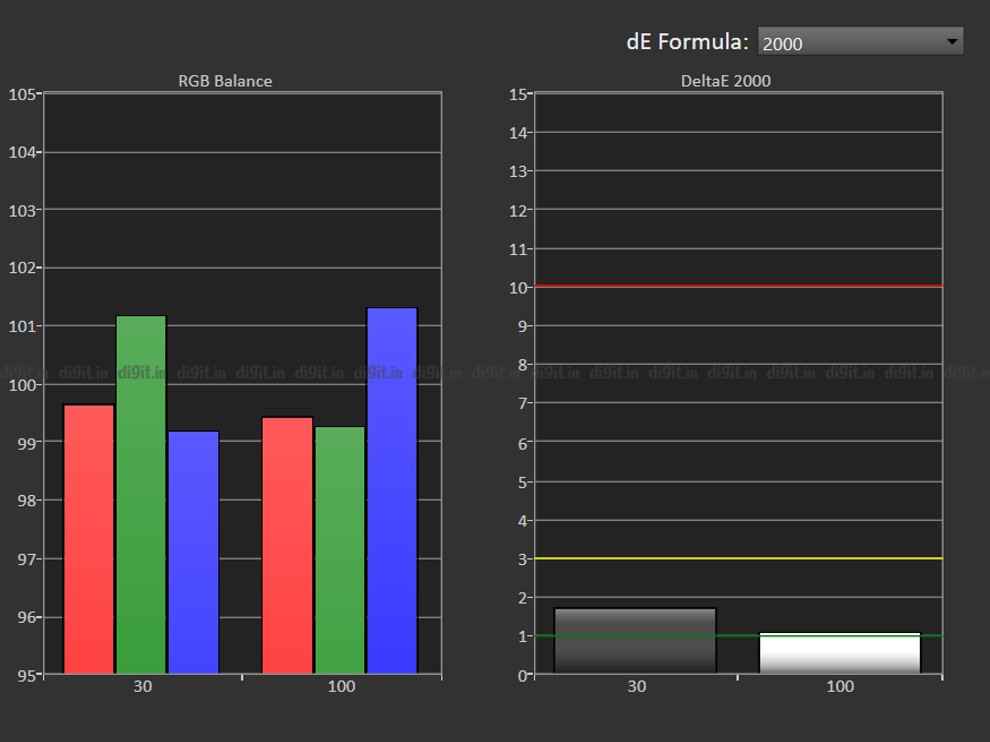 Above: grayscale 2 point.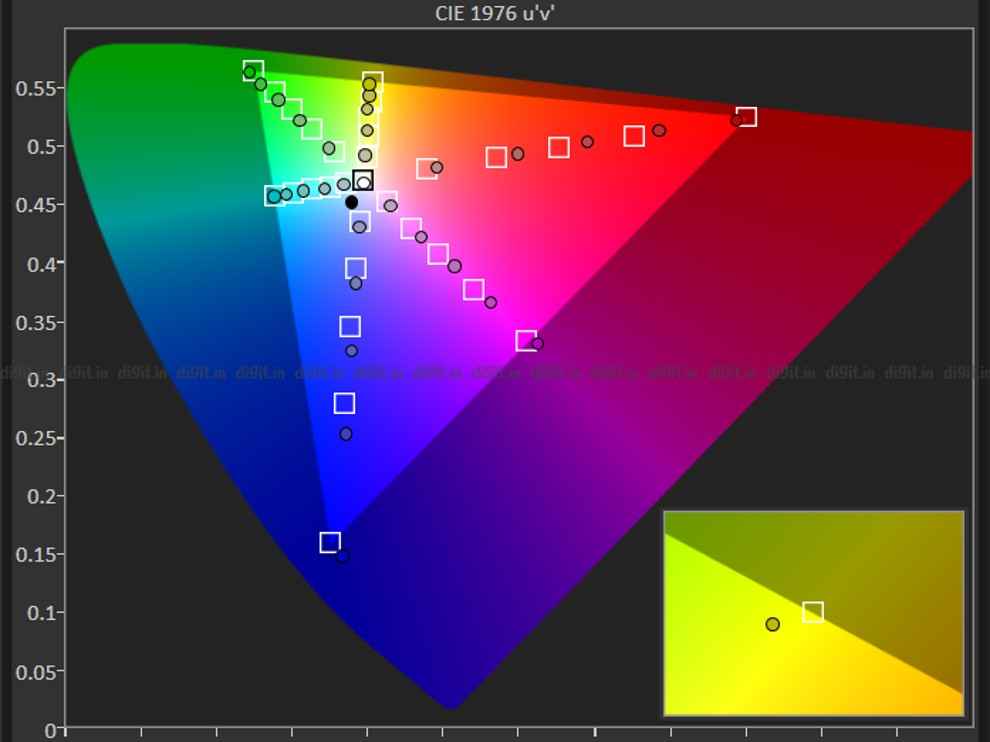 Above: Saturation sweep of the Redmi Smart TV x43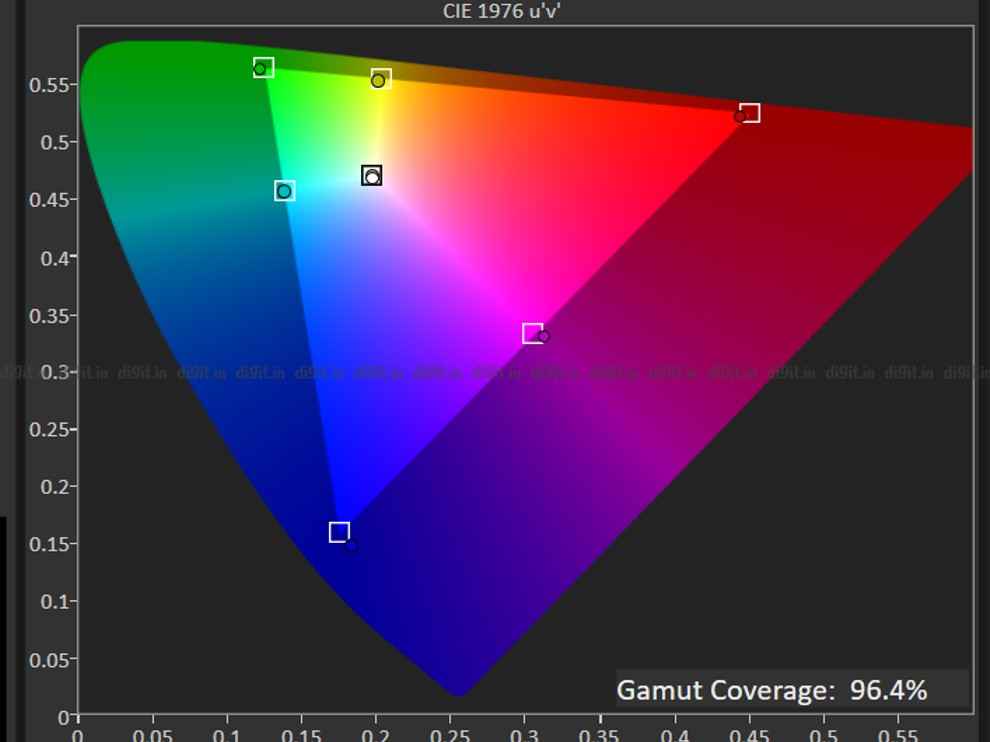 Above: Color Gamut Coverage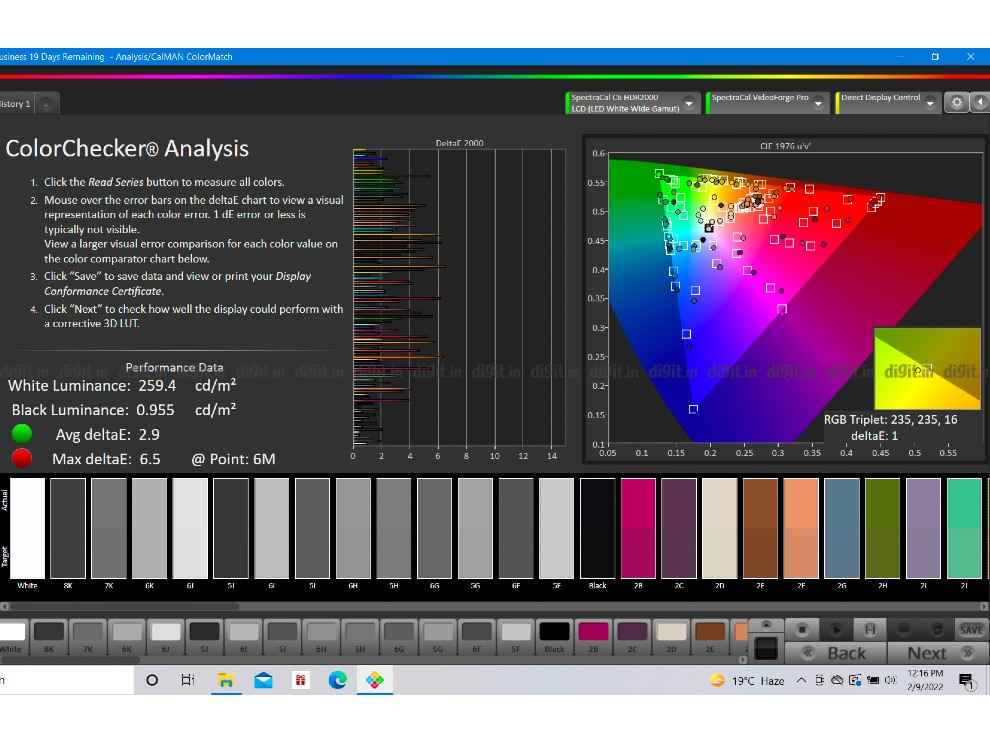 Above: Color Checker Analysis
HDR
As we said above, the peak brightness of the TV is nothing to write about. But that's not the biggest problem with budget HDR TVs. It is that the dark sequences do not look too dark and the colors look good. That's exactly what we got here. In shows like Our Planet (available in Dolby Vision on Netflix), we didn't get the specular highlights we did on other TVs with higher peak brightness, but the dark areas of this show were still quite enjoyable. Even for shows like Grand Tour (available in HDR 10+ on Prime Video). The dark sequence we use in Jack Ryan, another HDR 10+ show on Prime Video, stands out from most. The sequence we used to test has a slightly darker tone on a budget HDR TV, but that wasn't the case here. It was crisp and easily enjoyable.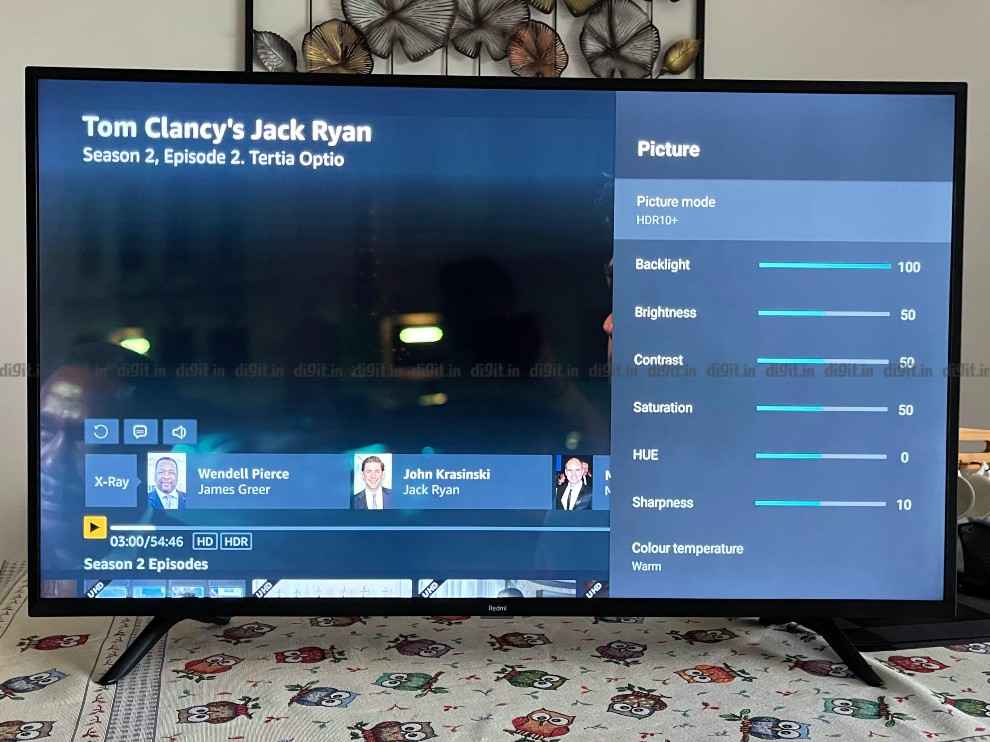 There were a few occasions when on-screen content appeared a bit darker than expected, but these moments were few and far between. The Dark Knight Rises is a good example of this, with the first two-thirds of the film taking place at night. Even though many of these dark sequences were easy to watch, there was some loss of detail due to the TV's low peak brightness. but this is an example as with other pieces of content with dark sequences converted carbonThe content was easily enjoyable.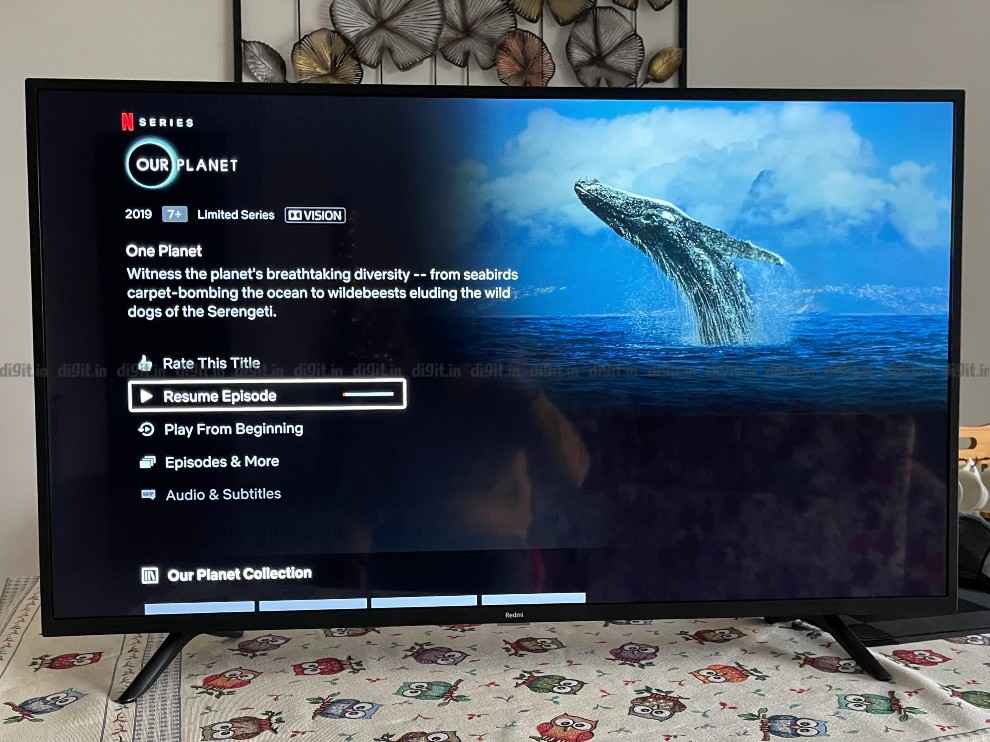 The TV comes with a lot of settings options which gives you a decent amount of control. There's Dolby Vision Bright and Dolby Vision Dark for Dolby Vision content and as usual keep the TV in Dolby Vision Bright regardless of the lighting in the room. HDR 10+ has only one option while HDR 10 content has HDR Standard, HDR Vivid and HDR Movie. Here I found that HDR10 Movie works best for almost all HDR content.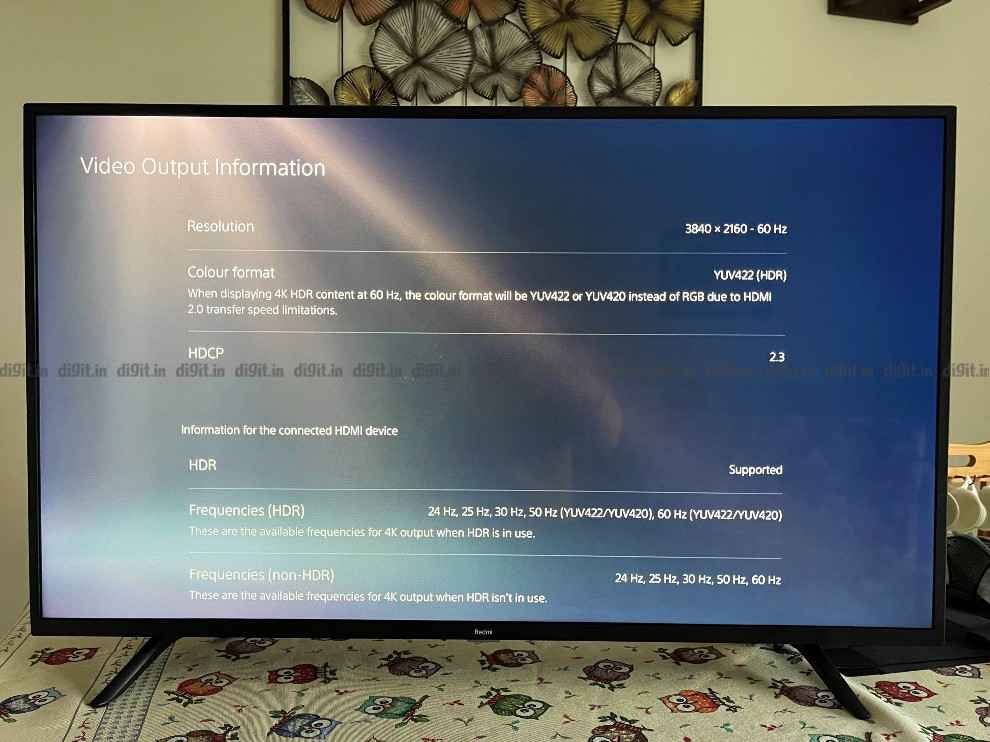 sdr
Recently a new addition to Netflix was Spider-Man Far From Home. This title is available in 4K but in SDR. The details on Spider-Man's suit are richly detailed with red and blue hues. The fight with Mysterio that starts at the 1 hour 15 minute mark and ends with Spider-Man getting hit by a train is a fine example of SDR playback, with a healthy mix of colors and bright and dark scenes. The TV does a fine job of reproducing these scenes and with a slight bias light in the room, there is almost no halo or blooming effect on the screen. Overall performance is great for SDR.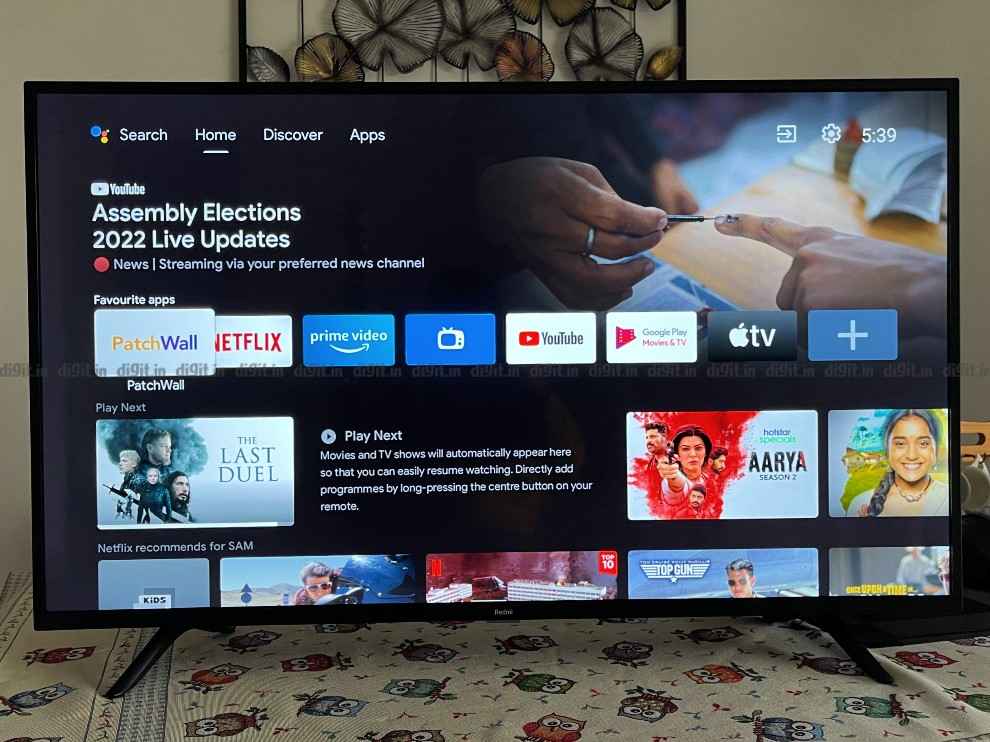 Regular SDR content, whether from a set-top box or streaming services, looks good on this TV. For watching movies and most TV shows, I recommend using the Movie preset. However, as with what we've seen on other TVs, we found that some shows, like Young Sheldon, for example, look best using the standard presets despite their slightly cooler color bias. One thing I would suggest is to go into settings and turn off motion smoothing because I am one who doesn't like artificial smoothing effects in movies. It is a personal choice as you can like it.
Redmi Smart TV X43 gaming performance
Overall gaming on this TV is good, although we encountered the same problem with other budget HDR TVs. When you connect a PS5 (Review) For the first time on a TV, you are asked to calibrate the brightness. Firing Dirt 5 (Review) after calibration and you immediately feel like the TV is trying to punch far above its weight. Since Dirt 5 is an HGIG (HDR Gaming Interest Group) game, it relies on brightness calibration between the TV and console. You will need to readjust the brightness in the game's settings so that the content doesn't look burnt out. Other games such as Ghost of Tsushima (Review) and Spider-Man: Miles Morales (Review) look more like the Redmi Smart TV X65 they reviewed – overall good with some loss of detail which is acceptable for this price point.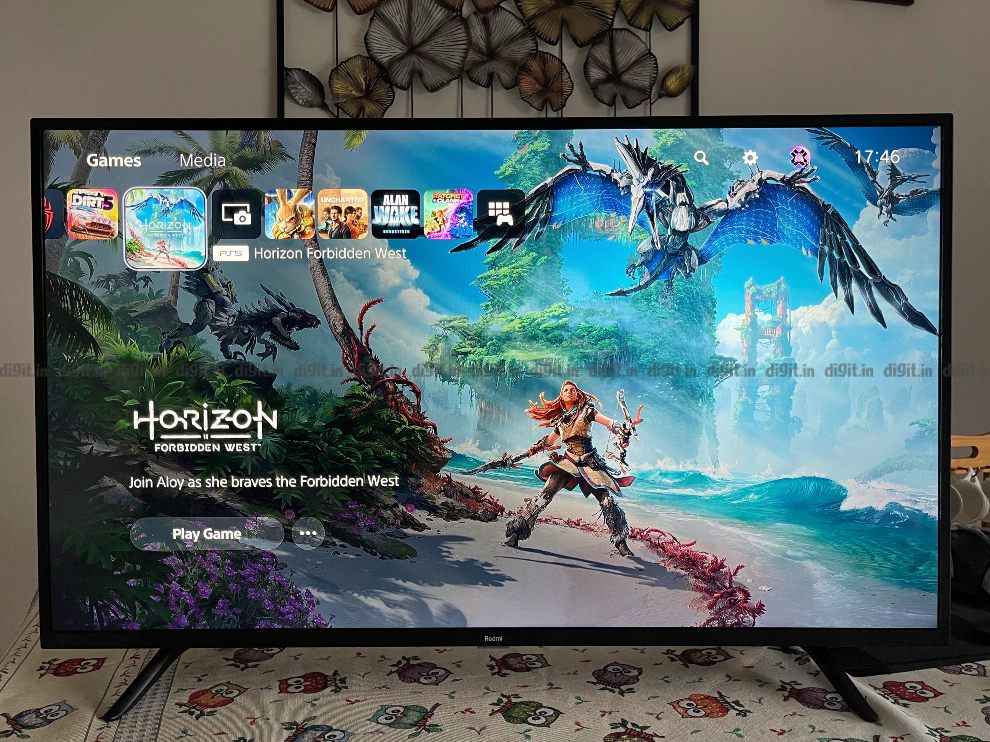 redmi smart tv x43 audio performance
When you hear audio from this TV, the first thing that comes to mind is loud. It can be quite loud and can easily fill a small room. While there are a bunch of audio presets to choose from, I found that leaving the TV set to Standard or Movie, depending on the content, produced the best results. At higher volumes the audio loses clarity and I found going beyond 20-25 was too tinny, especially for movies. Below 25, the volume is clear and audible with clear dialogue in TV shows. But to enjoy a good movie, you need to invest in a soundbar.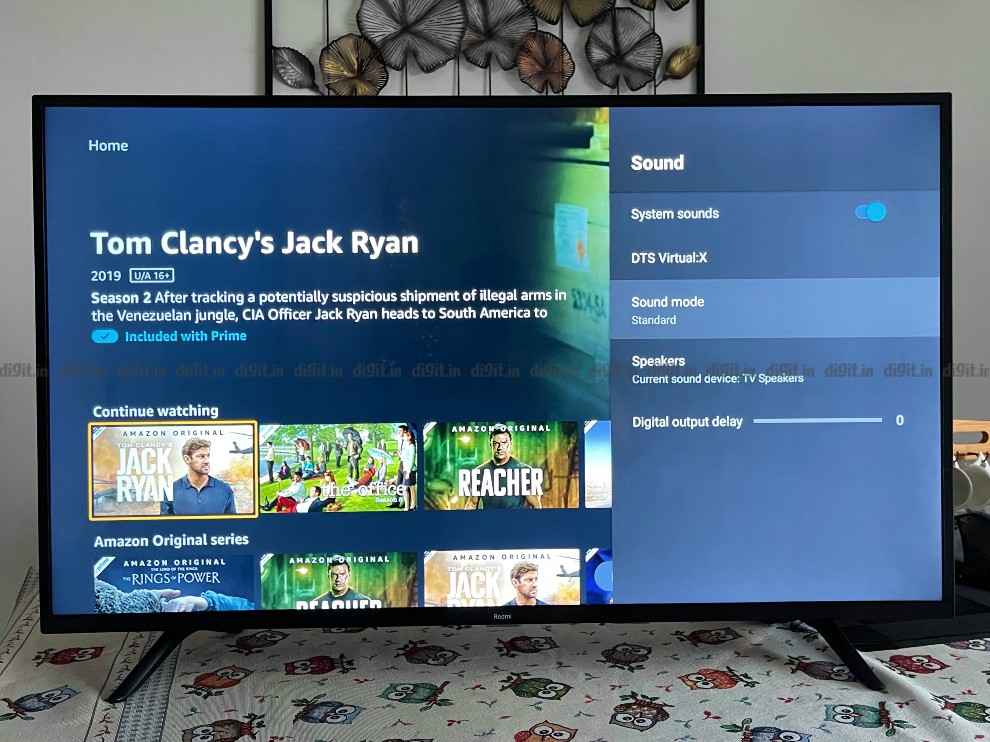 Redmi Smart TV X43: UI
Xiaomi still offers the best of both worlds – PatchWall and Android TV. The Android TV UI has seen some minor changes to bring it in line with the Google TV UI. It has a Discover tab that shows curation of content from OTT apps. The home screen offers a mix of content from OTT and your app library. It is an evolution of the Android TV UI to bring it more in line with the new Google TV UI. You also get PatchWall which has a better content-first approach and this is what we saw on the Redmi 43-inch FHD TV, Mi QLED TV 75 (Review) and even the 65-inch Redmi TV. It has similar content curation, with space for lists like the IMDB Top 100 list, and HDR 10+ content, Dolby Vision content, and more.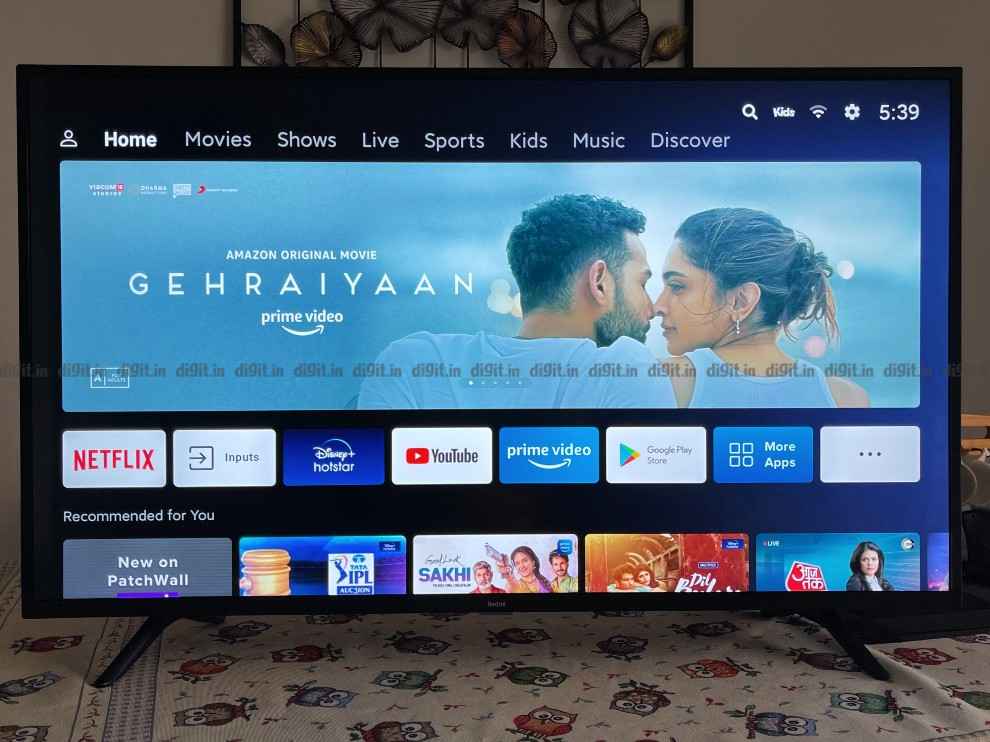 redmi smart tv x43 remote control
The remote control that comes with the Redmi Smart TV X43 has changed for the better. While it still lacks a dedicated mute button, you get a new dedicated button for Disney+ Hotstar and a dedicated button to pull up the app drawer. The rest of the design and ergonomics of the remote control remain the same thanks to dedicated buttons for voice assistant, D-pad, back button and PatchWall and to bring up the Android TV UI.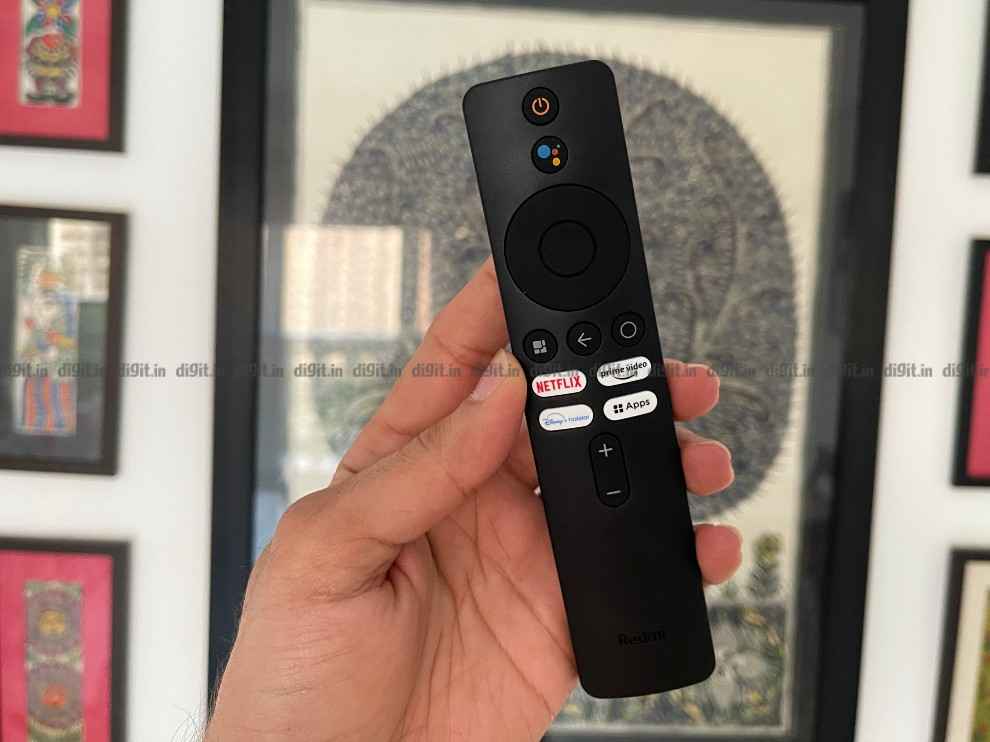 Redmi Smart TV X43: Build and Design
The build and design of the Redmi Smart TV X43 is almost identical to the Redmi 43-inch FHD TV we reviewed earlier, except for a few tweaks here and there that you'd miss out on if you don't know what you're looking for . The TV has relatively thin bezels all around considering the price point and the TV is held up by 2 simple plastic feet.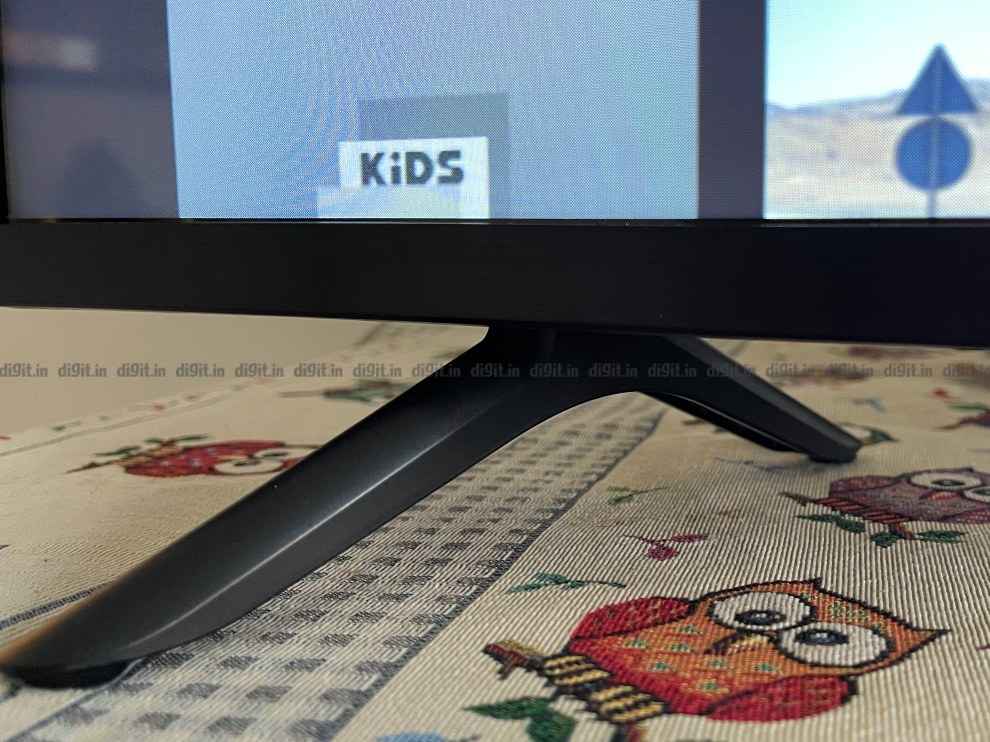 For connectivity, we have 3 HDMI ports, 2 USB ports, an optical port, a 3.5mm port, AV in, and an Ethernet port along with an antenna port. It also has Bluetooth 5.0 and dual-band Wi-Fi which is nice. Overall, it's a simple looking TV and that's fine, considering you'll be spending more time with the decent display.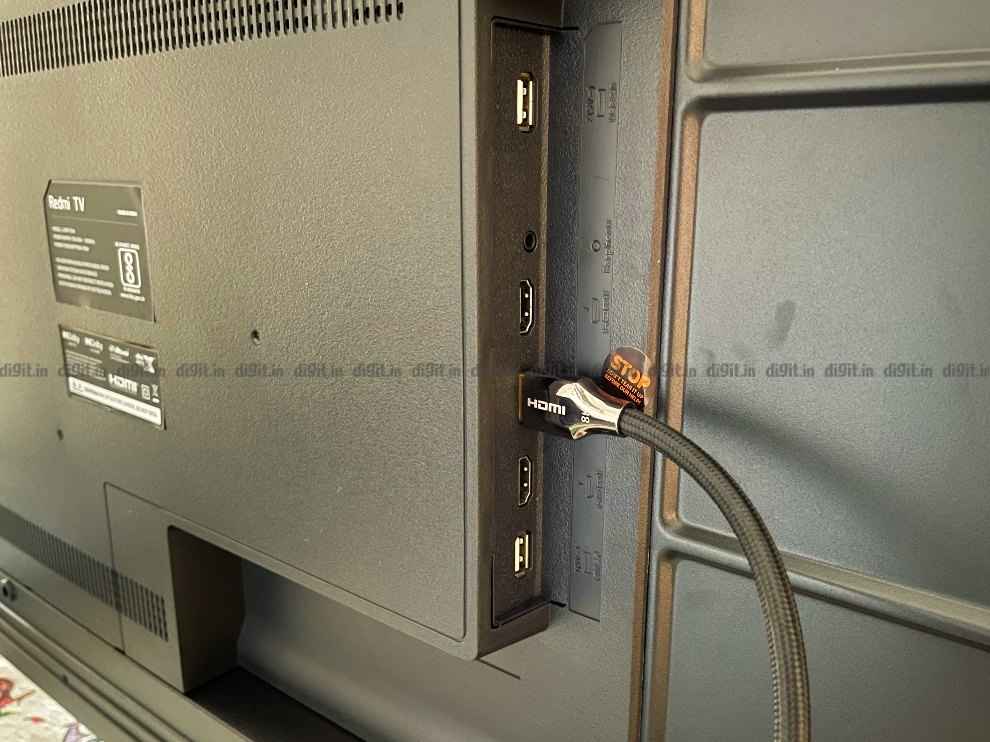 ground level
The Redmi Smart TV X43 carries the same features that make its bigger siblings an attractive offering. The TV is loaded with features including support for almost all HDR formats, a host of connectivity options and a simple design. Its build is on par with other budget TVs we've tested. The TV's panel has very good color reproduction thanks to HDR and SDR, but peak brightness is below what we'd like for an immersive HDR experience. Audio output is average. Keeping in mind the price of 29 thousand, it is a good option for those who are looking for a budget 4K 43 inch TV.