Detailed review of Panasonic LED TV TH-55FX800D
Buying a flagship TV usually means going for an OLED TV, but if you're someone who watches TV in brightly lit environments or in a room with a lot of sunlight, chances are you'll need something like Must be one that can withstand the glare. One of the problems with OLED TVs is that they aren't the best when viewed in brightly lit rooms due to their highly reflective panels. That's where the flagship LED TVs come into the picture. They may not have the deep blacks found on OLED TVs, but the lack of deep blacks more than makes up for it when watching content in a well-lit room. Today we have Panasonic's flagship LED TV – the TH-55FX800D. The TV boasts of some impressive technology under the hood and comes at a similar price point to the LG C8 OLED TV. Is it a worthy contender?
Key Specifications at a Glance
Panel Size: 55-inch (also available in 65-inch)
Panel Type: IPS LED
Panel Resolution: 3840 x 2160 – 4K
Panel Refresh Rate: 60Hz (for 4K content)
HDR 10 Support: Yes
Dolby Vision Support: No
Weight (with stand): 32.5kgs
HDMI Port: 4
USB Port: 3
bluetooth: yes
Wi-Fi: Yes
Ethernet: yes
Speakers: 2 x 10W
Built-in Storage: NA
Price: MRP: 2,39,900. Sale Price: 1,65,000
create and design
The first thing that comes to your mind when you look at the Panasonic TH-55FX800D TV is that it is extremely well built. The stand has some heft due to being made of metal, but holds the TV firmly in place despite a small footprint. The panel of the TV has very thin bezels and there is a glass border around the TV. Despite the TV's panel being extremely slim, it has a bulge at the back that houses all the components and input sources. Without the stand, the TV measures a mere 5.4cm which makes it really slim.
The speakers are located at the bottom of the panel, which makes them drop down to the speakers. We'll talk more about speakers in our audio section.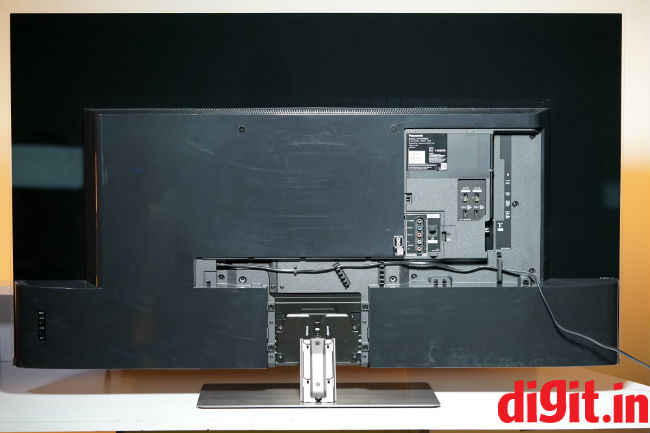 Talking about connectivity options, the ports are divided between the side and back of the TV. On the side we have a headphone out, 2 HDMI ports, one with ARC, digital audio out, 1 USB port, and an antenna port. At the back, the TV has 2 HDMI ports and 2 USB ports, along with Ethernet and AV inputs. One nice thing about the connectivity options is that they're all neatly hidden behind a panel and there's good cable management for routing your cables.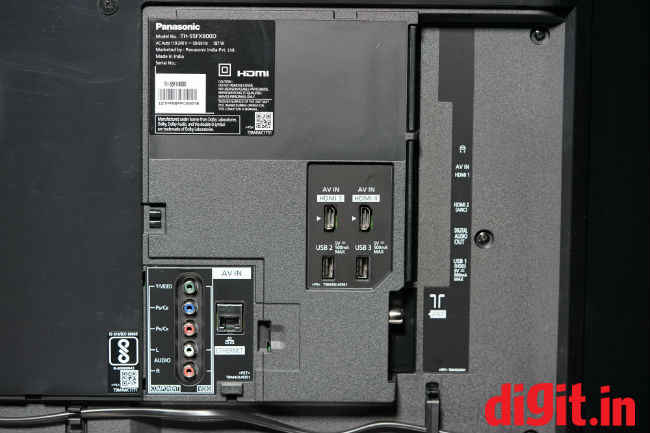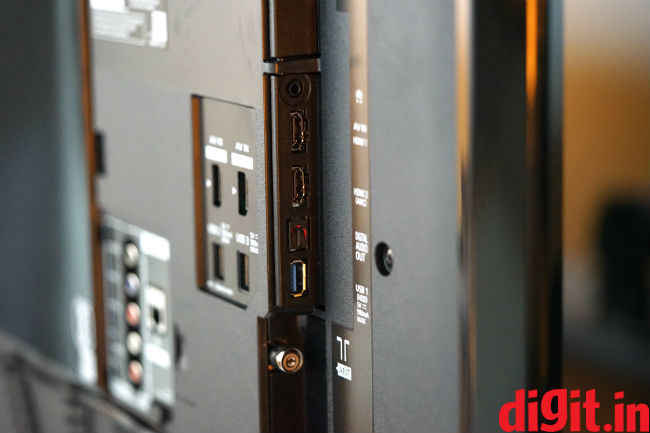 Overall, the build of the TV is absolutely premium, well built and the stand is quite sturdy. The stand has a small footprint, so if you have a small table or entertainment center, it'll fit right in. The TV can of course be wall mounted if you prefer.
Display and Picture Quality
Picture quality is the heart and soul of any TV. Everything else is an added feature. Before we elaborate on the picture quality through our various tests, know that the 55-inch Panasonic TH-55FX800D is available for Rs 1,65,000. It is a 4K TV with HDR support but no Dolby Vision support. At the same price, we also have the LG C8 from LG's 2018 OLED TVs (read our review). Here, So how does the Panasonic TH-55FX800D fare in our tests?
4K HDR
The TV has a built-in Netflix app and supports content play back in 4K HDR. We played our benchmark tests of content such as Daredevil, Star Trek, The House on Haunted Hill and John Wick at 1080p higher. 4k content looks really good on the TV and the picture presets change depending on the content you are consuming. Going into the picture settings, you'll notice that the backlight is automatically set to full when watching HDR content, otherwise it's at around 50 percent in the normal preset. Of course it changes when you change presets to vivid and things like that. Since these presets are better suited for 1080p content, we'll go over them in more detail in the sections to come.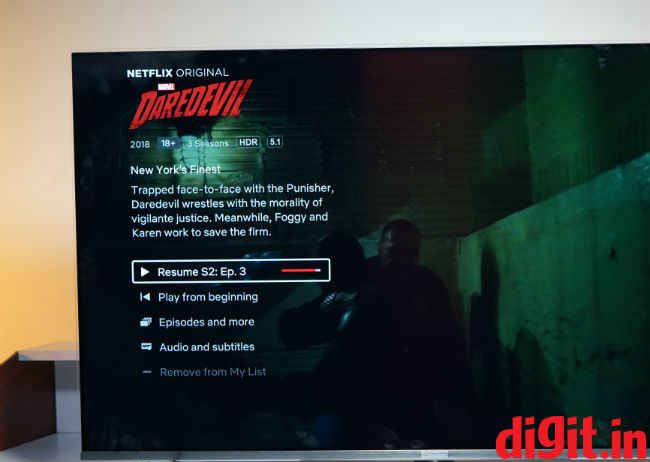 Talking about the quality of the output, it is quite bright. Now one inherent disadvantage of LED TVs compared to OLED TVs is that the blacks are not as deep. This doesn't happen here most of the time. The TV's black levels are quite good, especially when you consider that this is an LED backlit LCD TV. The only downside is that you'll notice it more when you're watching content in a dark room that there's some light bleeding at the bottom of the TV and in the bottom right corner. This is especially visible when you're viewing content when the content is black around the corners but bright in the center. For example, a sun burning in the space in the middle of the screen. For most it is like that little scratch on your car. Unless you know where it is, you won't even notice it properly. However, if you know where it is, it will catch your eye every time.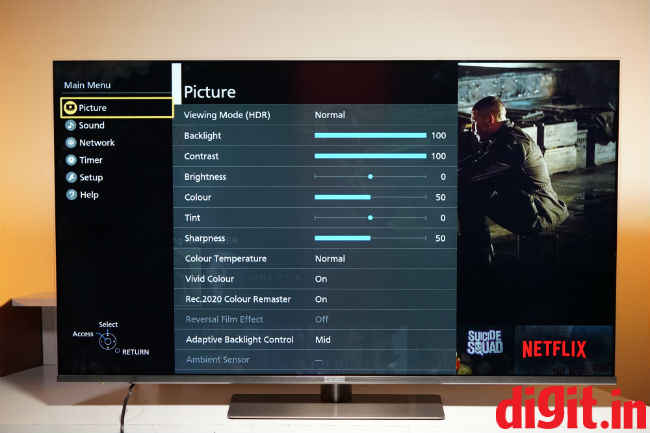 One cool thing about the TV is that when watching HDR content, the panel can get really bright and by bright I don't mean the brightness setting but the backlight. The TV's backlight is especially good for shows like Daredevil on Netflix and Star Trek Discovery. In some cases, such as with the Sony A9F, some Daredevil material looked darker than I expected, and on the Panasonic TH-55FX800D it looks crisp and bright which is nice.
Overall, as long as you're consuming 4K HDR content from built-in apps, you should have a decent viewing experience.
1080p content
This is another place where the TV does quite well. A lot of the content on Prime Video and Netflix is ​​in 1080p and that content looks good on the TV. That's where the other picture presets come into play. We found that keeping the preset normal but boosting the backlight to around 68 (in a relatively dark room) was the best spot for us. We watched content like Wonder Woman, Spiderman on Prime Video and John Wick on Netflix and it was great. However, there were times when I noticed some blossoming, especially in John Wick during the Red Circle fight sequence. Blooming was occasional.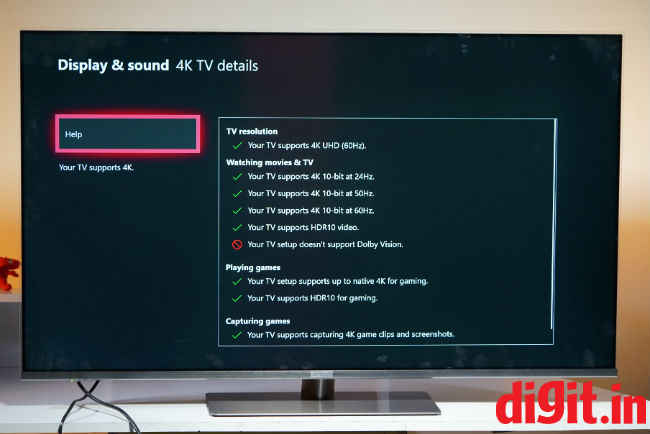 Gambling
We played our standard test games using the Xbox One X on the TV. These games include Gears of War 4, Forza Horizon 4, Red Dead Redemption 2 and others. Gaming looks really good on this TV. The ones that offer HDR capabilities look stunning. There is negligible input lag. Once again, in some games where it is night – complete darkness, you will bleed and bloom a bit but this will only happen if you play in intonation dark. Keep some lights on in the room or natural light is coming into the room and it is not as obvious as it is in the dark.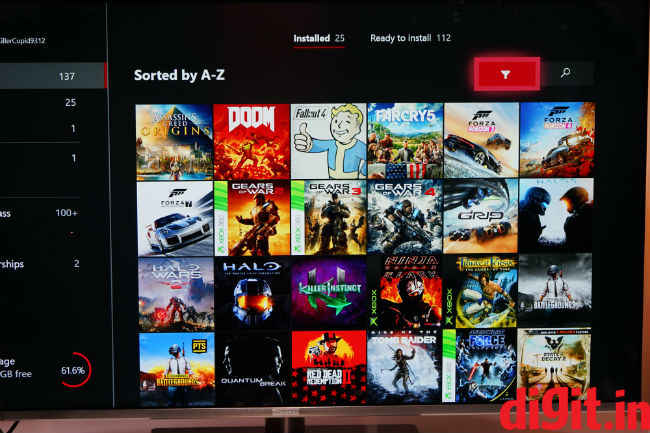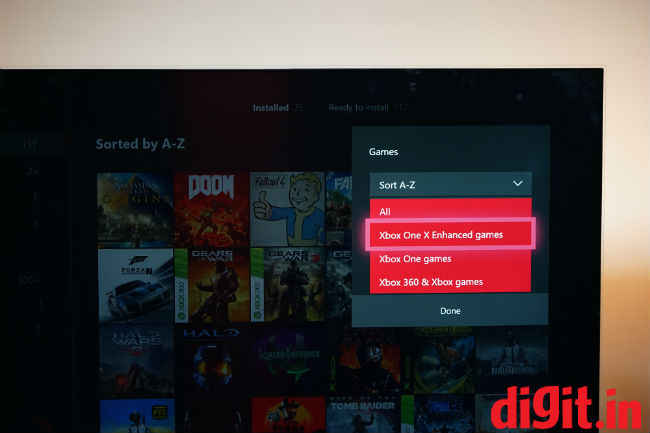 Audio
Two 10W speakers may sound disappointing on paper, but the only thing disappointing about the speakers on the Panasonic TH-55FX800D TV is the lack of bass. Also the speakers can be loud, clear and do a good job especially for dialogues when watching shows like The Big Bang Theory or Young Sheldon or the news on TV. Our standard set of test files which includes the Cyberpunk 2077 trailer, Blade Runner 2049 and of course the game. Simply put, it makes sense to invest in a good sound bar or home theater to truly enjoy the content on TV. But for everyday TV watching and the occasional movie or game, you can get by with the TV's speakers. The can covers a large room and at 50-60% volume, gets really loud.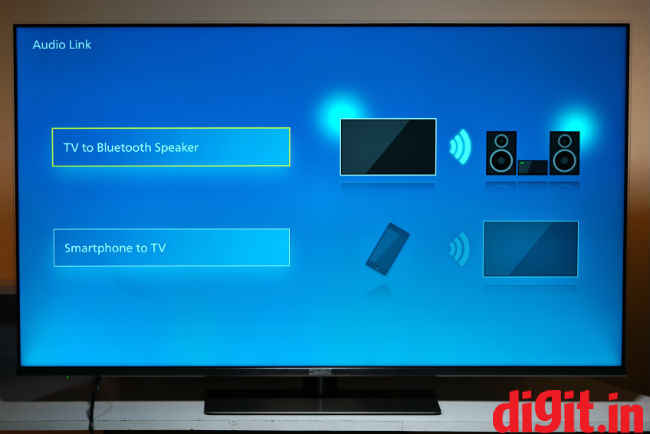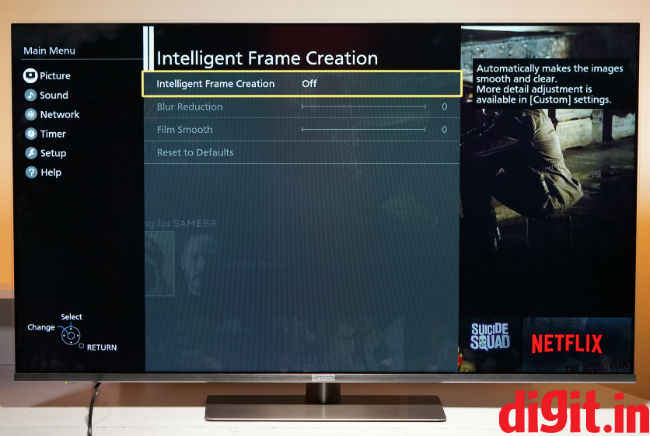 You need to switch off Intelligent Frame Creation to get rid of the super smooth picture effect
remote controlled
The remote control for the Panasonic TH-55FX800D TV is the traditional Panasonic remote control found on other models. You have a curved back which adds to the grip. Like the remote controls found on Sony TVs, the Panasonic remote controls have all possible functions including shortcuts to Netflix, volume and channel controls, playback controls, and more. The remote control is easy to use and looks very traditional. The lack of a dedicated voice control button is missed as this is a flagship TV and also, there are no motion capabilities found on the LG remote control. Overall, the remote works best.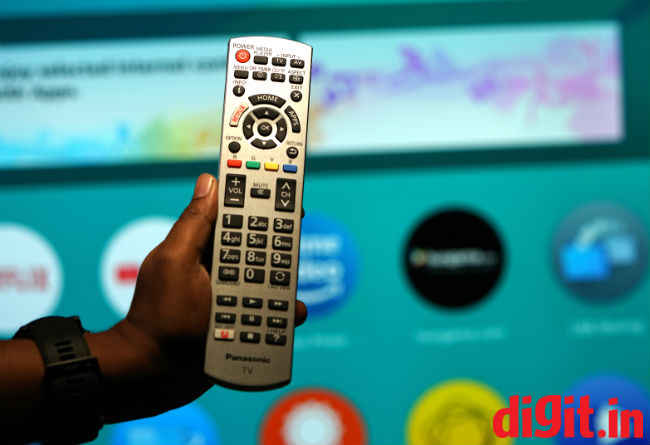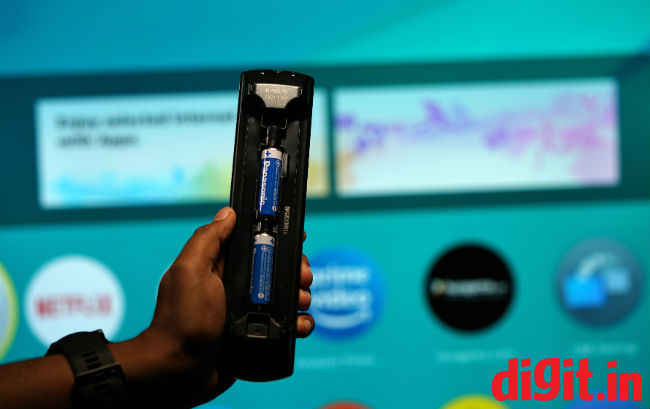 UI
When it comes to the UI of a smart TV, we have seen Android evolve to Android 8 and LG brings Web OS and both the UIs work very well for what they offer. Android of course has the advantage of Google Assistant and Google's own Play Store, and LG has done a good job with voice recognition on the web OS. This is our first outing with Panasonic's own My Home Screen version 3.0. It is a simple UI with a clean interface where all the apps are listed. You can add your favorite apps as shortcuts if you want, and popular apps like Netflix and Prime Video are here too.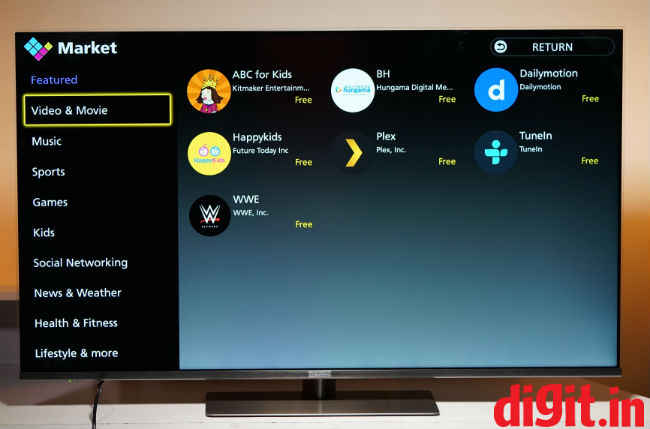 The TV can also be set up with your smart home speakers for voice controls and a mobile app that goes beyond the traditional controls of a remote control. But, if you don't have a smart speaker, there's no voice control functionality on the remote for you to use.
Special mention has to be made of the TV's Settings UI. They present you with all relevant information like picture presets, brightness, contrast, backlight controls as well as make deeper, more complex settings easier to access. Another thing is that the brightness and backlight controls are separate, which is as it should be. Some TVs label the backlight as brightness, resulting in poor calibration of the display's illumination. It's good to see Panasonic distinguish between the two.
ground level
As we mentioned above, Panasonic TH-55FX800D TV has an MRP of Rs.2,39,900 but it is selling for Rs.1,65,000. It has a very sturdy build, good picture performance, intuitive UI and wide viewing angles. However, for the same price, you can get the flagship OLED TV of 2018 from LG – the LG C8. The LG C8 also has great picture quality and since LG has been in the OLED game for years, they've used the technology a lot. When it comes to picture quality and performance, OLED should be the way to go. However, the Panasonic TH-55FX800D does have one use case where it may perform slightly better than OLED TVs—in a brightly lit room. Panasonic TVs perform well in a bright room or a room that can't be pitch dark. In pitch darkness though, the LG C8 fared better.
key specs
Screen Size (inch)

55

display type

4K Ultra HD

smart TV

led TV

screen resolution

3840 x 2160