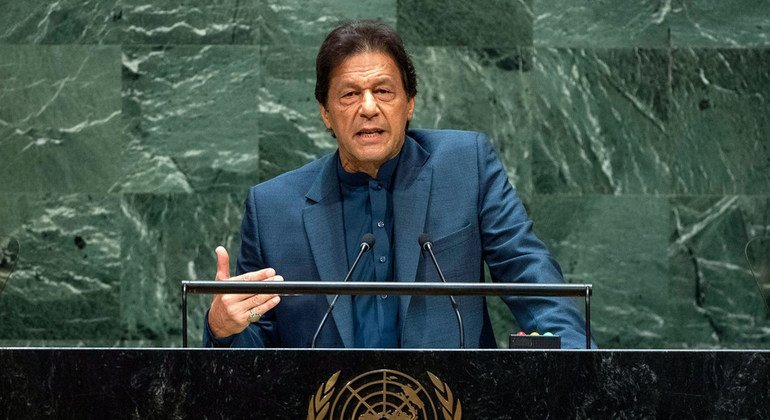 According to news reports, Mr Khan pleaded not guilty to corruption charges on Wednesday, appearing before a judge in a police guest house that also served as a courtroom.
multiple charges
His appearance, reportedly, coincides with an indictment by the High Court in Islamabad in a separate corruption case brought by the election commission, alleging that he sold millions of dollars worth of state gifts – allegations that former prime ministers and The cricket star, too, has denied.
If convicted, Mr Khan would allegedly be disqualified from standing for office, with elections due later this year.
Tuesday's arrest was carried out by dozens of security officers, who forcibly removed him from the court in a police vehicle, prompting widespread protests by his supporters.
News reports say that nearly 1,000 people have been arrested across the country, and that eight people have been killed so far during the protests, while hundreds have been injured.
As protests continued, access to mobile internet and social media was cut off on Wednesday, while schools and universities were closed in Punjab, Pakistan's most populous state.
Hundreds of people were reportedly arrested there, at least 25 police vehicles were torched, and 130 officers were injured during the clashes, with some official buildings looted.
'Away from violence'
A statement issued by his spokesman, UN chief Antonio Guterres, took note of the ongoing protests and called for " all sides abstain from violence,
Mr Guterres "calls on all parties to refrain from violence. stressed the need to respect the right of peaceful Meeting", the brief statement continued.
The UN chief also urged officials to "do Respect due process and the rule of law In the proceedings brought against former Prime Minister Khan.
Mr Khan, who served as prime minister for four years from 2018, was remanded in custody for eight days in connection with charges related to the alleged illegal transfer of land.
According to news reports, his political party, PTI, said he was not given access to legal counsel, and pledged to challenge the legality of his arrest in court on Tuesday.