Over the past few months, we've seen the launch of a bunch 43 inch tv, It is also the only screen size that offers both FHD and 4K options in resolution. We recently launched the Redmi Smart TV 43 (Review) which is a 43-inch FHD SDR TV and also reviewed the Redmi Smart TV X43 (Review) which is a 4K TV with support for HDR. Today we have the OnePlus Y1S Edge. OnePlus has launched 32-inch HD Ready and 43-inch FHD HDR TVs in its Y1S and Y1S Edge portfolio. The difference between the Edge and the "non Edge" versions of the TVs is that the Edge supports TUV Rheinland certification while the other does not and the Edge comes with 24W sound output while the Y1S comes with 20W sound output. The 43-inch OnePlus Y1S Edge is priced at Rs 27,999. To put things in perspective, the Redmi Smart TV X43 costs Rs 28,999 while the Redmi Smart TV 43 (FHD SDR TV) costs Rs 23,999 at the time of writing this review. So how does the OnePlus Y1S Edge compare to the two offerings from Redmi?
Specifications of OnePlus Y1S Edge at a glance
Panel Size: 43 Inch (Also Available in 32 Inch Screen Size)
Panel Resolution: 1920 x 1080p – FHD
Panel Refresh Rate: 60Hz
HDR 10 Support: Yes
HDR 10+ Support: No
Dolby Vision Support: No
Weight: 6.1kg
HDMI Port: 2
USB Port: 2
Bluetooth: Yes, 5.0
Wi-Fi: Yes, dual-band
Ethernet: yes
Speaker: 24W
Built-in Storage: 8GB
RAM: 1GB
Price: MRP: 27,999
OnePlus Y1S Edge display panel and picture quality
The OnePlus Y1S Edge has D-LED backlighting. As far as peak brightness goes, the TV clocked in at around 250 nits in our tests, which is pretty low for HDR content. To put things in perspective, the Redmi Smart TV X43 can hit a peak brightness of around 280 nits. However, in our Colorchecker analysis we found that the TV has an average delta error of 2.7 which is lower than the Redmi Smart TV X43 and that is a good thing. Overall, in our CalMAN analysis, we found the TV to have good colors but low peak brightness for HDR. So how does this translate into real world performance?


Above: Saturation Sweep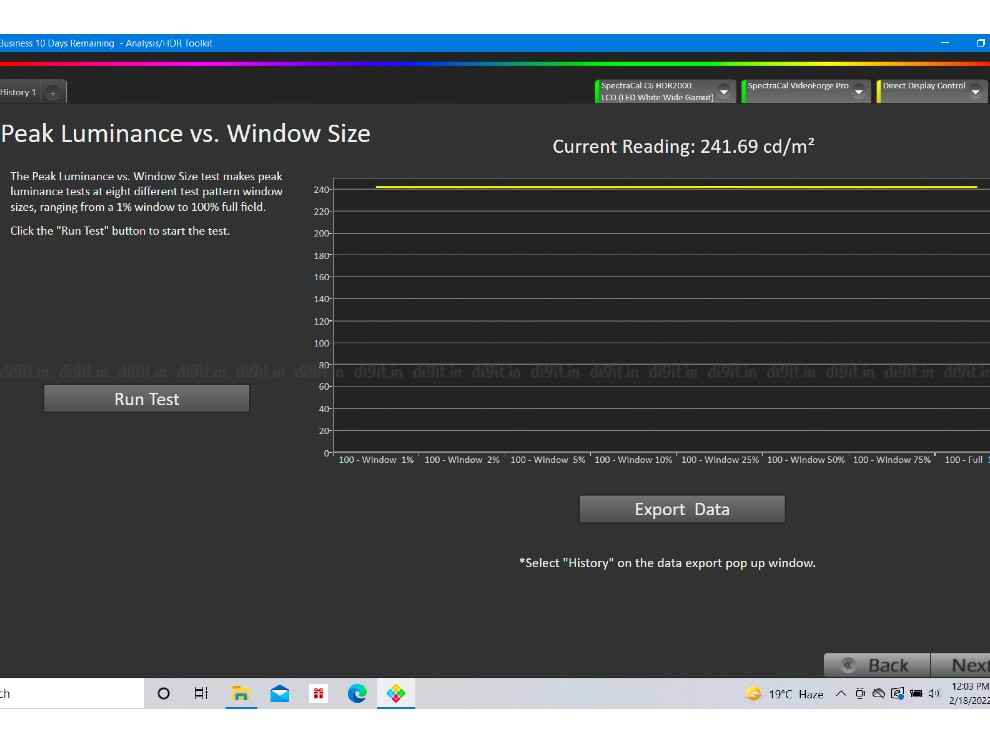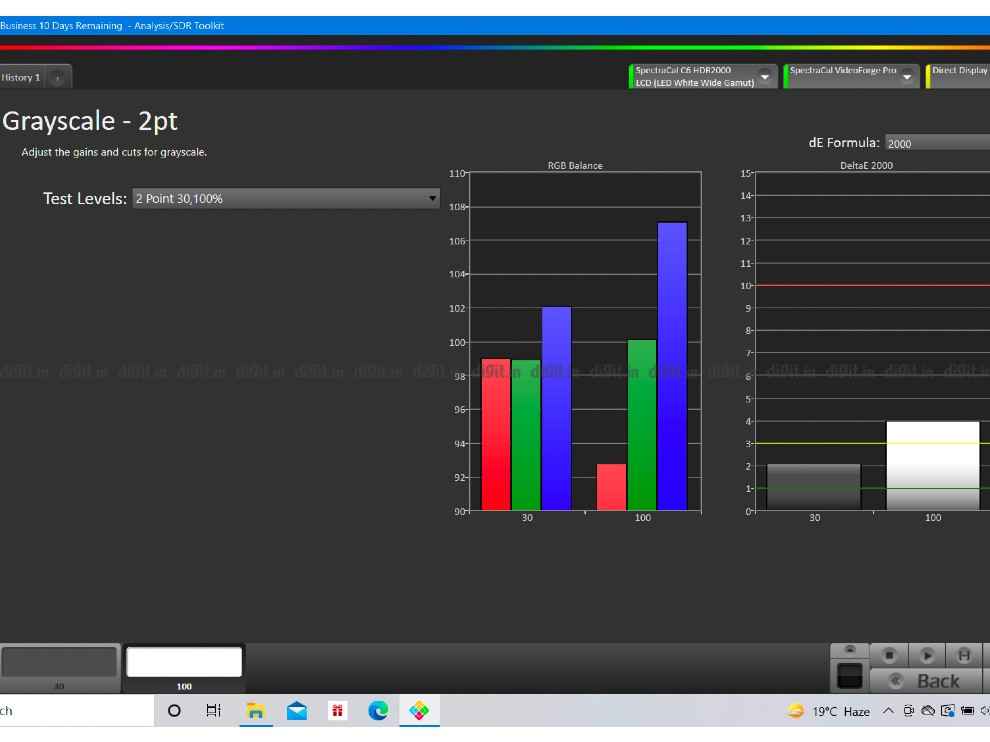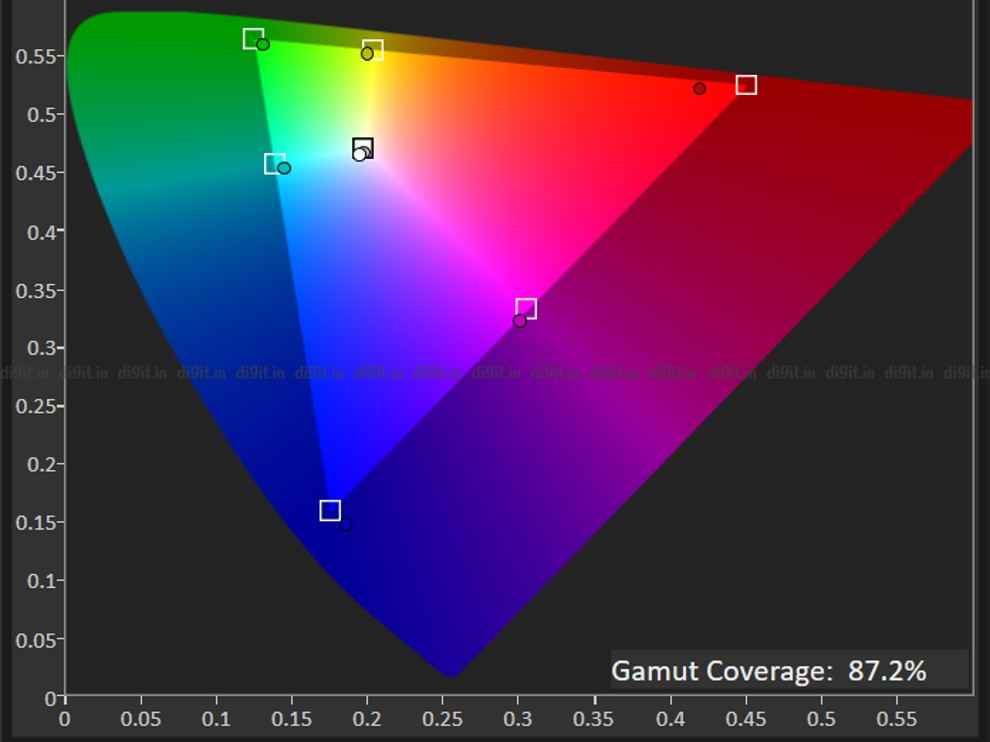 Above: Color Gamut Coverage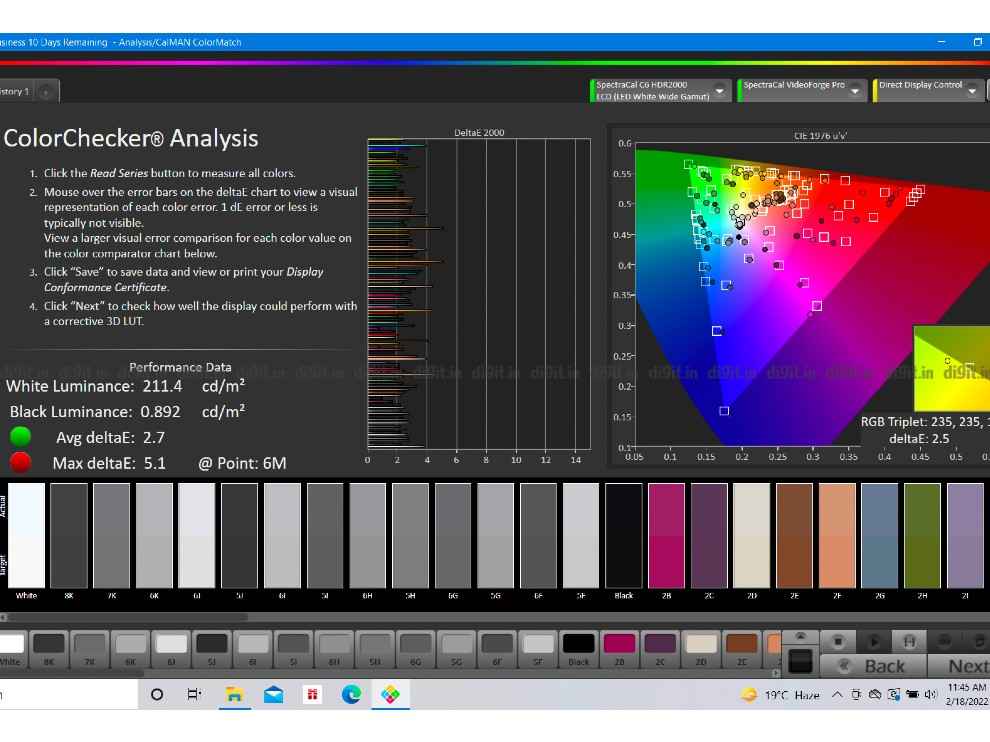 HDR
The TV's peak brightness is low enough for us to enjoy specular highlights when consuming HDR content. On a budget TV, we've found that 400 nits is still somewhat acceptable for enjoying HDR content. However, the colors on the TV do a decent job of making HDR content enjoyable. So, for example, while you won't see the true specular highlights of some HDR sequences in Ready Player One, you'll be able to enjoy the colors offered. We saw this across the board with content on Netflix and Prime Video as well. Even with shows like Jack Ryan on, we found the performance of our test sequences almost at par with the Redmi Smart TV X43 in terms of colours. The downside of the OnePlus Y1S Edge is that it only supports HDR10 without any support for Dolby Vision.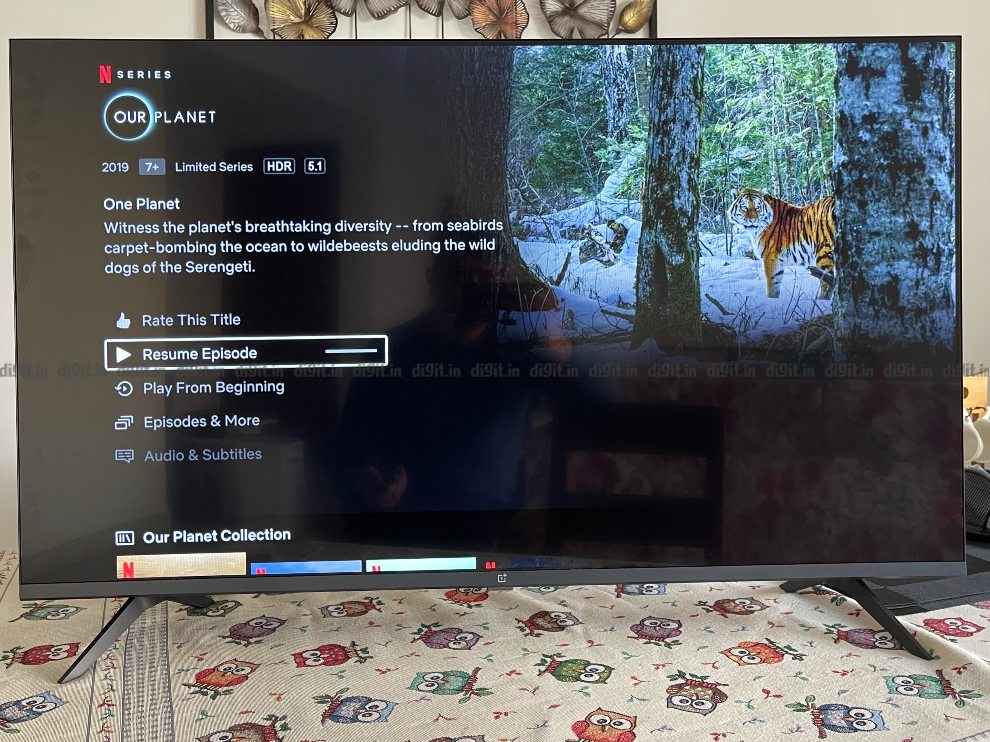 One unique thing about the OnePlus Y1S Edge is that you can toggle HDR on and off from the Settings menu.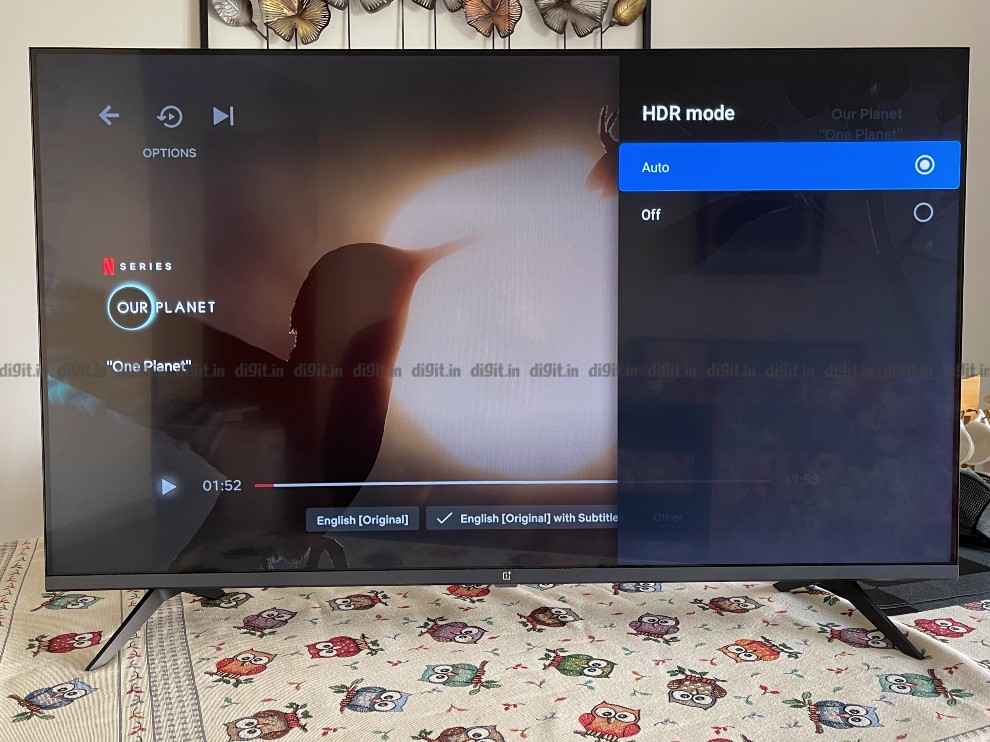 In terms of picture presets, there is no specific HDR picture preset. Instead, you get the standard slew of presets like Standard, Movie, AI, Game, Sports, and more. We found that the AI ​​picture mode defaults to the Standard picture preset settings, so you can avoid it. The Movie preset worked well for most of the content we consumed on this TV in HDR.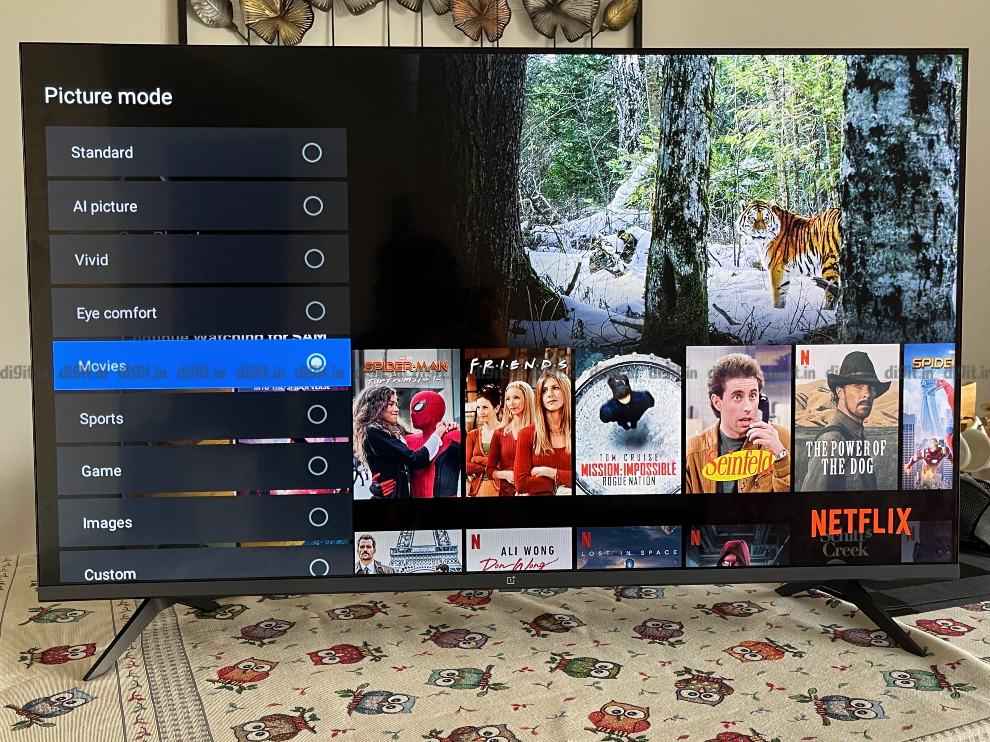 sdr
SDR playback on the OnePlus Y1S Edge is on par with other budget 43-inch TVs, and that's a good thing. Remember, SDR content and SDR TVs have been around much longer than HDR and the technology is at such a level that even budget TVs offer a decent SDR experience and that's the case here. Be it shows like Young Sheldon or movies like Mission Impossible or Spider-Man Far From Home, skin tones and colors look punchy. You may see some halos and flares on TV but it's nothing a little biased lighting can't fix.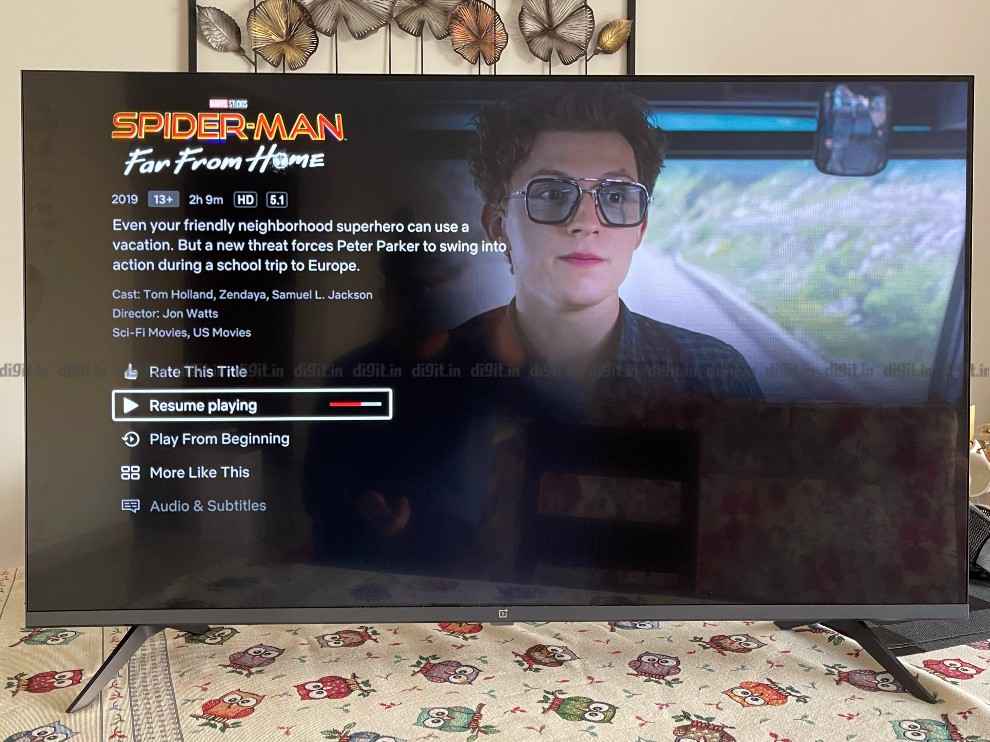 Gambling
With the OnePlus Y1s Edge too, we ran into the same problem as the Redmi Smart TV X43 – HDR calibration. When you connect a PS5 (Review) For the first time on a TV, you are asked to calibrate the brightness. After calibration, we removed the dirt 5 (Review) and found the material looking quite charred. We had to go into the game's settings and lower all HDR settings to get the best output. Again, we've seen this on many budget HDR TVs. In games like Spider-Man Miles Morales, the OnePlus TV showed decent colors and good details on Spider-Man's suit.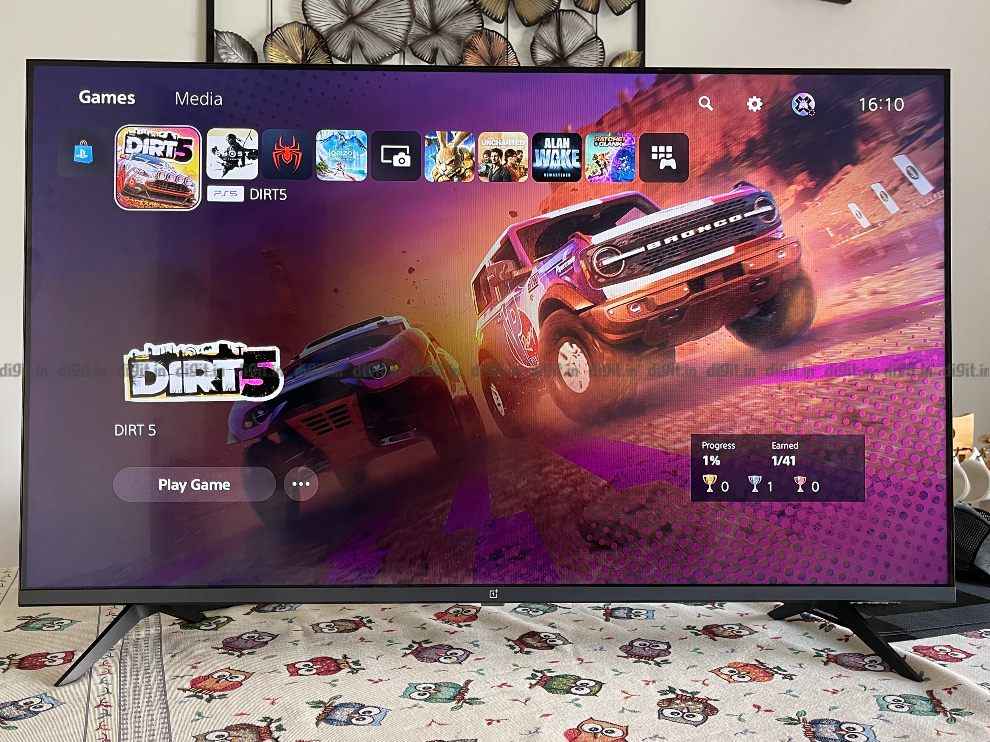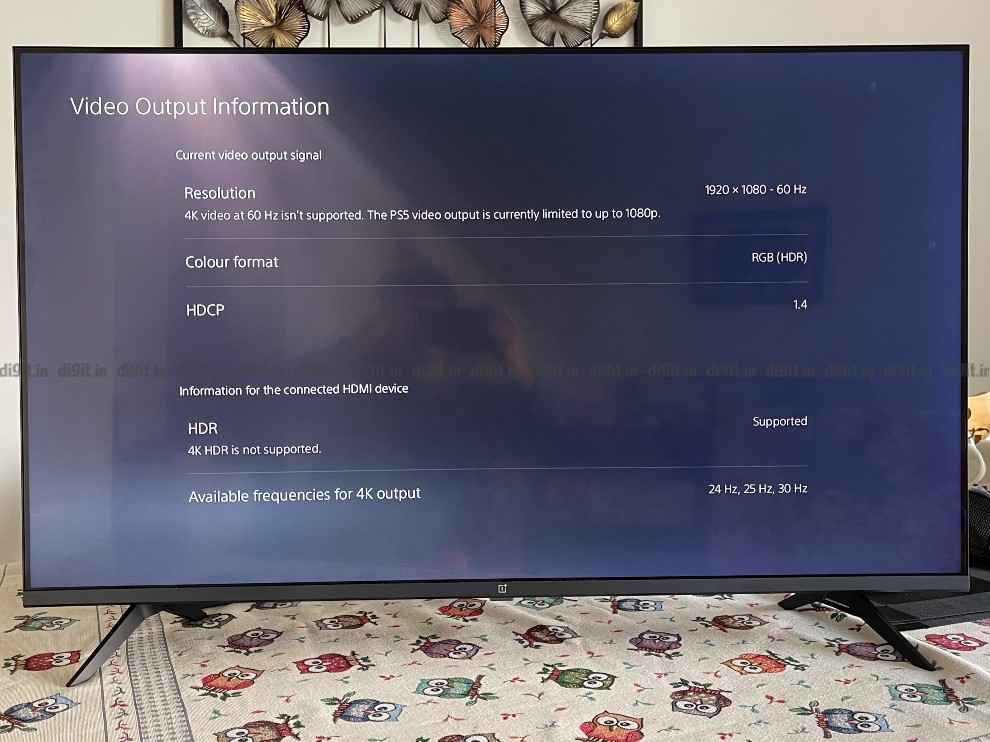 One thing to note is that when you connect to an external device such as a PS5 or a streaming stick For TVs, you get access to a quick-select menu on the left. This menu helps navigate settings such as Input, Brightness, Picture Mode, Sound Mode, and Signal Format. I wish this quick menu was there when navigating native streaming apps as it would make it easier to change picture presets and audio settings.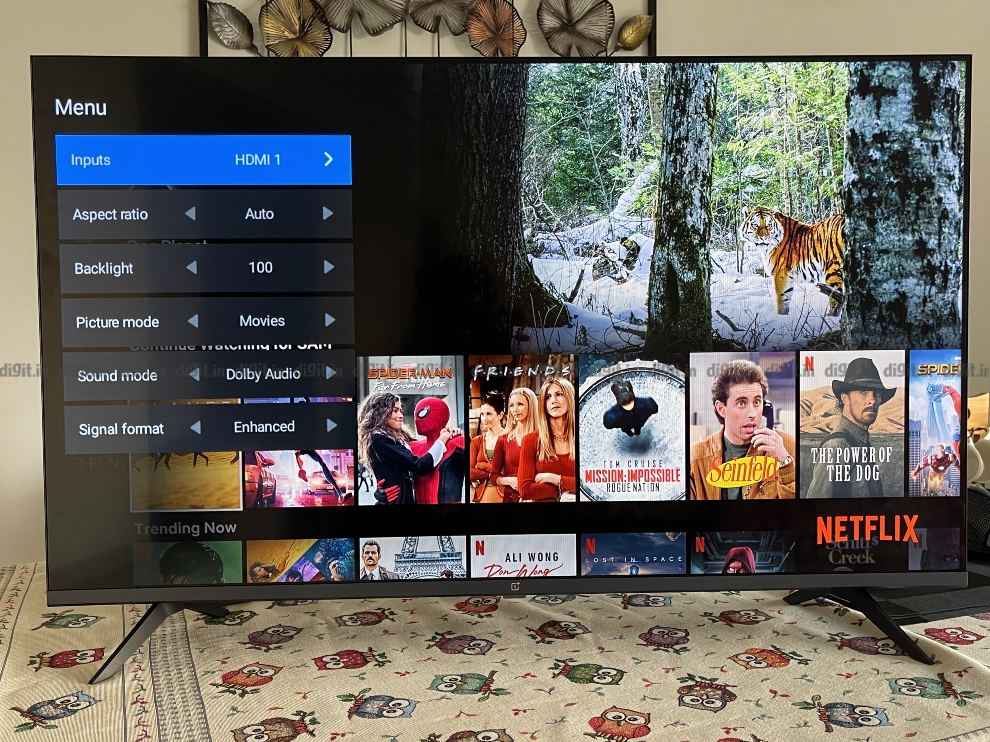 audio performance
One area where the TV does well and is better than the Redmi Smart TV X43 is its sound output. On paper, this is 6W less than the Redmi Smart TV X43 but in real-world usage, the speakers sound good. Channel separation is lacking and you will miss the thump in an action movie but the overall sound is quite acceptable. The dialogues are clear, and there's a good separation between the background score and the vocals in the high octave action sequences.
While there are a bunch of audio presets available on the TV, I recommend leaving the TV's sound mode on Dolby Audio as it gives the best output overall. There is also an option to enhance the dialogues if needed.
UI
OnePlus Y1S Edge runs on Android TV 11 and comes with OnePlus' own OnePlus OxygenPlay UI. Just like the Xiaomi TV, it gives you the option to switch between the 2 UIs with dedicated buttons on the remote control. The OnePlus OxygenPlay UI is similar to PatchWall in its content-first approach. However, OnePlus has added the ability to pair your OnePlus Buds to a TV just like you would on a phone. There's also a companion app that lets you navigate nearby the TV, take screenshots, and more. Needless to say, the OnePlus ecosystem has a decent set of features to take advantage of on TVs.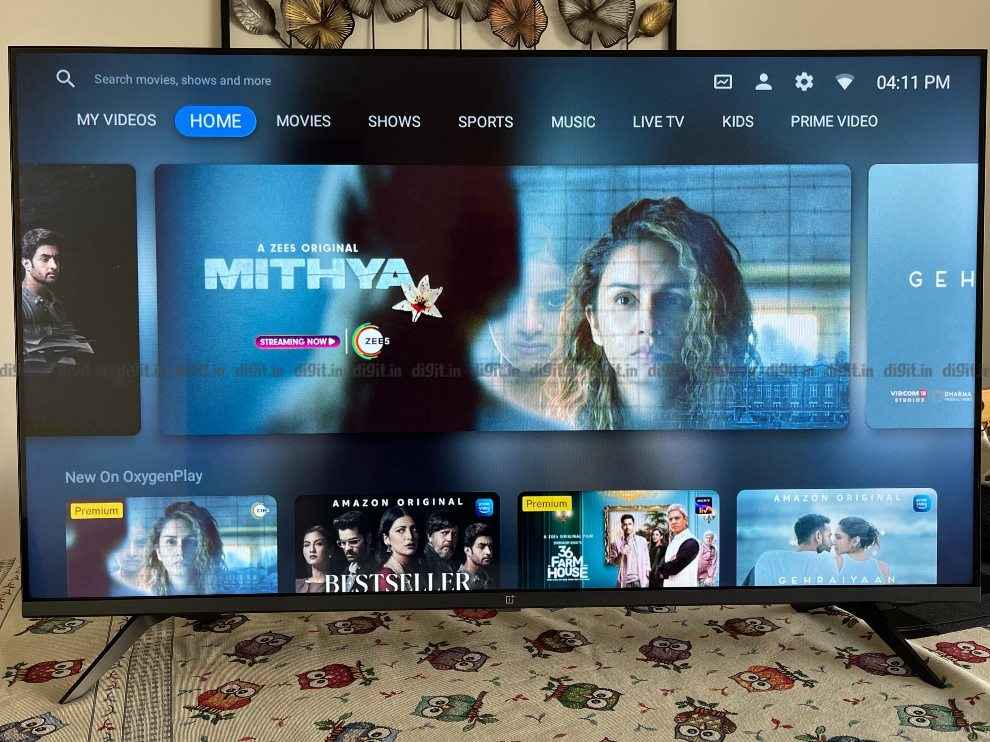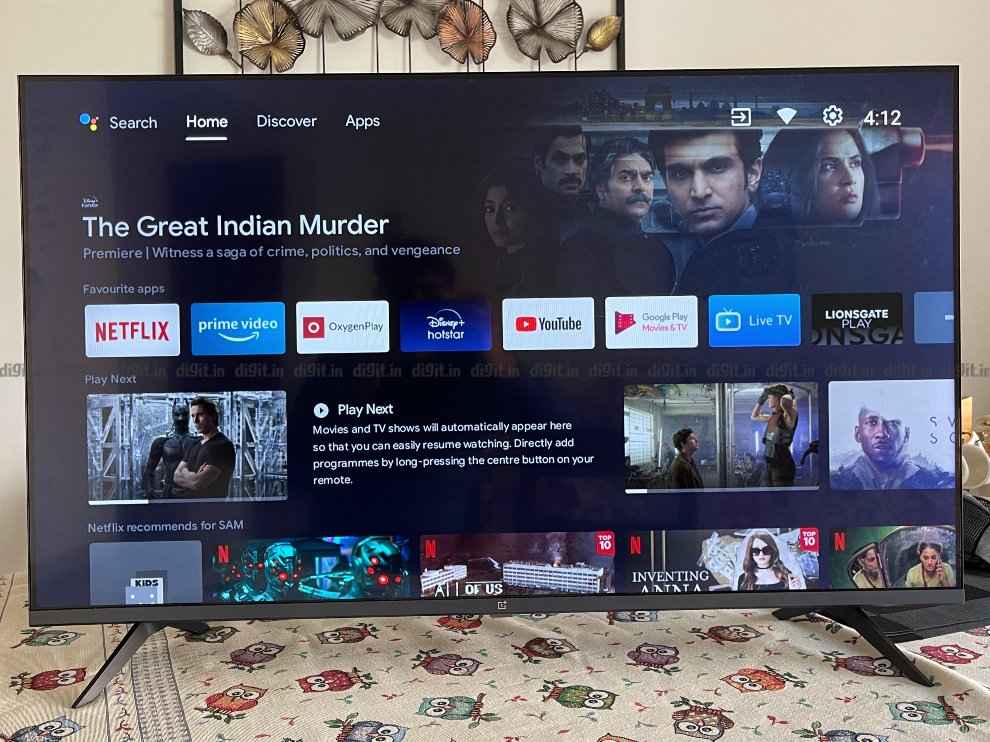 remote controlled
While the ergonomics of the remote control are similar to what we saw on the OnePlus U1S (Review), the location of the buttons has changed slightly. The mute button has been replaced with a menu button and the menu button has been replaced with a Disney+ Hotstar dedicated button. The remote control is overall well built and ergonomic. Just like on the U1S, you have to long-press the Menu button to bring up the settings options.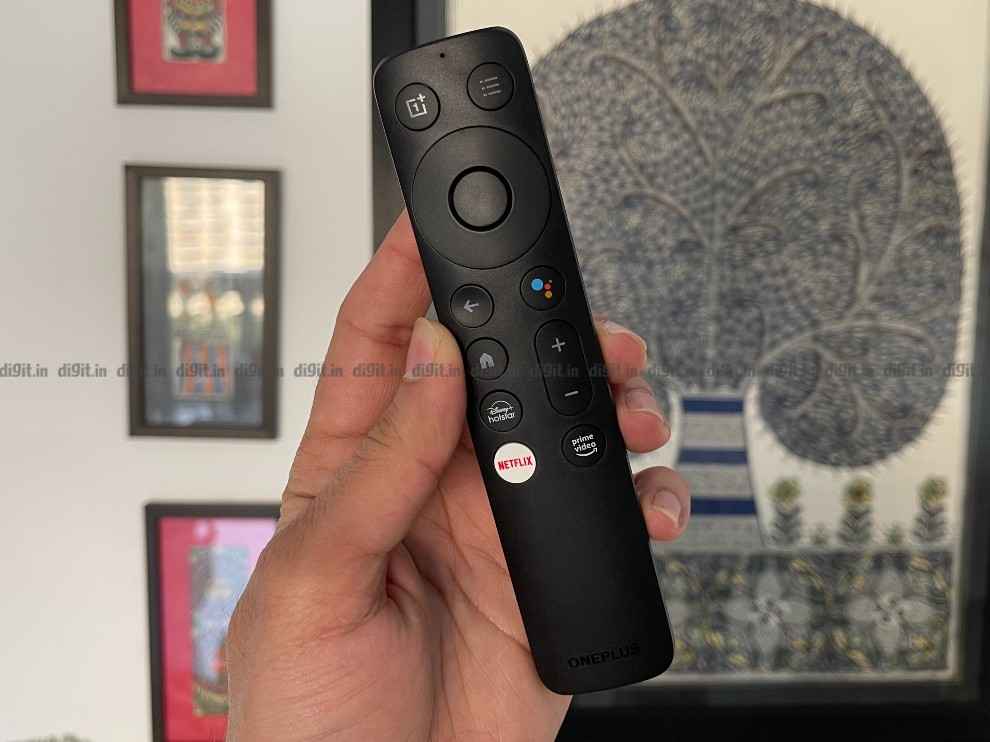 create and design
The design and build of the OnePlus Y1S Edge is also inspired by the U1S. The bottom bezel of the OnePlus Y1S Edge has a metallic finish which gives it a premium look. The feet also have a sharp angular design and hold the TV in place well.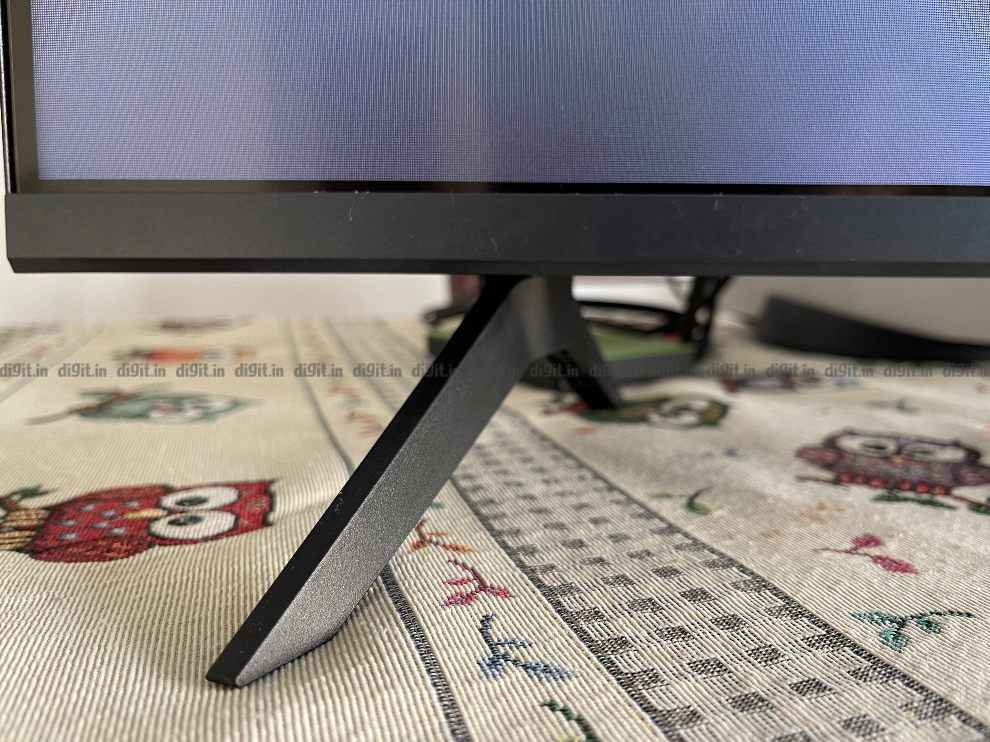 For connectivity, we have 2 HDMI ports, 2 USB ports, an optical port, mini-AV in, and an Ethernet port, along with an antenna port. It also has Bluetooth 5.0 and dual-band Wi-Fi.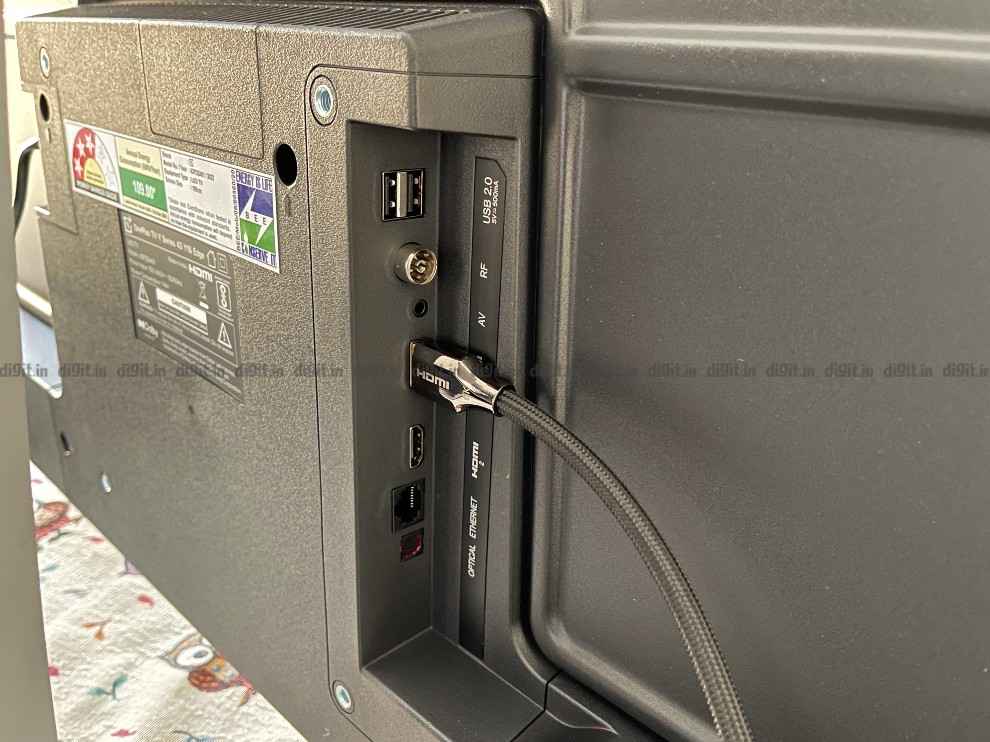 ground level
Overall, the OnePlus Y1S Edge produces some decent color reproduction for SDR and HDR content and has decent sound output. It has Full HD resolution and easy to navigate UI with minimal lag and stutter. The composition is also good. People in the OnePlus ecosystem can take advantage of a few features like easy pairing with the OnePlus Buds. The companion smartphone app is also feature-rich. However, for just Rs 1,000 more you get the Redmi Smart TV X43 which has an additional HDMI port, support for Dolby Vision, and 4K resolution, which makes it a bit difficult to recommend the OnePlus Y1S Edge.