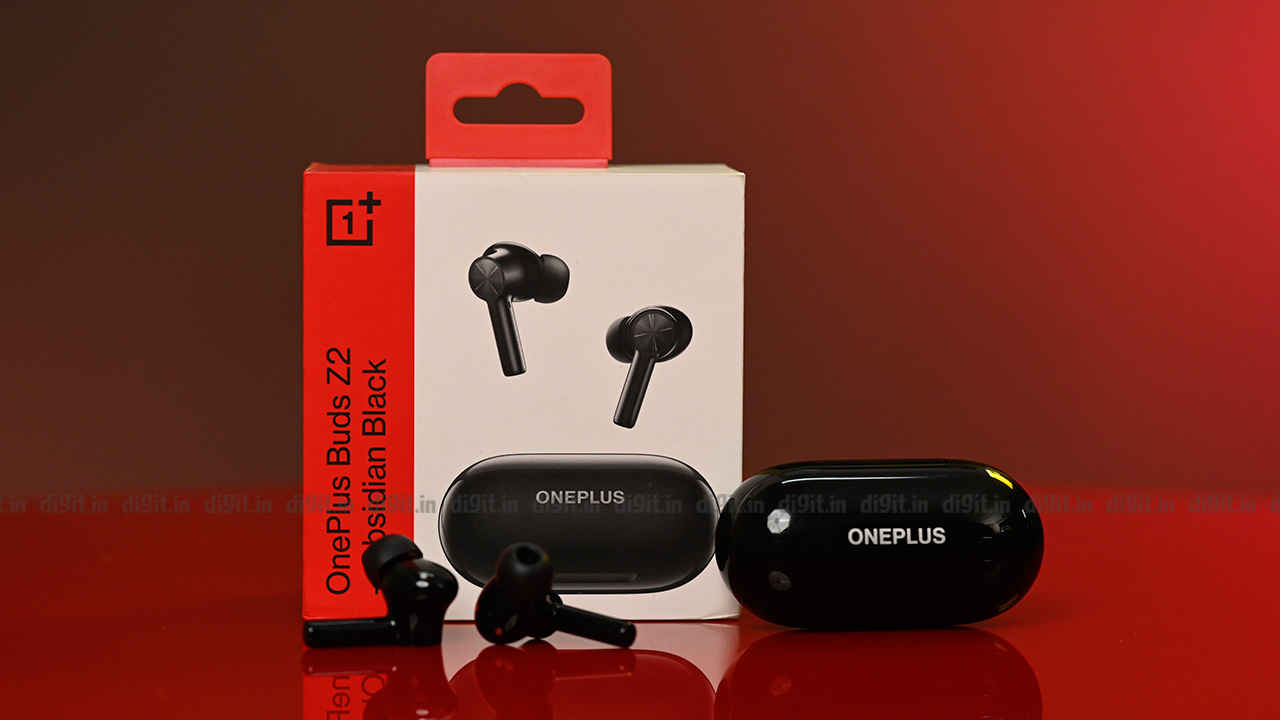 OnePlus isn't new to making great audio products like the OnePlus Buds Pro and the hugely popular OnePlus Buds Z. The device we are reviewing here is the successor to the latter and has been dubbed the OnePlus Buds Z2. These earbuds priced under Rs 5,000 include a number of improvements and additions over their predecessor, including extended battery life, larger drivers and active noise cancellation support. Nevertheless, due to the popularity of this price segment, the OnePlus Buds Z2 is also facing its fair share of competitors. The OnePlus Buds Z2 are extremely feature-rich TWS earbuds on paper and there's a lot going for them at Rs 4,999. But when stellar competitors like nothing ear 1 And this Sony WF-C500, are these buds good enough to be worth your hard earned money? Let's find out more in this review.
OnePlus Buds Z2: Build and Comfort
Featuring a lightweight build with the earbuds weighing only 4.6 grams, the OnePlus Buds Z2 are an excellent option to use on the go. The earbuds come in two color options – Obsidian Black and Pearl while and we got the former for review. The earbuds have a glossy finish with long stems and a CD-like design on the back of the buds that doubles up as the touch control area. Although the stems are normally quite tall, they are 15 percent shorter than those of the OnePlus Buds Z. They're not the sturdiest feeling earphones and feel a little cheap to the touch.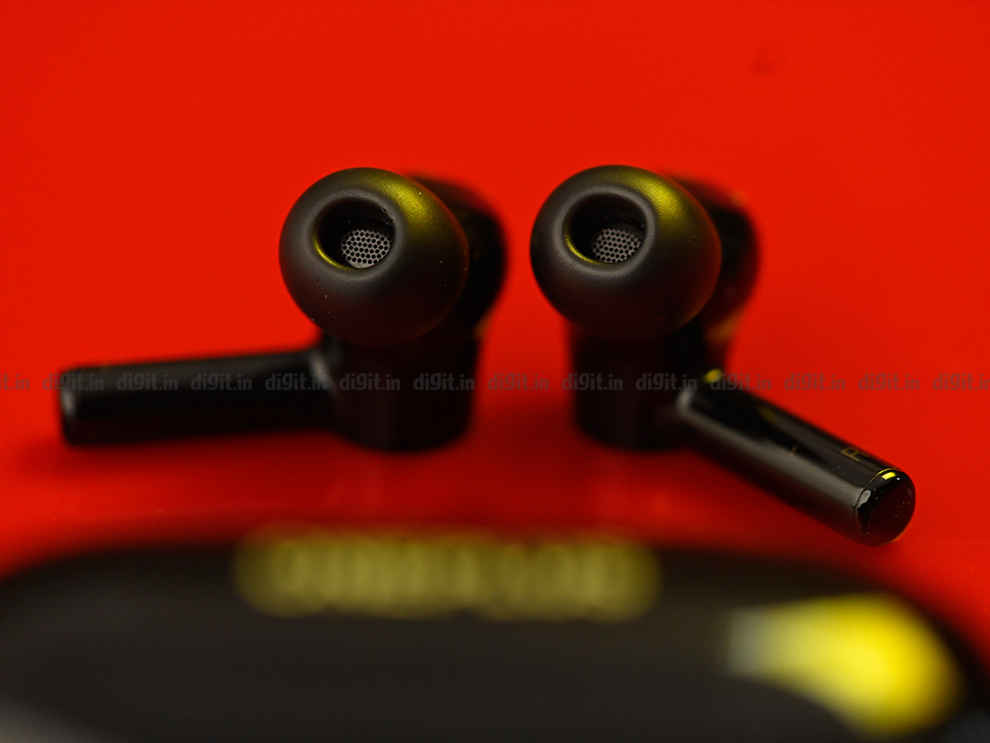 However, the earbuds are quite comfortable to wear and provide a secure enough fit. The fit is almost as good as the Nothing Ear 1 but the Sony WF-C500 feel more comfortable and secure in the ear. OnePlus also supplies two additional silicone ear tips, so you can use whichever suits you best. The touch controls on the back are easy enough to find and accurate enough, although there were a few instances of inaccurate or inaccurate readings.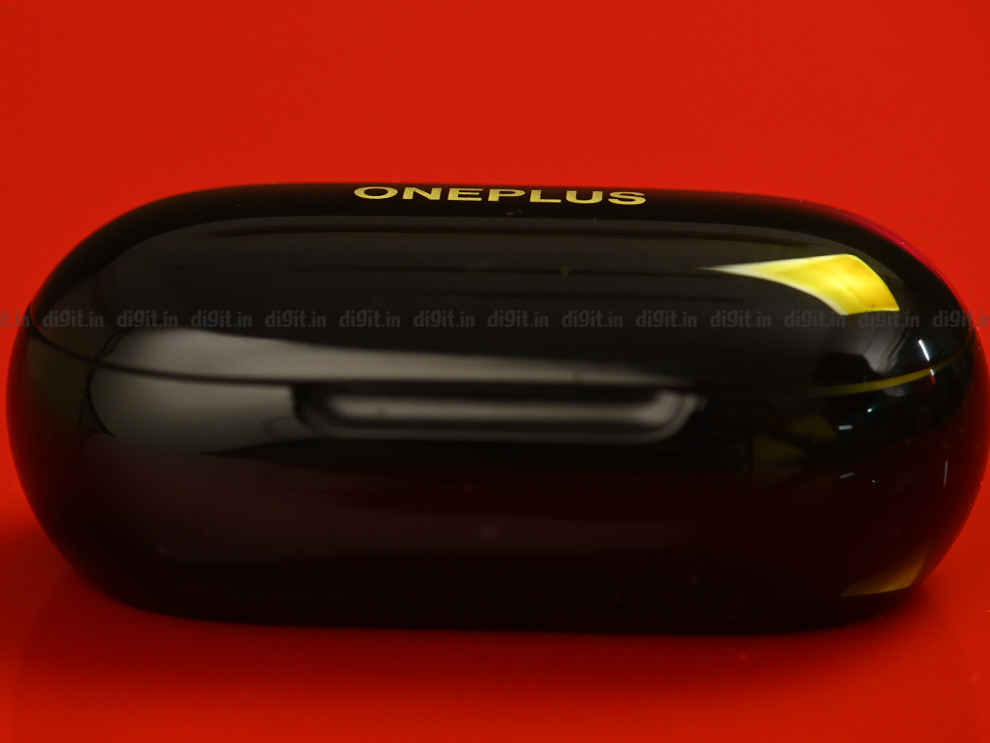 Coming to the charging case, the earbuds sit snugly in a pill-shaped case that is super easy to carry around. It has a glossy black finish similar to the buds and has a large OnePlus logo on the lid. The front houses the LED indicator light while the back houses the USB Type-C charging port. The lid opens easily using the indent provided and can be opened with one hand as well. The magnets inside the case are also very strong.
OnePlus Buds Z2: Active noise cancellation, HeyMelody app and other features
Despite being priced conservatively at Rs 4,999, the OnePlus Buds Z2 are packed with features exclusively for OnePlus device users. However, its main feature is Active Noise Cancellation. According to OnePlus, the device's three mics are capable of analyzing environmental sounds and reduce noise by up to 40dB. You can choose between regular and max ANC using the HeyMelody app, and we tested these earbuds on max ANC. While the ANC on these earbuds certainly doesn't come close to premium heavyweights, it's pretty good for the price.
Low-frequency, constant sounds like the hum of an AC, the whir of a PC and more are canceled out very effectively, but you'll easily be able to hear more erratic and high-frequency sounds like traffic, human voices and more . In our experience, the OnePlus Buds Z2 have slightly more effective ANC than the Nothing Ears 1, although the difference is minimal. As for the transparency mode, the earphones do a decent job bringing ambient sounds through clearly, though it can sound a bit artificial at times. You can switch between ANC and Transparency using the touch controls on the buds, or via the Heamelody app.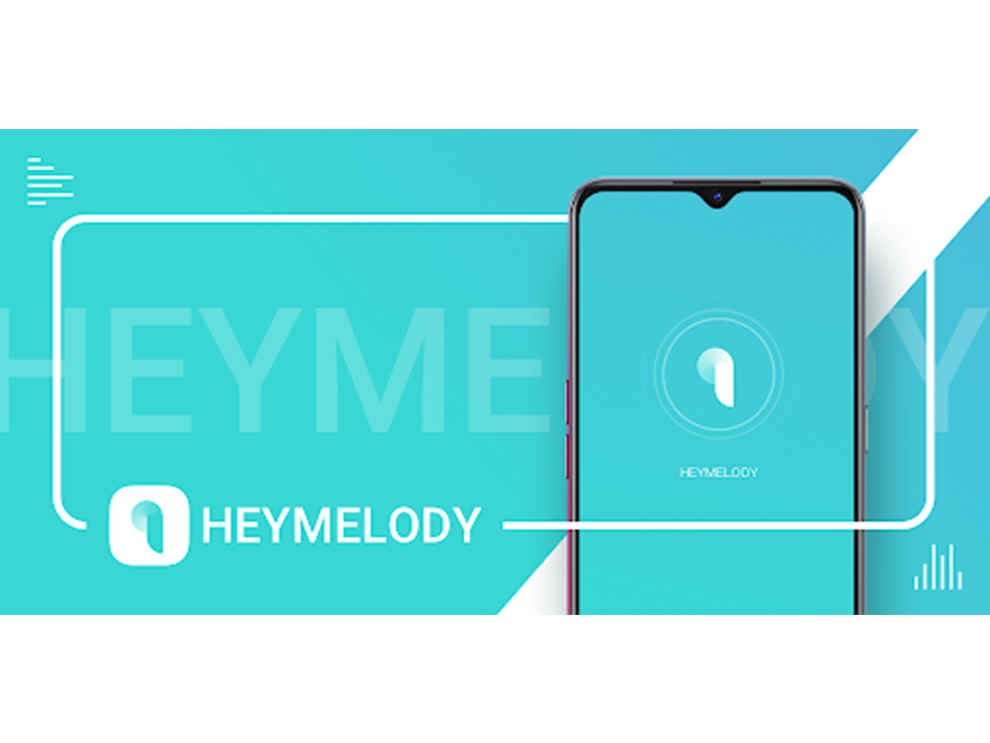 Talking about the HeyMelody app, it is compatible with both Android and iOS features. If you're using a OnePlus phone, it's built into OnePlus' firmware. Those who don't have OnePlus devices can take advantage of a fair number of features through the HeyMelody app such as viewing battery status, switching between noise cancellation modes, earbud fit testing, customizing touch controls, and more. Firmware updating. The app allows users to set the earbud controls according to their preferences for a variety of functions, including pause/play music, seek tracks, switch between noise cancellation modes, and activate the voice assistant. However, there's no way to integrate volume controls, which is disappointing.
There's also no customizable EQ in the app, so users have to make do with the earbuds' bloated bass response. You can also use the Find My Device feature from the Bluetooth settings to locate the missing earbud when needed, which is quite convenient. There's also a nifty feature called Quick Switch that will alternate between paired devices when you press and hold the touch control for three seconds.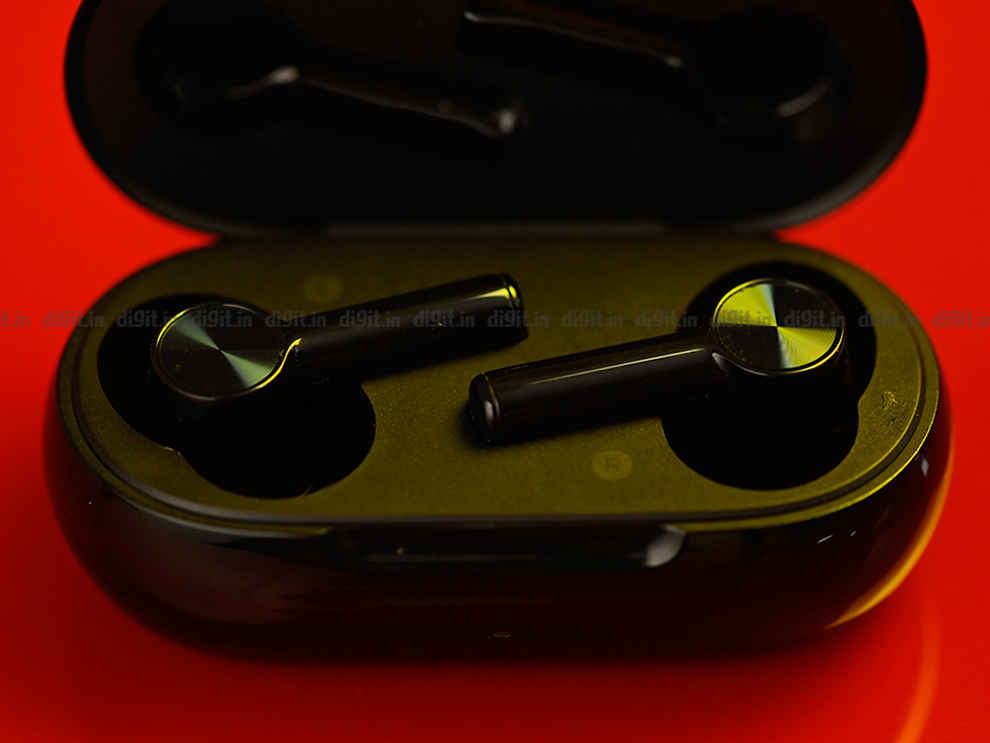 If you use a OnePlus smartphone, you will also get access to many OnePlus exclusive features. Firstly, you get Dolby Atmos support which simulates a 3D soundstage and makes the sound more immersive. Although it is only available on select OnePlus phones. You will also get low latency gaming mode support which brings down the delay to just 94ms. Lastly, there is also OnePlus Fast Pair which allows users to quickly pair the Buds with OnePlus devices. However, even if you are not using a OnePlus phone, the buds also support Google Fast Pair which works in a similar way. However, if you're using an iPhone, you'll need to pair these earbuds manually.
As for other features, the OnePlus Buds Z2 are rated IP55 dust and water resistant, making them excellent for outdoor use or while working out. Not only this, but the charging case is also IPX4 rated which is usually a rare feature to find, let alone at this price. You also get automatic ear detection depending on whether the buds are in your ear or not. There's also mono earbud use, so you can use one earbud independently while the other is inside the case. OnePlus Buds Z2 is one of the most feature-rich TWS under 5K. The Sony WF-C500 which costs 1K more doesn't come with ANC, transparency mode, or wear detection, while the Nothing Ear 1 which also costs 1K more comes with all these features.
OnePlus Buds Z2: Performance
The OnePlus Buds Z2 are equipped with 11mm drivers, which are an improvement over the 10mm drivers on its predecessor, and have a frequency response of 20Hz – 20kHz. In contrast, the Sony WF-C500 has 5.8mm drivers, while the Nothing Ear 1 has 11.6mm drivers. For audio codecs, the earbuds support SBC and AAC formats which prove to be more beneficial for iOS users as iPhones are better optimized with AAC codecs. However, if you use an Android phone, the experience is almost as refined.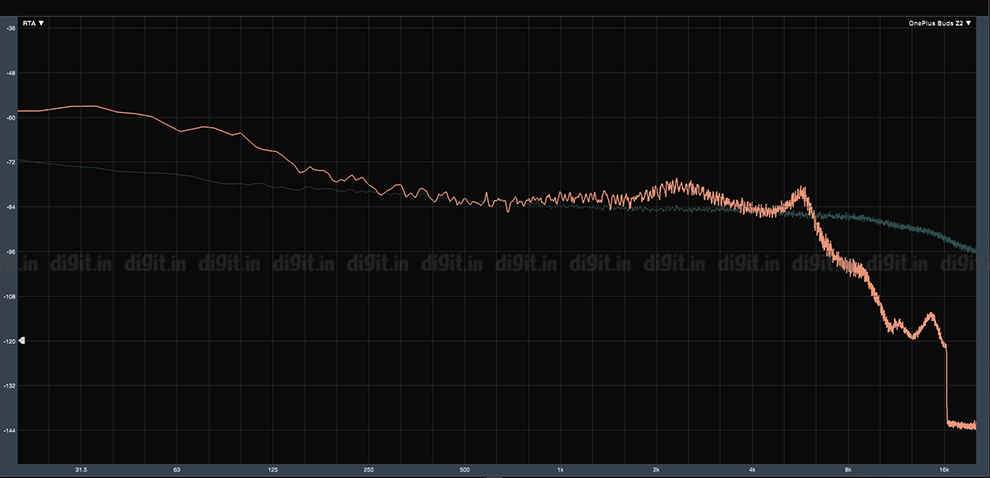 The earbuds' sound signature tends to be heavily bass-biased, with excessive highs, so the mids take a backseat in the mix. We tested these earphones with our specialized equipment to generate the frequency response graph of these earbuds. In the graph, you can clearly see that the bass region from 20 – 250Hz is neutral as well as boosted massively in this region compared to the response of the Nothing Ear 1 and the Sony WF-C500.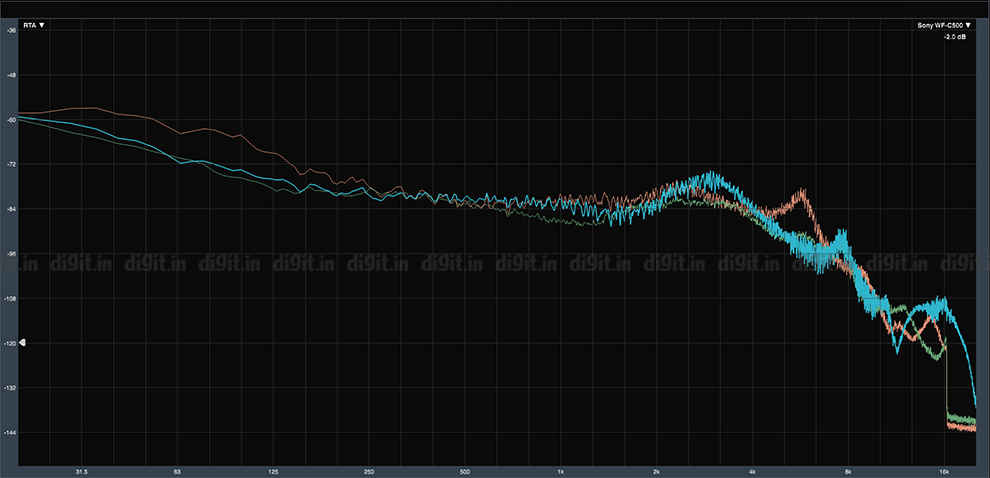 The resulting sound signature is a low-end heavy sound that can sound boring and muddy at times. The sound signature is similar to what is seen in budget earphones from boAt, JBL and a few other brands. While Indian consumers may enjoy this bass-forward sonic signature, especially with genres such as pop, rap, EDM and Bollywood, purists or audiophiles will be turned off by the aggressive bass. The mids, in their own right, are well produced with good clarity and a fair amount of detail, however, the aggressive lows heavily overshadow them and hide details in the vocals and lead instruments.
Elements like cymbals and hi-hats are carried forward in the mix, but there's a prominent spike with a sharp drop off around the 5-6kHz mark that causes some tinnitus. Overall, the earbuds' sound quality is somewhat let down by the overly aggressive bass response, but bass lovers will definitely enjoy this sound signature. However, if you prefer more detailed and balanced sound, go for options like the Nothing Ear 1 and the Sony WF-C500. If you can stretch your budget to 2 thousand, you can also go for excellent sound Lypertek PurePlay Z3 (Formerly known as Lypertec Tevi).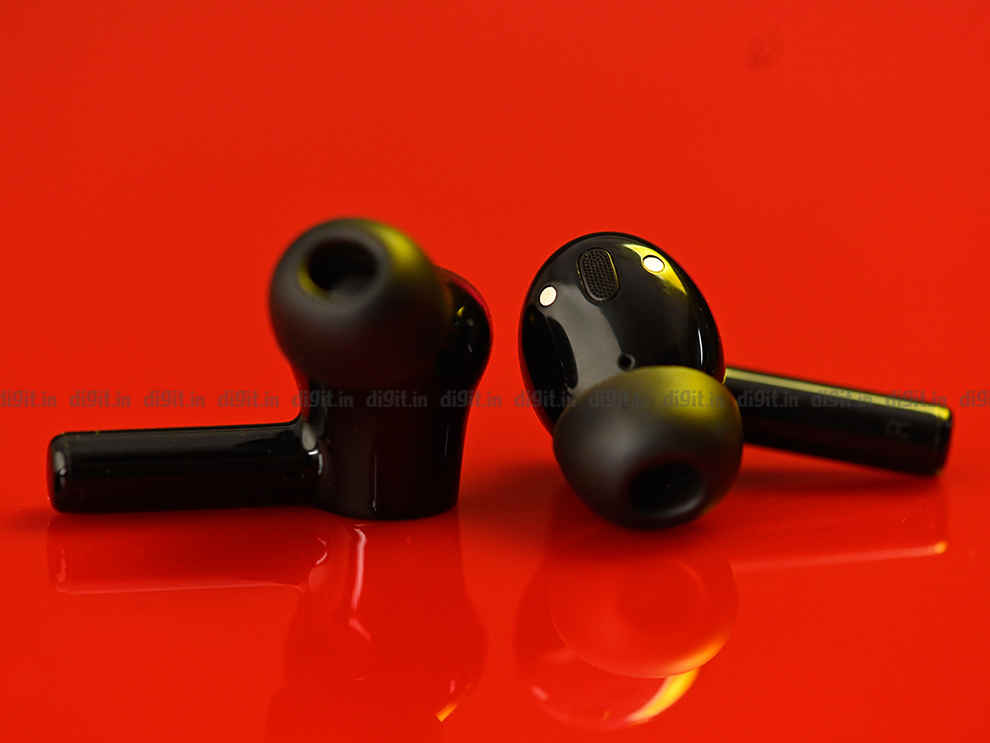 The OnePlus Buds Z2 is equipped with three beamforming, ENC microphones that work well when making phone calls or recording your voice. For the most part the voice relayed by the mic sounds clear and pretty natural. It is not a muffled or distant voice. The microphone set up on these earphones is better than the Sony WF-C500 which sounds a bit tinny and is on par with the Nothing Ear 1. If you're in a noisy place, the mics pick up on surrounding noises and relay them. , But they suppress the air to a degree.
For wireless connectivity, the earphones are powered by Bluetooth 5.2 and have a solid wireless range. The connection process is seamless via Google Fast Pair or OnePlus Fast Pair. There was no problem using the earphones and we found the connection to be very reliable. However there is very little latency or delay while watching videos. However, OnePlus phones feature a 94ms gaming mode that can mitigate this problem. If you're using a non-OnePlus device, you'll have to put up with some latency, even though it's not too bothersome.
OnePlus Buds Z2: Battery life
OnePlus devices are renowned for their exceptional battery life and charging capabilities and the OnePlus Buds Z2 is no different. OnePlus touts 7 hours of battery life on the buds alone (without ANC) and 38 hours of playtime when the buds and charging case are combined. With ANC turned on, these numbers drop to 5 hours on the buds alone and 27 hours overall, which is still surprisingly good.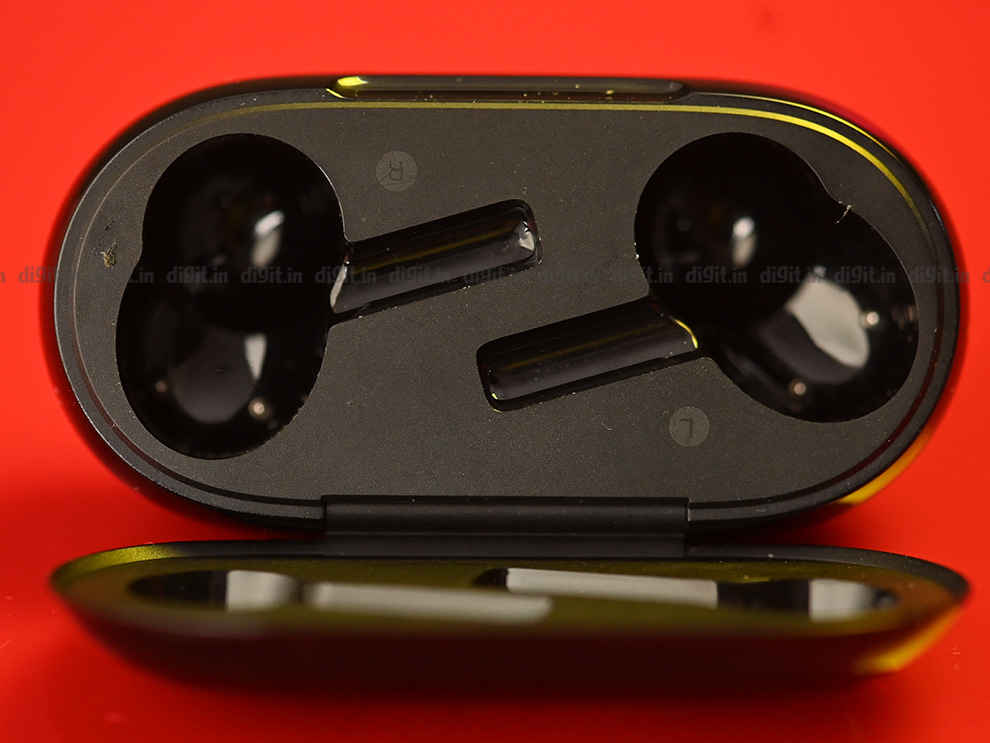 In our tests, with the ANC turned on and the volume level set to 50 percent, the buds lasted 4 hours 50 minutes, which is pretty close to what OnePlus estimates. Plus, the case offers not one, not two, but 4 additional charges with some juice still incredibly left in it. In comparison, the Sony WF-C500's total playtime is only 20 hours. However, the Nothing Ear 1 comes close to its 34 hours of total wireless playback time.
OnePlus has also integrated Flash Charge which provides 5 hours of playback (case and earbuds combined) by charging the earbuds for only 10 minutes. Do note, however, that these higher charging speeds can wear down the battery quicker, meaning you may have to buy a new TWS in a few years.
OnePlus Buds Z2: Verdict
The OnePlus Buds Z2 are one of the most complete all-rounders you can find under 5K with a ton of features, excellent battery life, and decent ANC. If you have a OnePlus device, you get access to even more features like Dolby Atmos support and Low Latency Gaming Mode. However, the sound quality is extremely bass-forward and will appeal only to bass lovers.
Still, there are very few earphones that offer better sound under 5k, so we would definitely recommend these earphones to those willing to spend 5k on TWS earbuds. However, if you're willing to stretch your budget to 1K, the Nothing Ear 1 is an equally attractive package with similar features and a more balanced sound signature. The Sony WF-C500 are also excellent sounding earbuds under 6K, but you'll miss out on features like ANC, wear detection, and more.