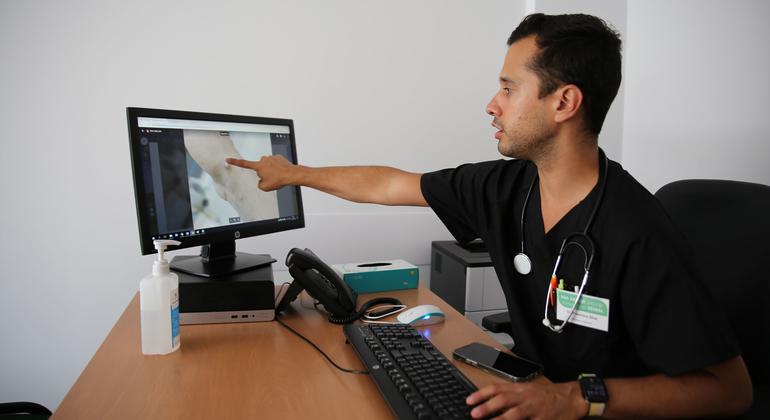 Tedros Adhanom Ghebreyesus was speaking to reporters in Geneva, a day after the emergency committee that made the emergency recommendation last July advised the director-general to declare it over.
'Significant challenges' remain
"however, as with COVID-19, It does not mean that the work is over. Mpox continues to pose significant public health challenges, which require a strong, proactive and sustainable response", Tedros warned.
He said there have been more than 87,000 cases and 140 deaths worldwide WHOfrom 111 different countries.
The virus, originally known as monkey pox, is spread through direct contact with bodily fluids and causes flu-like symptoms, as well as pus-filled sores on the skin.
Last July, it was spreading rapidly, but Tedros said the WHO was "very encouraged by the rapid response of countries. Now we see Continued progress in controlling the outbreak Building on the lessons of HIV and working closely with the communities most affected."
90 percent drop in cases
Nearly 90 per cent fewer cases were reported in the last three months as compared to the previous three months.
From the beginning of the international outbreak of the disease which has been prevalent since 1970, and occurred mainly in the tropical rainforest regions of Central and West Africa, the WHO insisted that most people who become infected would recover within a few weeks without treatment. Are.
He praised the work of community groups and public health officials, saying that their work "Important to inform people about the risks encouraging and supporting behavior change, and advocating for access to tests, vaccines and treatments accessible to those most in need,
Cases of the virus were concentrated in men who have sex with men, especially those who have multiple sex partners.
backlash avoided
Tedros said that while stigma has been a major concern in the management of the mpox epidemic, and continues to hinder access to care, "the fearful backlash against the most affected communities has largely unrealized, For that, we are grateful.
He said that despite the decline in cases, the virus was affecting all regions, including Africa, where transmission is "still not well understood."
Noting that a particular risk is associated with those living with untreated HIV infection, he urged countries to maintain testing capacity and be prepared to respond quickly should cases rise again.
,Recommends integration of mpox prevention and care into existing health programsRapid response to allow continued access to care, and to address future outbreaks.
WHO will continue to work to support access to countermeasures as more information becomes available about the effectiveness of interventions.
Professor Nicola Low, deputy chair of the emergency committee, said there was now a need to switch from emergency measures Managing Long-Term Public Health Risks mpox, similar to national surveillance programs that exist for infections such as HIV.
watch for revival
"Whereas the emergency of mpox and COVID-19 both are over The threat of resurgent waves remains for bothTedros said.
"Both viruses continue to circulate, and both keep hitting,
And while two public health emergencies have ended in the past week, every day the WHO Continues to respond to over 50 emergencies globally,
health front and center
Tedros said that as the United Nations approached the upcoming World Health Assembly and Three high-level meetings on pandemic preparedness, tuberculosis and universal health coverageThere were many challenges ahead, but also unprecedented opportunities.
If real commitments can be made, real benefits can accrue "for generations to come".
Each meeting will be an opportunity to catalyze political commitment and generate concrete action and financial resources to accelerate progress, he continued.
"To invest in increasing access to prevention, testing, treatment, vaccines and research for TB; to strengthen the world epidemic prevention, and to strengthen health systems, especially primary health careSo that no one is left out of care because of who they are, where they live or how much they earn."