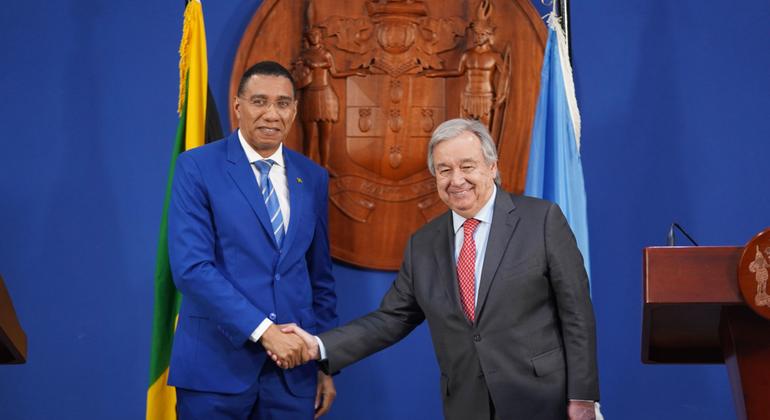 "We are determined to do our best to fix this and that is the reason for my visit," Secretary-General Antonio Guterres told a joint press conference with Jamaican Prime Minister Andrew Holness.
Mr Guterres also said they discussed the "tragic situation" in Haiti, one of the greatest political challenges facing the entire Caribbean region, with the regional intergovernmental bloc of 15, as well as the urgency of the crisis. Appreciated Jamaica's participation in the search for a solution. Member States, CARICOM.
peaceful invasion
He paid tribute to Jamaica's ability to "peacefully invade the whole world." culture, its music and its artin recent decades, proving that diversity can be a "prosperity, not a threat" in the post-colonial era, as long as the right policies are adopted.
"We are facing today – When we look at the current international financial structure – a moral problem, a power problem and a practical problem", said the UN chief.
On the moral dimension, he reminded that COVID-19 Vaccine development, distribution and recovery were dominated by rich countries that could print money, while developing countries could not.
He recalled the huge global liquidity problem where skewed international rules meant injustice was institutionalised, leaving least developed countries at the mercy of borrowing and lending mechanisms that are out-of-date and unfair.
climate range
"Small island developing states, in particular, have a high degree of vulnerability because of the structure of their economies because of their geographic location, their size and the sheer volume of land. the effects they suffer in relation to climate change,
Secondly, he pointed to old power structures created as far back as World War Two at Bretton Woods, when countries like Jamaica were still British colonies, albeit without a voice, along with Africa.
"And clearly, the structures that were created reflect, with minor limitations, the power relations that existed after World War II during the previous decades. They are outdated and, therefore, the system is unfair and wasteful, Reform is needed to adapt the system to the realities of today's global economy."
And now, he said, there are many practical challenges to sustainable and fair development:
"And much more can be done with regard to a better link between climate and finance and stronger support for adaptation in general and in Small Island Developing States in particular.
fix a mess
Much could be done to enhance the impact of the work of multilateral development banks, if they changed their business model – a new approach to risk – and were able to use their resources to great advantage. Are Access to private finance at affordable cost for developing countries. ,
The UN chief said he would address the next meeting of the G7 and G20 this week, and would "push" that these moral, power and practical dimensions are properly addressed.
He described Mr Holness as "a champion of climate action, and of an effective reformed multilateral financial architecture in the world".
Caring for a Future for Haiti
On Haiti, Mr Guterres said the multiple crises of mass violence, a paralyzed political system, humanitarian suffering and widespread insecurity, demanded a "stronger commitment by the international community".
he reminded of his proposal security Councilwhich has not yet taken for "an international strong police force" crack down on gangsAnd to create the conditions for a team to be able to address its dramatic position, in parallel with a political process.
Jamaica was increasingly committed to the idea, he said, and is invested in trying to bring Haiti's stakeholders together, along with CARICOM, to find a way forward.
"I want to express my Full support to the initiative of Jamaica and CARICOM, And I want to ask the international community once again to understand that an effective solidarity with Haiti is not just a matter of generosity, it is essentially matter of enlightened self, Because the current situation in Haiti poses a threat to the security of the entire region and beyond.