HP launched chromebook x360 44,990 in India a few months back at a starting price of Rs. You can read our review of it Here, While I was quite happy to see HP launching a Chromebook in the country after a long gap, I was more excited about the product it launched. Just days after launching the Chromebook x360, HP launched chromebook 14 23,990 in India at a more affordable price (Updated Price: Rs. 22,990). And that's exactly the laptop I'm writing this review on.
i was thrilled About Chromebook 14 because I felt it has an important role to play in the Indian entry-level laptop market. You see, unlike typical Windows 10 laptops in the same price range, the Chromebook 14 doesn't get bogged down by heavy software or slow hard drives. It may come with 4GB of RAM, but it is not burdened with a heavyweight operating system. It also sports a slightly faster storage unit in the form of a 64GB eMMC drive. This, I thought, should result in faster web-only computing than at least one running Chrome on a typical Windows 10 laptop. was i right let's find out.
Display
Our review unit came in the only configuration available in the Chromebook 14 right now: Intel Celeron N3350 dual-core CPU, 4GB of RAM, and 64GB of eMMC flash storage. After a week or two with the review unit, I was mostly happy with the Chromebook 14's performance, though I did wish for more speed from time to time. With the total number of tabs on all virtual desktops no more than a dozen, the review unit loaded each page in less than five seconds. Some heavy pages (including Gmail) took a few seconds to fully load, but that delay can be chalked up to the low-cost Celeron chip inside. There was no problem playing one video at a time on YouTube, but multitasking with a video playing in the background often resulted in stuttering audio.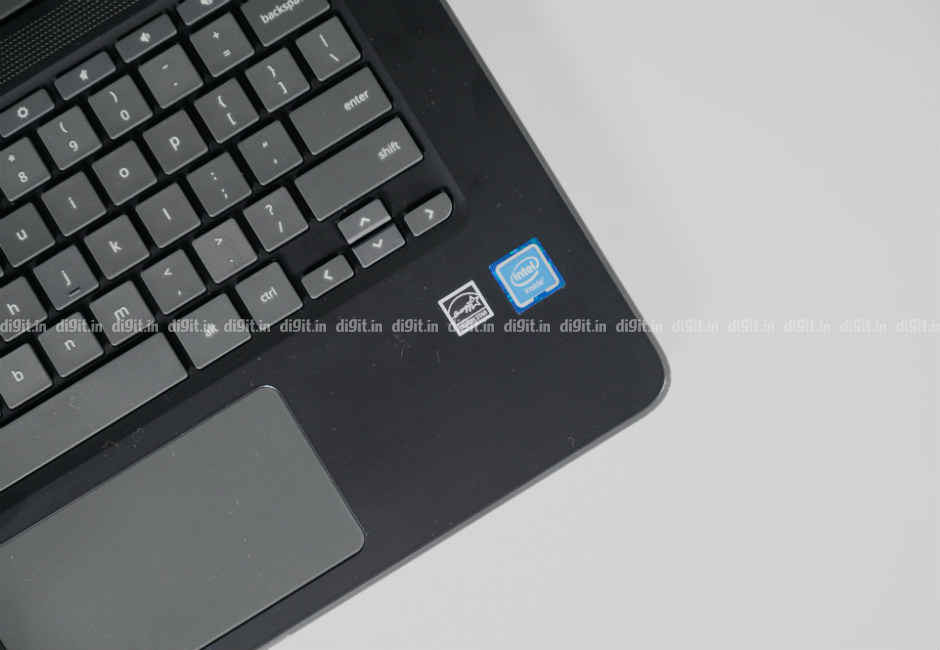 Intel Celeron inside
Accessing common websites like Google Docs, Sheets, Keep, Gmail, Netflix, YouTube, and OneNote Online wasn't a major problem as long as multiple sites were being loaded at once. The review unit was best suited for steady work on a single window, such as creating a long document on Google Docs. Moving quickly from one tab/window to another or clicking multiple links at once often results in a brief freeze or a series of stutters. A cold boot to the lock screen took about 11.46 seconds, and getting to the first Chrome tab from there took 12.46 seconds, so that's 23.93 seconds in total.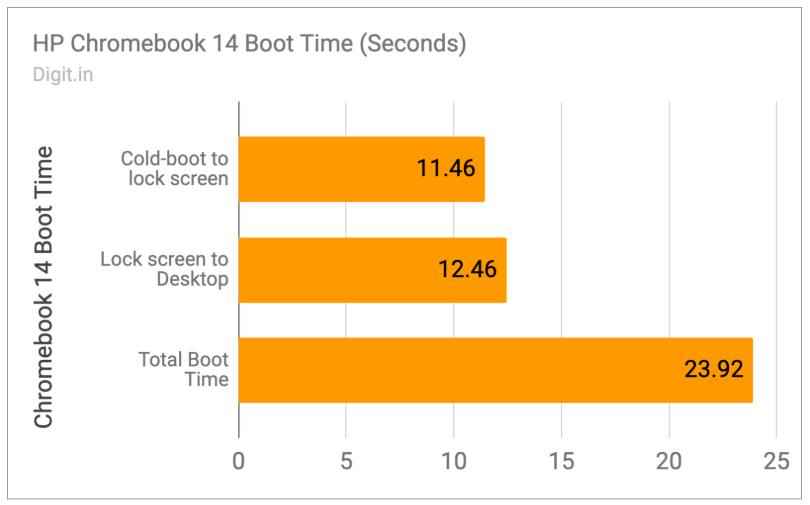 This grade of response, in my experience, is still better than other Windows 10-powered budget laptops on the market, including the new Lenovo IdeaPad S145 (read our review of it) Here, I'm willing to bet the Chromebook 14 will outperform every average budget Windows 10 laptop with the following (or similar) specs: Intel Core i3 CPU, 4GB RAM, 1TB hard drive spinning at 5,400rpm. In other words, if all you want to do is lightly browse Chrome and maybe watch a few videos without spending more than Rs 23,000, the HP Chromebook 14 is your best bet. It's a device on which you can check your email from time to time, watch a few videos once in a while and video call your loved ones, but that's it.
battery
This is one distinct department in which the Chromebook 14 without a doubt excels. During our daily tests, where the screen is set to 70 percent brightness, Wi-Fi + Bluetooth are enabled, and a USB mouse is connected, the review unit consistently lost around 7-10 percent power every passing hour. During one such test, more than twenty tabs were open, one of which played Internet radio in the background through USB headphones. After about three hours, the charge dropped from 100 to 74 percent. Fully charged in about an hour and a half. Overall, the Chromebook 14 is great for anyone who wants to get around 8 or 9 hours of continuous work away from a wall socket.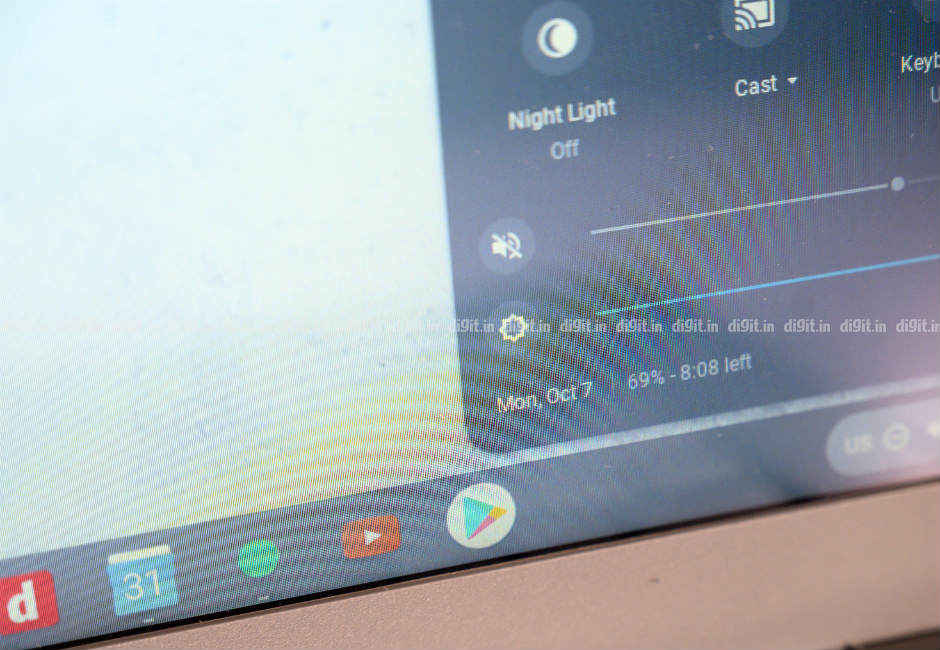 Expect 8 to 10 hours on battery power
Display, Audio and IO
As you might imagine, the display on the Chromebook 14 is a 14-inch WLED-backlit LCD touchscreen unit with a disappointingly low resolution of 1366 x 768 pixels. Colors on the display appear washed out and viewing angles are severely limited. Overall, text on the panel appears grainy no matter what font size you use. Capacitive touch works well but there's no palm rejection on offer if you decide to annotate. Fortunately, the panel doesn't suffer from much glare as it doesn't use a glass surface. If anything, I wish the Chromebook 14 came with the option of a Full HD display.
The Chromebook 14, like its more expensive Pavilion and Specter cousins, confidently sports a Bang & Olufsen logo next to the single top-firing speaker strip on its keyboard island. But the sound emanating from the drivers inside doesn't do justice to that long-standing Danish name. Popular titles, like The Weeknd's Starboy, sound absolutely flat at all frequencies. Ends with muffled sound especially at low max volume. A fair amount of distortion is heard even in videos with only vocals, the speaker strip is best used for message alerts.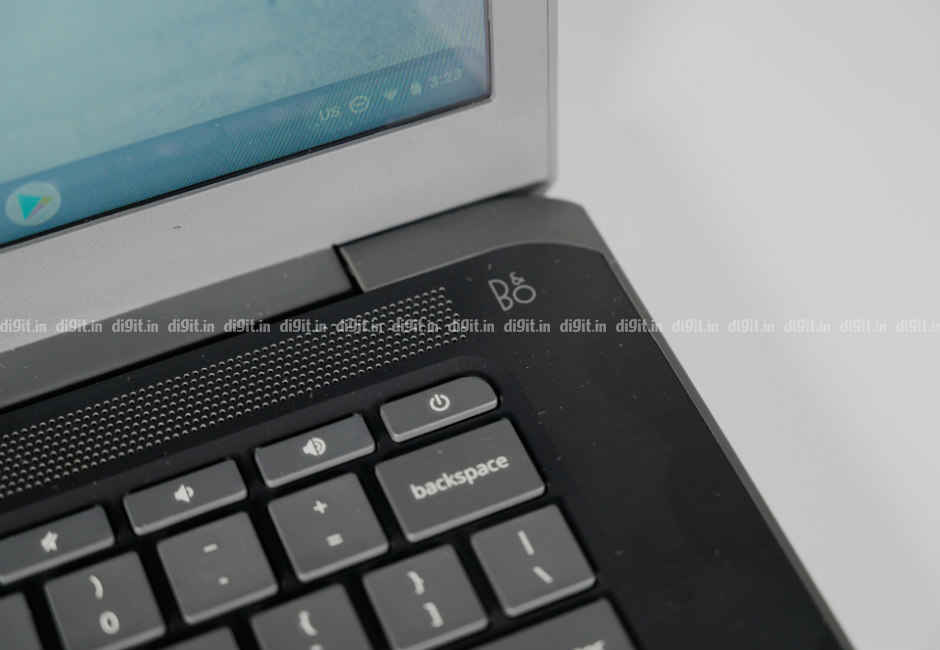 The B&O badging is gone on this flat audio device
The Chromebook 14 doesn't have a very wide variety of ports, but it has the right stuff for USB mice and headphones. On the left side of its body, we see a USB-A 3.1 port and a USB-C 3.1 port, along with a Kensington lock slot. On the right, we see another USB-A 3.1 port, another USB-C 3.1 port, a microSD card slot, and a 3.5mm audio jack for the headset. Because it's equipped with HP's Sleep & Charge technology, you can use the USB-A port to charge small devices like smartphones even when the laptop is powered off. Needless to say, the laptop skips the fingerprint scanner.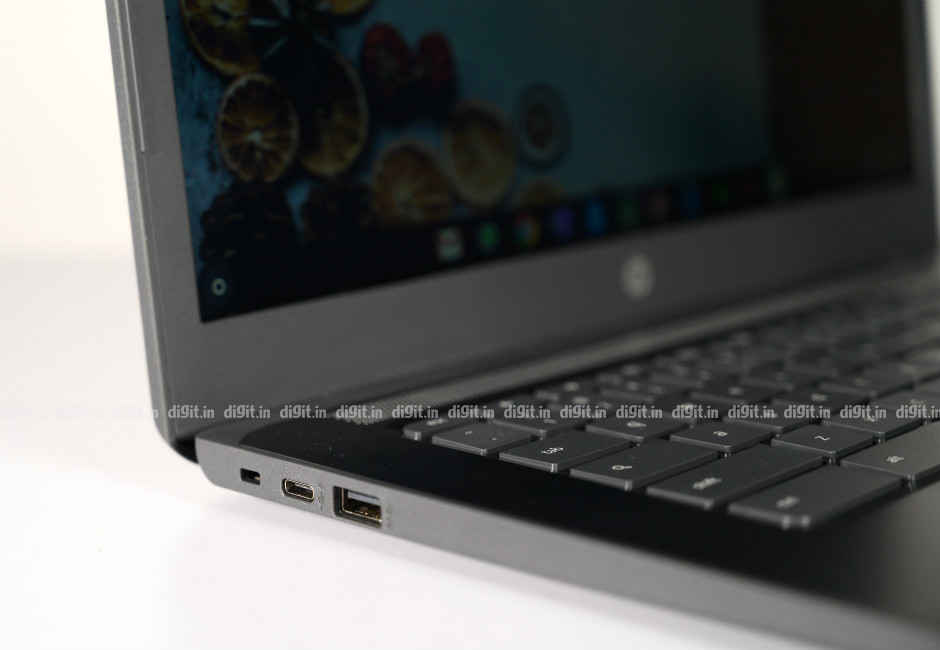 Two USB on the left…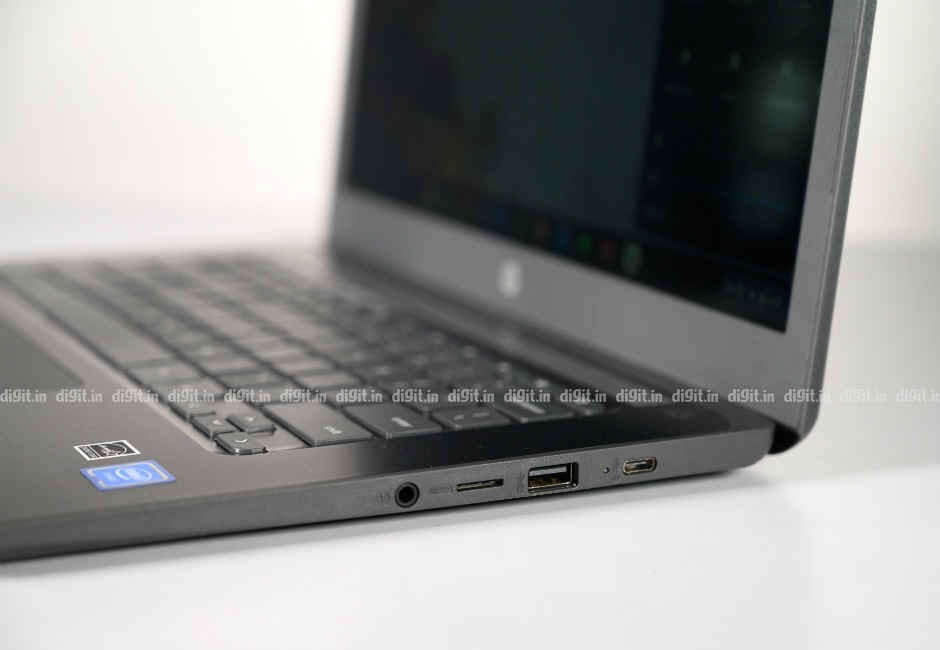 …and two more on the right
keyboard and touchpad
The Chromebook 14's keys are flat and not fully lit but provide adequate comfort and responsiveness when composing long emails and documents. They have good travel but could have done with a little more distance. Most annoying are the empty clicks you hear from the hollow surface below when typing hard on the keys. Yes, the entire keyboard island suffers from a fair amount of panel flex, even under normal typing pressure. Unlike the more expensive Chromebook x360, the Chromebook 14 doesn't get a dedicated lock key on the top row of its keyboard. Instead, it's got a power button, which you'll need to press and hold to power up the Chromebook. To sum things up, the keyboard on the Chromebook 14 is about as good for everyday typing on a laptop of its price.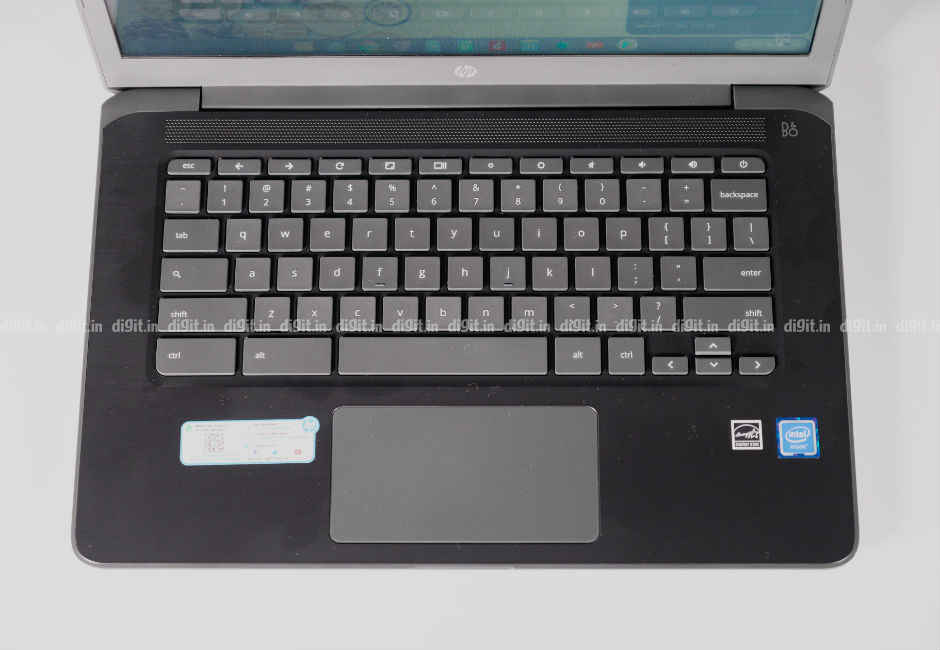 Decent keyboard + touchpad setup
The Chromebook 14's touchpad is just as good as a laptop's keyboard. It's functional and comfortable enough but nothing to write home about. The precision of the pointer movement is somewhere between the Windows 10-recognized precision unit (viewed on its likes) Asus VivoBook X403) and a non-precision unit (seen on the choice of Lenovo IdeaPad S145, What doesn't help improve the feedback is the rough plastic surface of the touchpad. Having said that, it's still a fine touchpad for daily use. What's more, the two clicky keys below the surface of the touchpad are easy to press.
construction and design
The Chromebook 14's outer cover is made of hard plastic, which gives the device a sturdy and tough look, but also a distinctly hollow feel. This feeling of hollowness becomes apparent when you press down hard on the panels. The top cover sports a rough matte finish, which helps a lot in the user's grip on it. Opening the lid from one side reveals a good amount of panel flex, which is common in laptops in this price range. The Chromebook 14 certainly looks like it could take a fall occasionally, but we recommend that you treat it with a fair amount of care nonetheless.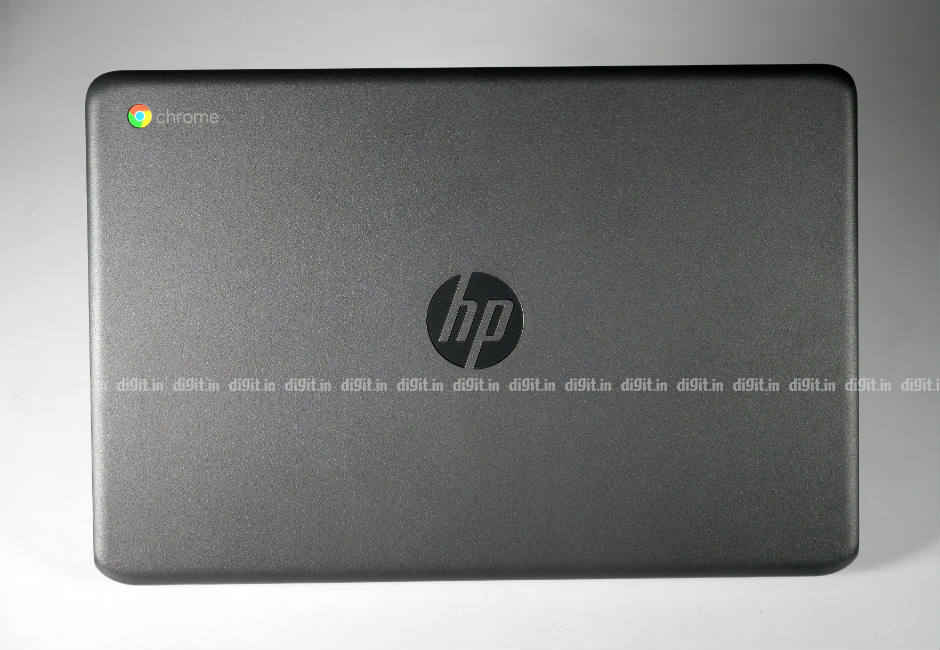 Hard-wearing matte look on gray top cover
Opening the rather tight lid reveals a 14-inch touchscreen panel with a semi-glossy finish. The bezels around the display are quite thick, which makes the device look a bit dated. The display hinge folds up to 180 degrees, which is a rare feature in laptops in this price range. Weighing 1.54 kg, the device is easily portable and does not take up much space in a typical laptop backpack. All things considered, the Chromebook 14 is built and designed quite well for its price.
ground level
The HP Chromebook 14 is truly a game-changer in the entry-level laptop market, in that it gives the average user the freedom to browse and perform web-only tasks with a fair amount of responsiveness compared to other Windows 10-powered models. gives. its price range. What's more, it offers nearly ten hours of battery life over Wi-Fi. But there are some obvious drawbacks: It's not very fast and it's shy to multitask, something that becomes apparent once the tab count surpasses eight or ten.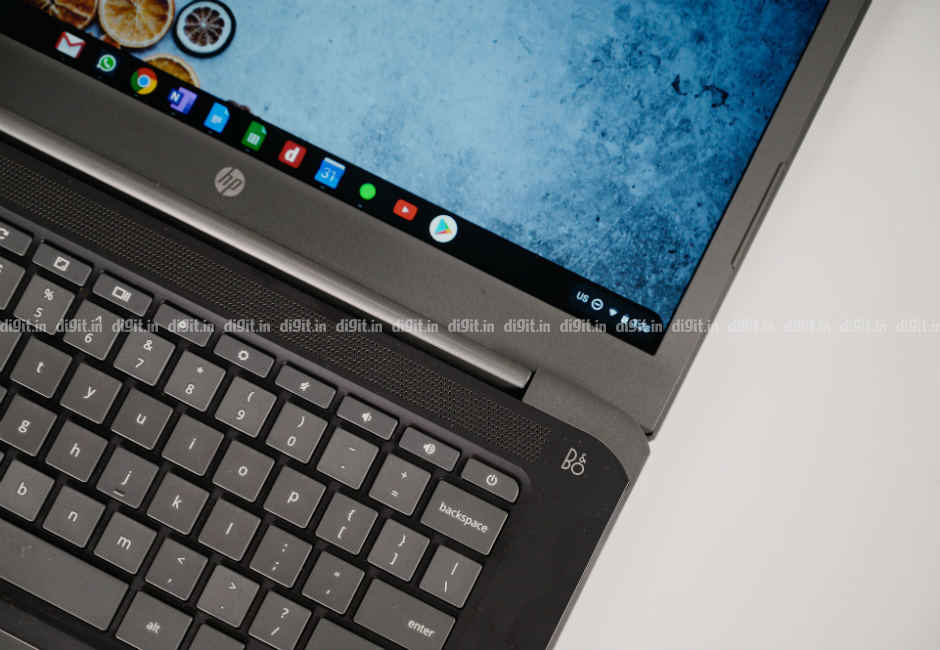 Who Should Buy the New HP Chromebook 14? Well, its ideal buyer is someone who just needs a responsive budget laptop for web-based activities like checking email, creating online documents, watching the occasional YouTube video, etc. They have a stable broadband connection at home and don't care. If they miss out on access to Microsoft Word, Visual Studio, Edge, Paint and more. They're satisfied that their budget laptop doesn't take a whole decade just to open a new browser tab.