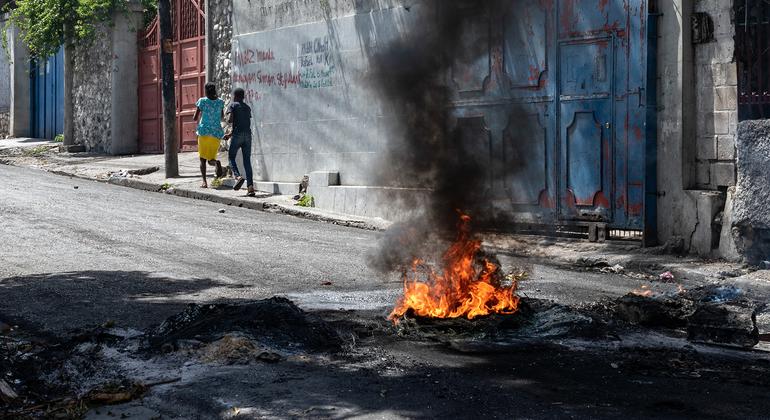 In the month of April alone, more than 600 people were killed According to information gathered by the United Nations Integrated Office in Haiti, violence in the country's capital (binuh, This comes after at least 846 people were killed in the first three months of 2023.
Binuh said that the overall number of victims of murders, injuries and kidnapping There has been an increase of 28 percent in the first quarter During the year, a total of 1,634 cases were registered.
increased alertness
Mob killings and lynchings of alleged gang members are also on the rise, because "ruffians have taken the law into their own hands", United Nations Human Rights Office (OHCHR) Said. At least 164 such killings were documented in April.
latest report From OHCHR And BINUH points to the emergence of vigilante groups, "following calls by some political figures and journalists for citizens to form self-defense organizations to fight mass violence".
Commenting on the findings, the UN rights chief insisted vigilantism will only "further fuel the spiral of violence",
extreme violence
The report states that gangs use snipers on rooftops to "shoot indiscriminately at people going about their daily activities". In some instances, gang members swept through neighborhoods on a killing spree, "burning people alive in public transportation vehicles" and killing "everyone who opposed the gang".
The report also documented the use of sexual violence, including gang rape, to "terrorize and inflict pain" on populations under the control of rival gangs.
According to a local human rights organization cited in the report, at least 652 women and girls "subject to individual and gang rape in gang-controlled areas" over the past year.
Root causes of 'human rights emergency'
The UN rights chief underlined that poverty and lack of basic services was one of the root causes of gangs' hold on the country.
Earlier this year, the United Nations World Food Program (UNWFP)wfp) Was warning half the population of haiti, or some 4.9 million people struggling to access food,
"The government, with the support of the international community, must do its utmost to comply with its obligation to provide people with regular and uninterrupted access to clean water, food, health and shelter," Mr Turke said.
He said what he billed as a "human rights emergency" required a "strong response".
'Coordinated international action' needed
Mr Turk reiterated his call on the international communityDeploy a time-bound, specialized and human rights-compliant support forcewith a comprehensive action plan to assist Haitian institutions".
was on the country's agenda last month human rights council, Who Adopted calling for a resolution appointment of an independent rights expert on Haiti.
The resolution, sponsored by Haiti itself, called for "coordinated and targeted international action".
according to ResolutionThe new independent expert on human rights in Haiti, William O'Neill's duties include focusing on the situation of child and human trafficking and providing advice and technical assistance to the Haitian government, national human rights institutions and civil society organizations. Help promote and protect human rights.
According to the independent rights expert appointed by the UN rights chief human rights council Resolutions are not employees of the United Nations and are not paid for their work.