Garmin's wearables aren't usually aimed at the first-time buyer who's just thinking about trying out a wearable. They are aimed at hardcore users who know exactly what they want. The Garmin Fenix ​​7X Solar follows that trend. For starters, it's priced at Rs 98,990, which means it's definitely not targeted at your typical buyers. so who is Garmin Fenix ​​7X Solarare ideal users, and is the hefty asking price worth it? let's find out!
Garmin Fenix ​​7X Solar: Build and Design
Let's cut to the chase, the Garmin Fenix ​​7X Solar is huge and heavy. If the Apple Watch Series 7 is a sleek and curvy sports car, the Garmin Fenix ​​7X Solar is a bulldozer. It's big, heavy and butchery. But that doesn't mean it's ugly. It has a charm of its own and the machismo emanates from the liberal use of brushed metal. In many ways, it reminds me of the CAT S60 (Review) I reviewed several years ago. Its beauty lies in its functionality.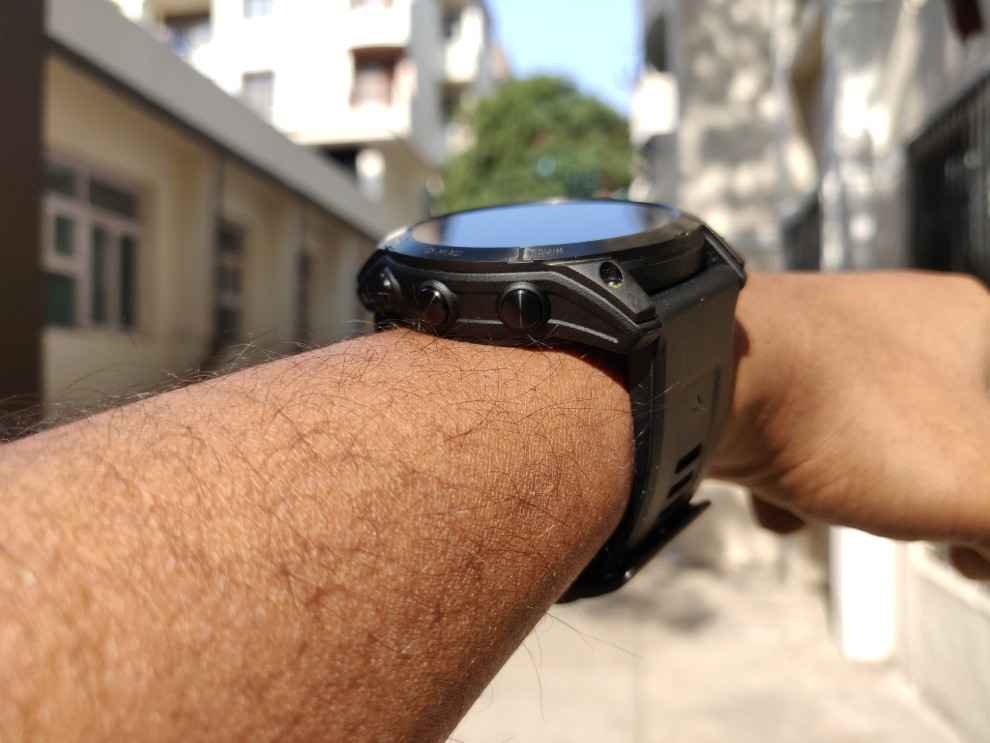 The case in the wearable is made of fiber-reinforced polymer with a metal rear panel. The bezel itself is made of titanium and DLC (carbon coated like diamonds in titanium). The strap is made of silicone. It should be noted that the strap has a classic buckle style for fastening.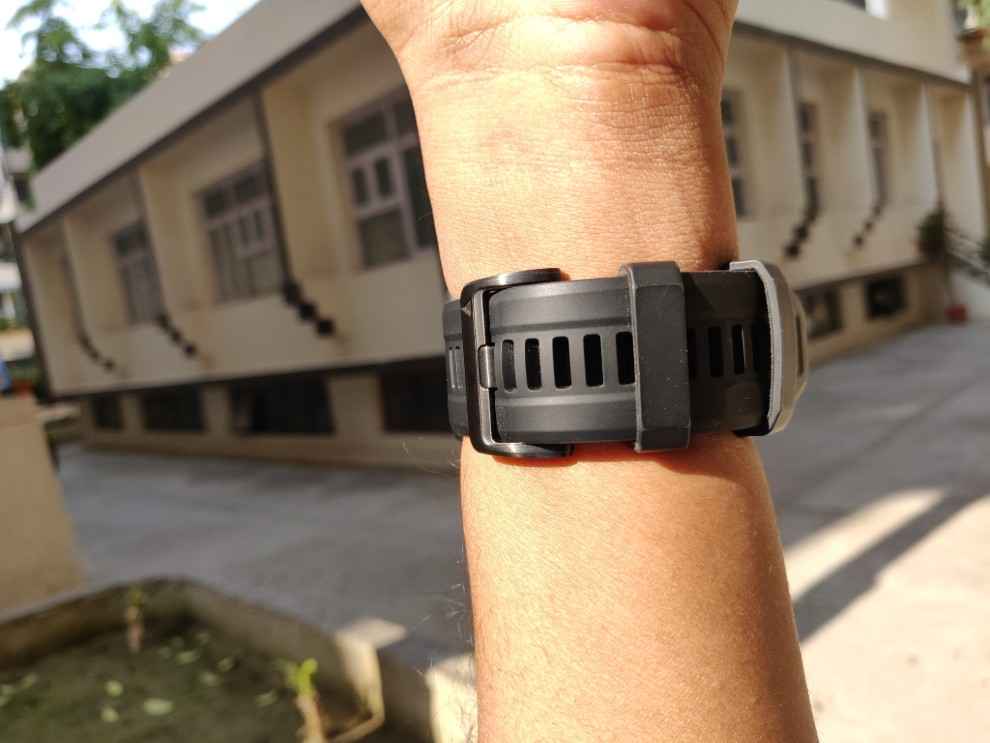 On the right, you'll find two buttons, one to start/stop activities, while the other is used to mark laps or go back to the menu. There are three buttons on the left side. The bottom one is used to scroll down, while the middle one is used to scroll up and access the menu. The top one turns on the backlight and can also be used to turn on the torch.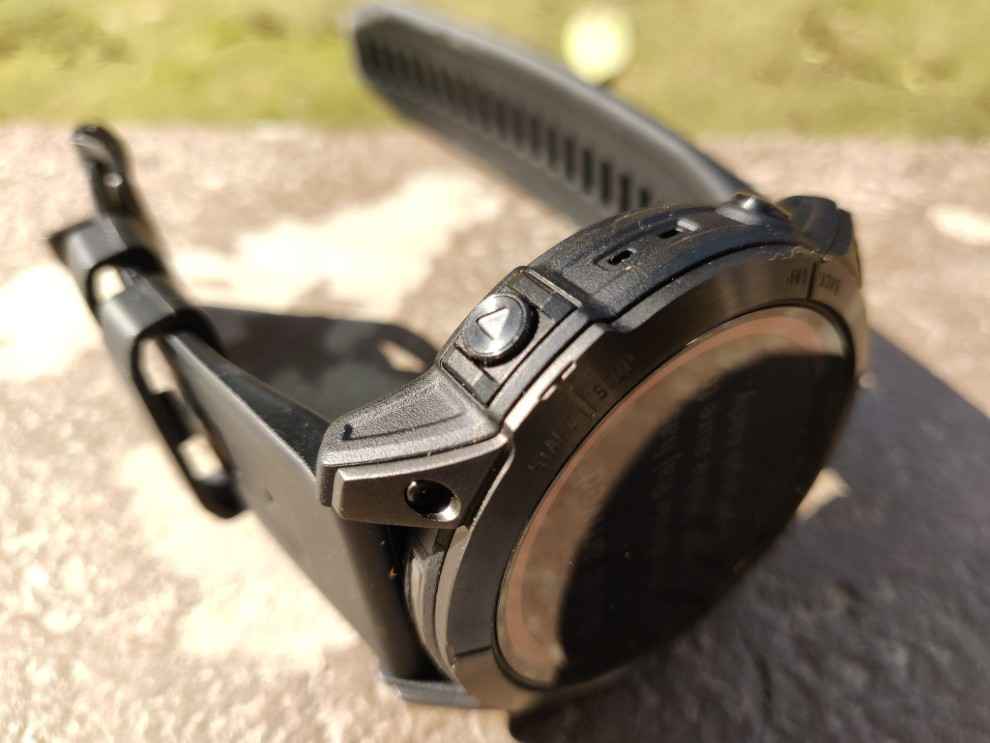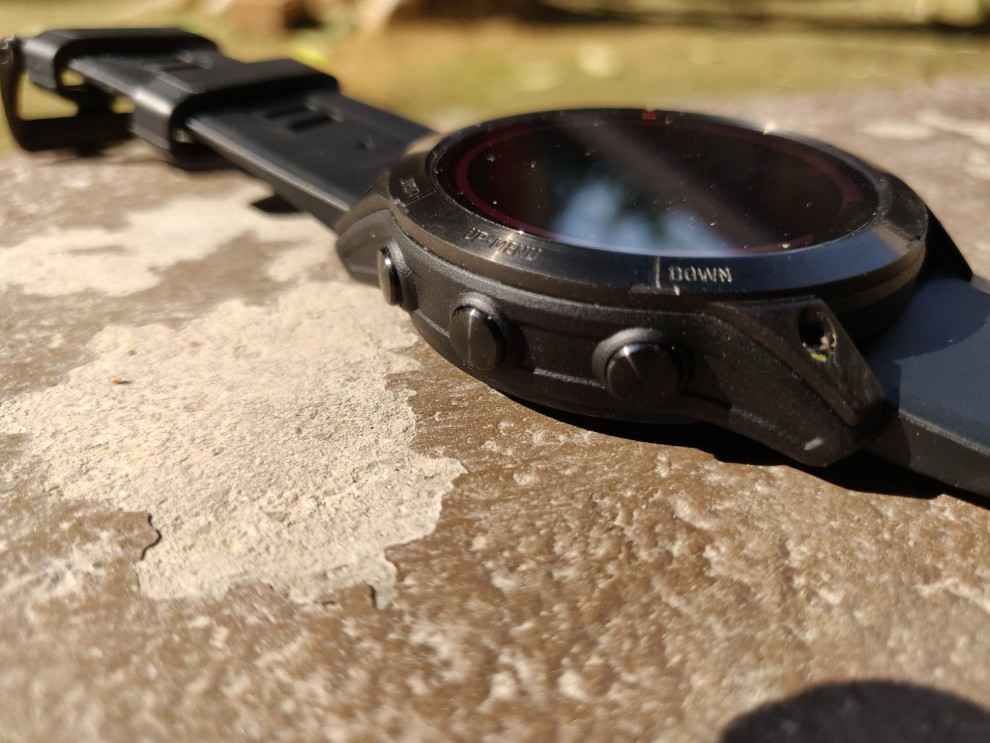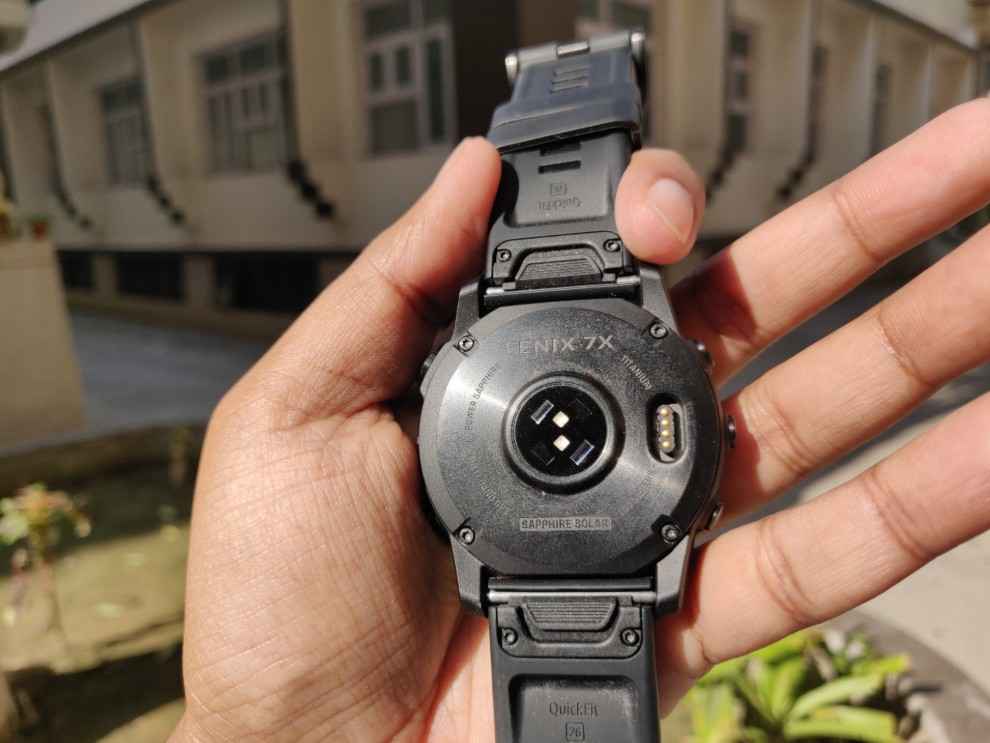 Flashlight provides multiple brightness levels and also provides red light. This light can be changed to strobe, pulse or blitz. It can also be used to signal for help and will light up to signal SOS Morse code, When in strobe mode, the light can be set to sync with the beat. So when the arm is on the forward stroke, it will light up in that, and on the backstroke, it will light up in red. This can be very helpful for night runners.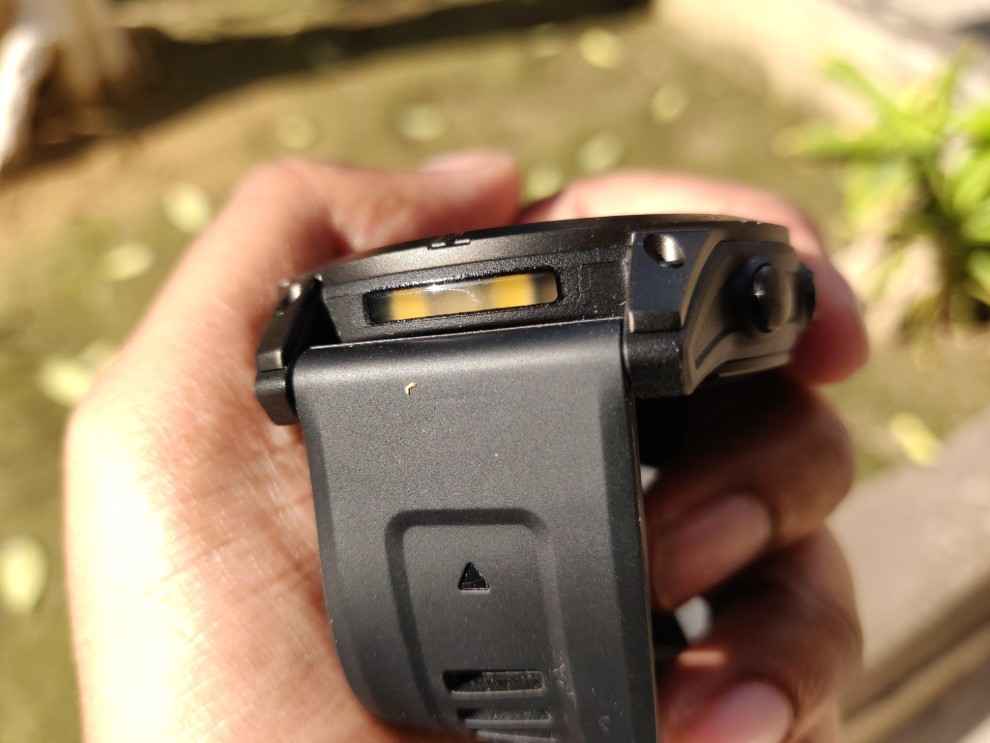 With a build like this, you'd expect a wearable and the Garmin Fenix ​​7X Solar feels like it can take on the elements. In a non-COVID world, I would have loved to take it out for a hike. But alas, I was not able to test the device to its limits. So I had to submerge the device in a bucket of water to make it work. Needless to say, it passed. It should also be noted that most wearable devices are rated for water resistance at 5 ATM, while the Garmin Fenix ​​7X Solar is rated at 10 ATM.
Garmin Fenix ​​7X Solar: Display and UI
The Garmin Fenix ​​7X Solar features a 1.4-inch trans-reflective memory-in-panel display. It's similar to some of Huami's watches and provides fairly good readability in bright outdoor conditions. While the display is fine, I really wish I could have had something like an OLED display, especially considering that the display doesn't get that bright, even with the backlight on.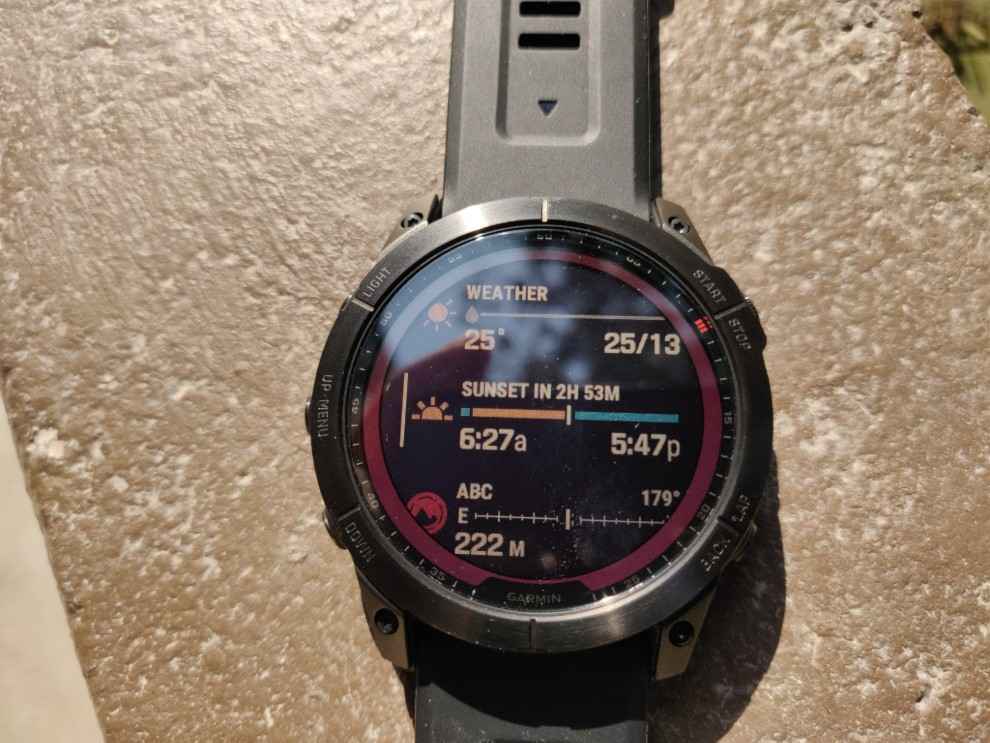 Of course, the Garmin Fenix ​​7X Solar lives up to its name by offering solar charging. Around the outer bezel, a solar charger can be seen. I'll get into the details about the wearable's solar charging capabilities in the 'Battery' section of the review.
As far as the UI is concerned, Garmin has carried over its traditional UI and integrated touch controls. This makes it very easy to use and scrolling through the menus very easy. But the fact that it can still be operated by buttons means that users can still access all of the wearable's features, even when they're wearing gloves. a neat touch.
The downside is that the UI is stuck in the middle. Using the physical buttons isn't nearly as intuitive as Samsung's rotating bezel or Apple's digital crown. Thankfully, users have full control over the menu. So they can choose to show their most used apps and features. This helps negate the issue of long and cumbersome scrolling.
As far as smart features go, Garmin isn't a fully fledged smartwatch, but you definitely get some basic features. This includes notifications, caller ID, and the ability to send some limited replies to messages.
Garmin Fenix ​​7X Solar: Fitness
The Fenix ​​7X is a multi-fitness device and Garmin takes this claim very seriously. The watch can track everything from walking, running, cycling, workouts and more. It can also track a variety of cycling, bouldering, skiing, surfing, rowing, racquet sports, etc. In fact, you can even download different golf courses. The app can find nearby golf courses and gives you the option to download them. But we are getting ahead of ourselves.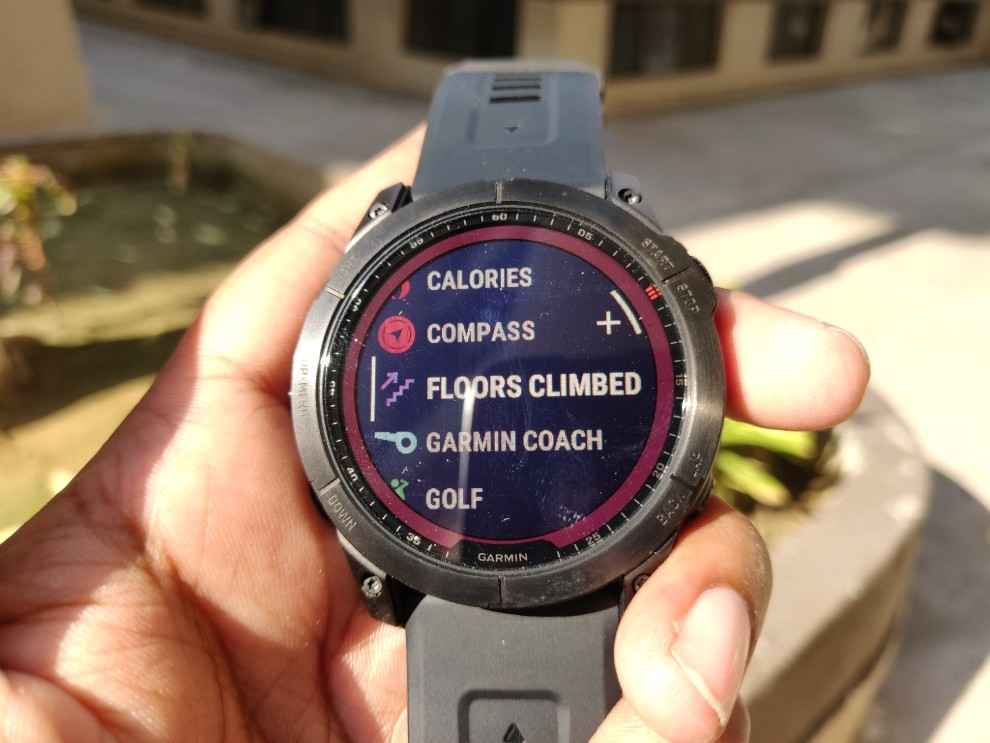 I tried my 7-minute workouts using the watch and it gives you all the basic information you'll need such as workout duration, calories burned and average heart rate. But you can always dig into the app to get very detailed information such as the primary mileage of your workout, exercise load, intensity and more. You can also access charts that track your heart rate. As far as heart rate tracking goes, the device seemed pretty accurate and I noticed a spike towards the cardio-heavy portion of the workout.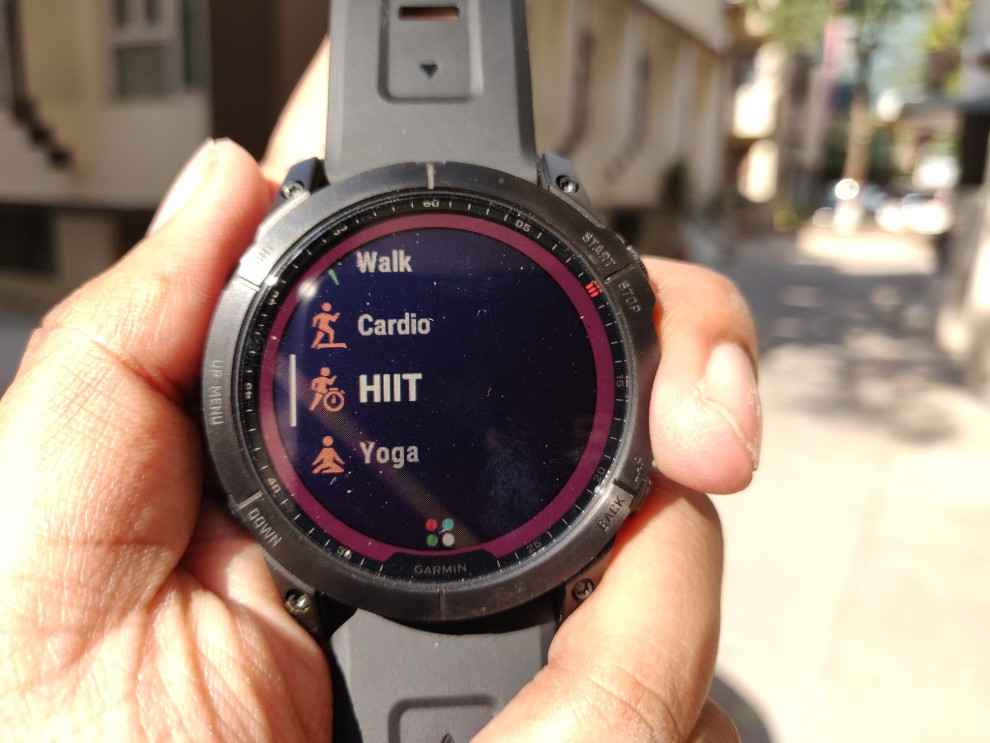 As far as GPS tracking is concerned, I went for a walk in my society and it tracked my movements quite accurately. It even tracked the moment I cut a corner. The only problem I noticed was that the GPS doesn't work very well indoors.
As far as sleep tracking goes, the Garmin Fenix ​​7X Solar can track sleep well. The device can track sleep duration and mark deep sleep, light sleep, REM, and wake times. It will also take SpO2 readings and measure respiration as well as movement during sleep. This is quite useful for people who may be suffering from sleep disorders like sleep apnea. The only problem is the Garmin Fenix ​​7X Solar's massive size which makes sleeping with it very inconvenient. More often than not, I take it off before I sleep.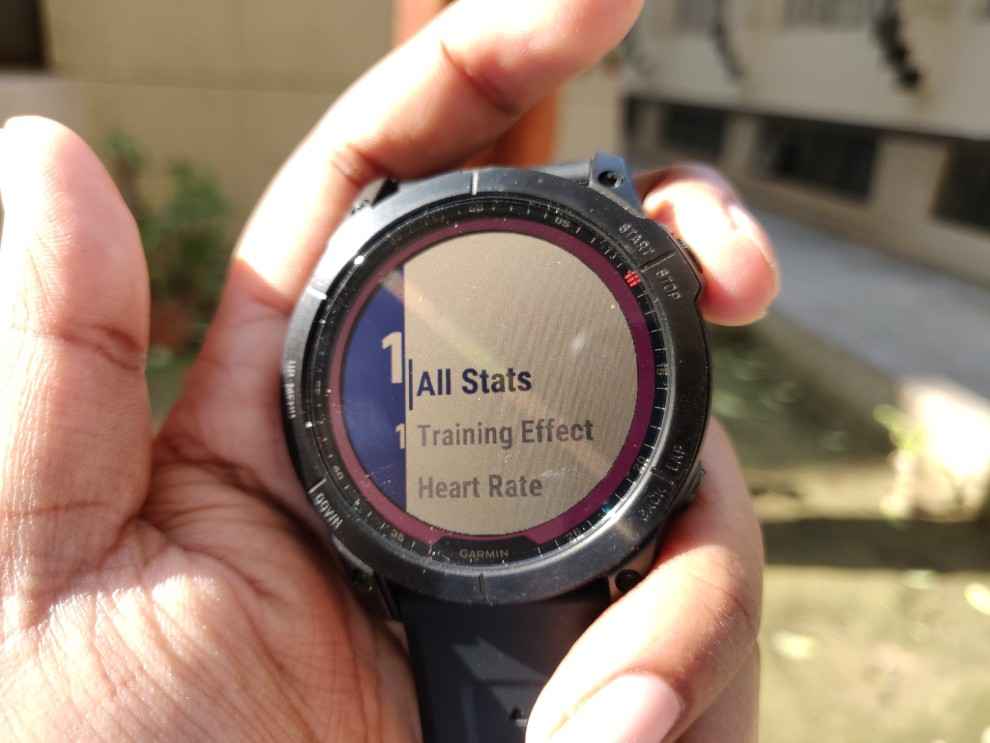 Garmin Fenix ​​7X Solar: The App
The Fenix ​​7X Solar connects with a smartphone via the Garmin Connect app. Pairing with the app is fairly straightforward just log in to Garmin and then the app will start looking for nearby devices. Then just follow the on-screen instructions to pair.
The app is quite rich in terms of information it provides to the user. The main page provides condensed information in cards. Tapping on any card shows its detailed information. Talking about detailed information. While the amount of information presented can seem overwhelming, Garmin has done a great job of explaining each metric and how it affects you. Just tap on any metric to find out.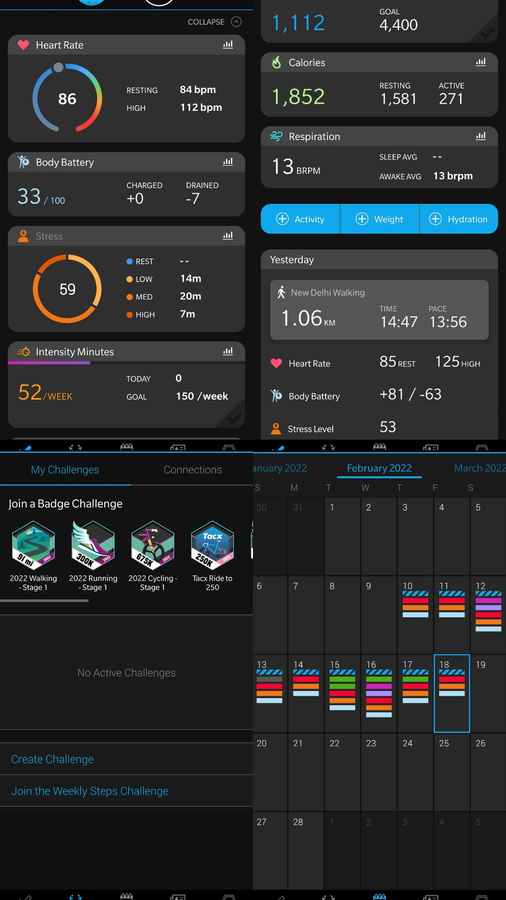 The app also features challenges that can help motivate users. In fact, users can even create their own challenges and share them with the Garmin community. Speaking of community, the News Feed section is a social platform of sorts for Garmin users where they can add friends and share their workouts. Lastly, there is the Calendar section where users can select any day and view all their activities for that day. Of course, like everything else, users can edit these if they want, by going to the drop-down menu,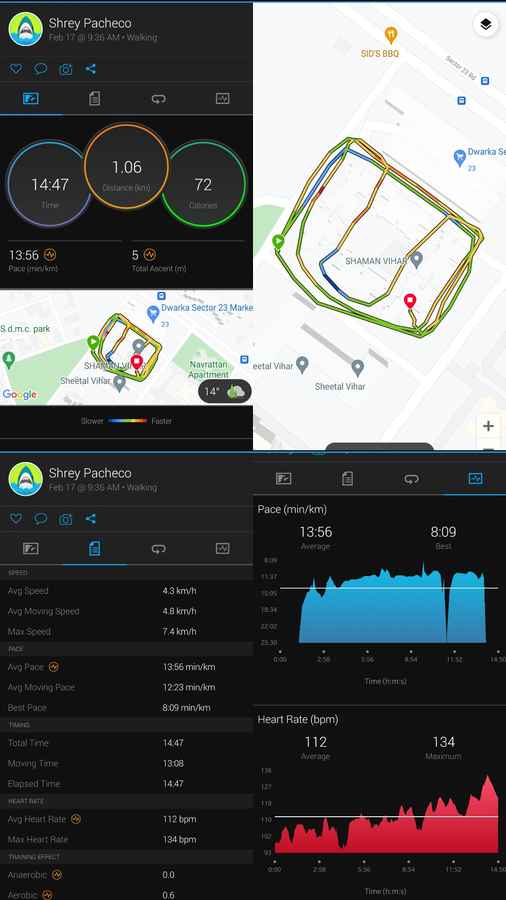 However, there is much more to the app! Go to the drop-down menu and you'll see even more options to help you customize your experience. From here, you can download tons of different workouts that you can access through the wearable. This includes HIIT workouts, yoga and more. If you are into golf, there is a separate option from where you can download courses.
While the Garmin Connect app is very detailed, there are times when I feel overwhelmed by so much information. I hope Garmin can find a better way to present the information without taking away any features.
There is another app called Garmin Connect IQ. The app gives users customization options for their wearables. Users can install not only watch faces but also apps like Amazon Music, Spotify or Deezer. The app can also be used to create your own watch face through the 'Face It' section.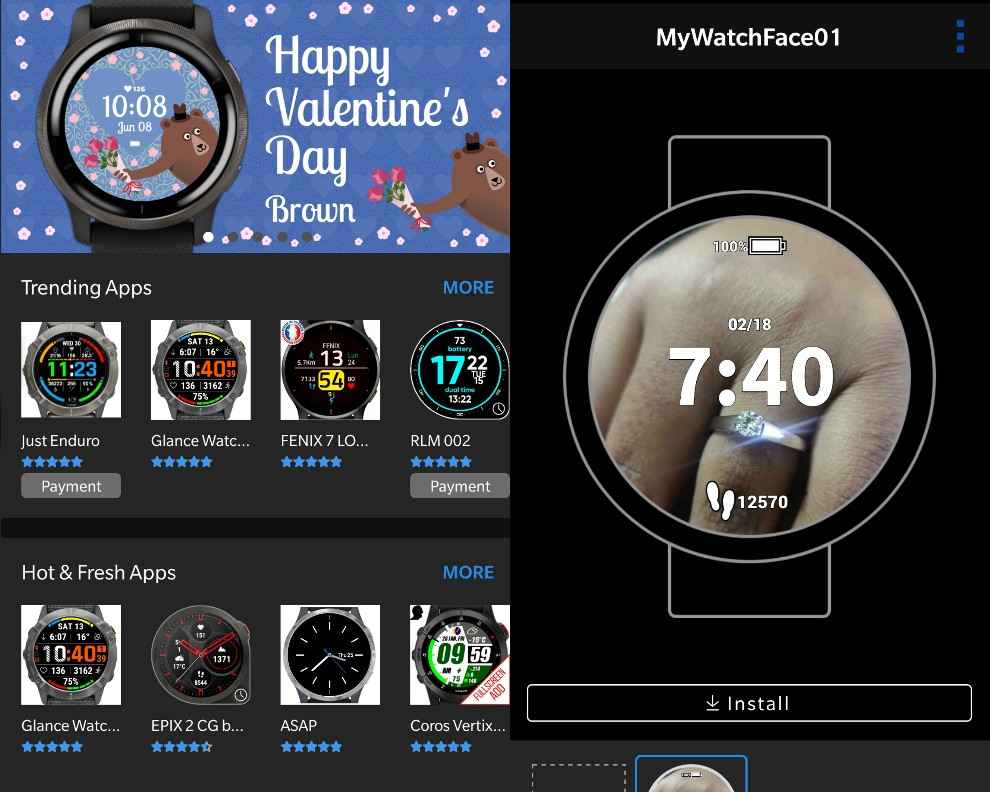 Garmin Fenix ​​7X Solar: Battery
The Fenix ​​7X Solar can easily last you a week of battery life. In fact, at the time of writing this review, the wearable hasn't been charged in just over a week and still has nine days of battery life left, according to the device. But it should be noted that this is with continuous heart rate and SpO2 monitoring turned on. A little more judicious use can go even further.
Battery life could have been extended even more had I been out more. The solar panel on the outer bezel of the watch helps extend battery life. And who's going to say no to that? However, it should be noted that the watch cannot run on solar power alone, it has to be charged via cable and this is where things get a bit frustrating. The Fenix ​​​​7X Solar is charged via a proprietary cable that plugs into a slot on the bottom of the device. Ideally, I would have liked wireless charging or at least a magnet-based charger. It seems pretty antiquated at this point, especially considering the cost of the device.
Garmin Fenix ​​7X Solar: Verdict
The Garmin Fenix ​​7X is probably the best multi-sport watch you can buy right now. It can do and track a lot. And on top of that, it's very accurate and the Garmin Connect app gives very detailed information. It has a solid build, excellent accuracy, and multiple activity tracking options. Extra features like a solar panel and built-in flashlight can be really useful. But, at almost a lakh, it's not something most of us would be able to afford. Regardless, if you want the best, not the money, and are okay with limited smart features, the Garmin Fenix ​​7X Solar is the wearable for you.
If you want something more affordable, and only do running or cycling, you might consider the Garmin Forerunner 55. It gives you excellent accuracy and all the juicy stats through the Garmin Connect app. But, you won't have to say goodbye to many features, including the touchscreen. If you're looking for a multi-sport watch with a beautiful design, the Fitbit Sense might be the fit. It's beautiful and offers a nice color touchscreen as well.
If you still want something that can handle the good outdoors but want better smart features, consider the Suunto 7 Black (Review, And if you want a smartwatch with good activity tracking, then the Apple Watch Series 7 or the Samsung Galaxy Watch 4 Classic might be the right thing for you.