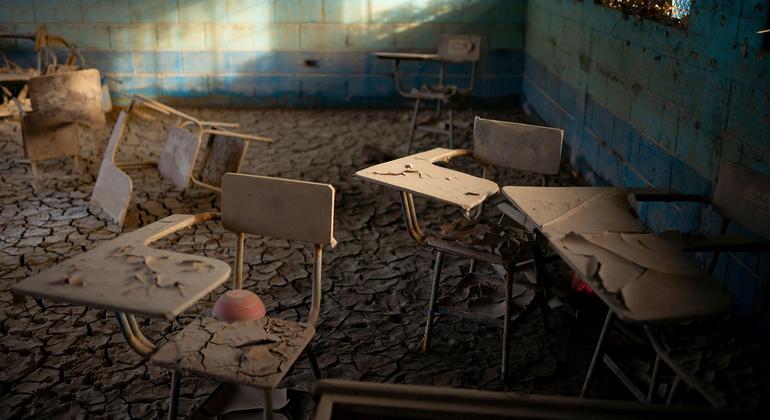 From Hurricane Ivan in Jamaica in 2004 to the earthquake in Peru in 2007 and Haiti in 2010, Raul, head of the Regional Office for Disaster Risk Reduction, has a sharp understanding of what the effects of disasters are, and what can be done to avoid them. developed or prevent them.
"We constantly face a reality that shows us that disasters, or the risks associated with disasters, are much more complex than we ever imagined.
For example, we have developed what we call 'governance systems' for disaster risk reduction in countries. Agencies are addressing risk, response or emergency response mechanisms in the context of natural hazards – climate-related, geological-related earthquakes, volcanoes, hurricanes, tornadoes.
From Pandemic to Nuclear Meltdown
But, reality is showing us that it is more complicated. For example, COVID-19, which is a form of corona virus One that has been present since the early 2000s was a biological threat.
When the Sendai Framework was adopted in 2015, it was not talking about natural hazards alone, but from man-made disasters to biological hazards – or the case of the 2010 earthquake in Japan and an understanding in a wider context of risk Was. Fukushima nuclear disaster.
This brought the idea of ​​a central framework to address all these threats and all the different cascade effects of the different threats.
'We create our own disasters'
We ourselves create disasters by the way that we choose to orient our development. If we decide on development, we ask how we are going to use our land, design for cities, or address public works, buildings of hospitals and schools.
We have to integrate this into future planning as well, especially since about 32 percent of the region's population lives in poverty and is likely to be directly affected by natural hazards.
making cities resilient
Much of disaster risk reduction is happening in cities, where we work with local governments and civil society through a resilience initiative. They do a self-assessment and prepare an action plan to address the weaknesses.
Recently working with some local citizens in Chile, we developed a disaster resilience "scorecard" that allowed us to identify or better integrate people with disabilities when planning the city.
Now, we work with local stakeholders in Chile and Costa Rica, implementing these mechanisms to save more lives and reduce mortality among vulnerable groups.
We learned lessons after the 2010 earthquake in Japan, which showed that people with disabilities suffered the most lethal consequences.
grass root solution
Working in local communities, we have had good experience working with grassroots organizations of women, for example, observing rivers during the rainy season. There are many women who work in these areas to activate early warning systems to alert people. The role of local communities in saving lives is quite obvious. We are trying to inculcate flexibility in them.
continuous disaster preparedness
It is not possible to think that we can achieve sustainable development if the process is not risk aware. Disasters set back the progress of development by 10 or 20 years. We have seen this on many, many occasions.
focus of sustainable development goals (SDG) is to leave no one behind and it is related to vulnerable population on the ground.
From time to time, disasters disproportionately affect vulnerable populations. Where this happens, we need to understand the risks in a more multidisciplinary way.
'The challenges are many'
Before the COVID-19 pandemic, the idea of ​​disaster risk reduction was to reduce mortality risk. Over the past 20 years, much progress has been made in protecting people from natural hazards, many of which are more and more climate related.
In the case of the Americas and the Caribbean, the impact of disasters in terms of economic loss is greater than in other regions of the world. A UNDRR The study showed that about 53 per cent of global losses occur in this sector.
One of the challenges is trying to move from a mindset of addressing the effects of disasters to integrating the perspective of what we can do before threats occur.
Disaster reduction should be considered a measure of poverty reduction because hazards disproportionately affect the poorest and women and girls.
bridge construction
One of the key aspects of this review conference is to assess how far we have come, and I think the progress the US has made in promoting a multi-sectoral approach to disaster risk reduction in the Caribbean region in general .
But, we need to continue this trend of understanding disasters not only through its impact, but also see them as opportunities to do things that go beyond the response approach.
It aims to fulfill the Sendai Framework as a society that does not lose lives due to disasters.
What amazes me is the capacity of local communities. We just need to support that ability to make a better impact. We join.
We build bridges. that's what we do."