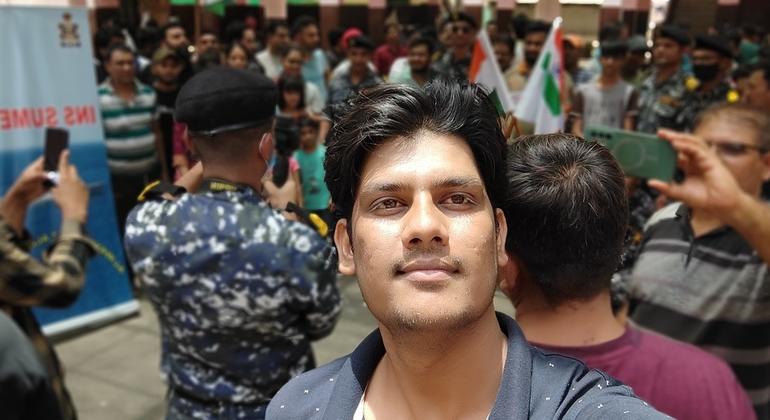 At the same time, UN agencies are also helping to provide emergency relief assistance, including the International Organization for Migration (IOM).iom), whose Displacement Tracking Matrix (DTM) aims to assist refugees and third country citizens who are desperately trying to escape war migration to neighboring countries,
Sudan's national army and a paramilitary unit, the Rapid Support Force (RSF), have been Locked in violent conflict since April 15, According to the United Nations, more than 400 people have been killed in the fighting. while ten thousand People are estimated to be internally displaced, including more than 100,000 who have fled to neighboring countries.
Mr. Sharma moved to Sudan in 2021 along with his brother. He was working at the Omega steel plant when the violence broke out and was living with 160 employees in a guest house on the company's compound, 15 km from the capital city Khartoum.
"We worked to clean up the environment by recycling scrap metal. I had been living there for about two years, and things were going well. Unexpectedly, on April 15, fighting broke out there. The two fought among themselves, and the airport was shelled and set on fire.
When the airport was destroyed, we were worried about how we would return to India. We were not even able to contact anyone in India. We were also trying to establish contact with the Indian Embassy, ​​but network issues made it difficult.
Fighter planes flew over the guest house where we were staying, dropping ammunition and missiles.
We were very worried about how to reach a safe place in Sudan.
robbery and intimidation
On 17 April, a group of armed men entered the guest house. We all locked ourselves in a room out of fear. They were vandalizing and firing indiscriminately and were talking in the local language which we could not understand.
Then they took one of our comrades hostage. He started shouting for help.
Mustering up our courage, we went to rescue him, and gave them whatever we had – mobile phones, laptops – and gave them the keys to the vehicles, and that's how we managed to send them away.
Trading cars for 'our lives'
We made a plan that as soon as the armed groups entered the guest house, we would not let them inside. We thought that as long as we had vehicles and mobile phones, our lives would be saved. We let them take whatever they wanted; We just needed our food to survive. We had to keep our ration hidden.
We let them take whatever they wanted; We just needed our food to survive. We had to keep our ration hidden.
They came again and again, hour after hour, and took what they wanted. They'll come, we'll give them a car, and they'll take it. There were 10 to 15 vehicles with us.
This went on for seven days. He used to come everyday and we all used to gather outside the guest house. During this time we could neither sleep properly nor eat food. When they came, we would go out and give them whatever they wanted. It was only by keeping calm that we were able to save our lives.
child soldiers
The strange thing was that most of those armed fighters were children, who were around 10 to 15 years of age. They did not know when and how to use weapons. A gun was being handed over to a child, who should have had a pen and a book in his hand.
Meanwhile, our families have not been properly contacted. At least 150 phones were stolen from us, but we hid a dozen. We faced severe network problems, but once we contacted the Indian Embassy, ​​evacuation efforts began.
'Immense sense of relief'
On April 23, an Indian Embassy bus picked us up, taking us on a journey of nearly 1,000 kilometers to Port Sudan. When we reached Port Sudan, we were finally relieved to see the Indian Army. We felt an immense sense of relief that our lives could be saved.
We can only pray for Sudan. It would be good if the UN could take some action, especially for the children who are being exploited by paramilitary forces.
The people of Sudan love us and are happy to help. Lots of respect for Indians. People are also crazy about Bollywood. Sudanese people listen to Hindi songs and Indian Bollywood stars like Amitabh Bachchan, Shah Rukh Khan, Salman Khan are easily recognized by everyone.
I hope everything returns to normal in Sudan soon."