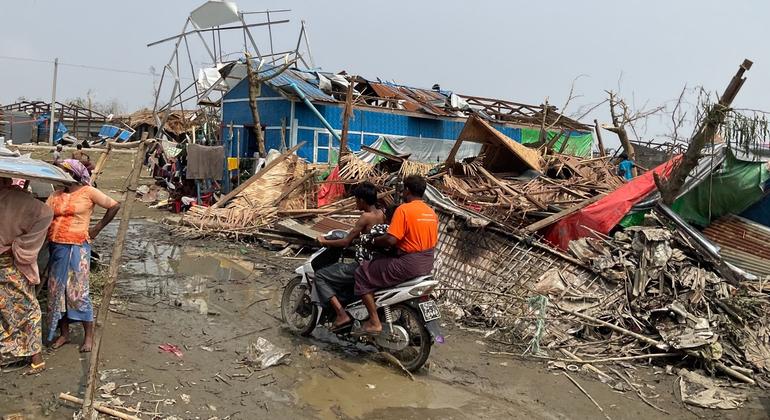 Hitting the Bay of Bengal with recorded onshore winds of up to 250 kmph, the storm battered villages in Myanmar's Rakhine state, forcing villagers to piece together their ruined homes. They wait for help and support,
The United Nations Aid Coordination Office said that according to news reports, Mocha tore off roofs, smashed fishing boats, uprooted trees and downed power lines and telecommunications, terrifying the population. ocha,
millions of people face hardship
"(Some) 5.4 million people are expected to be in the path of the cyclone, said Ramanathan Balakrishnan, UN Resident Coordinator and Humanitarian Coordinator for Myanmar. "Of these, we consider 3.1 million people to be most vulnerable to the effects of the cyclone by taking together indicators of poor shelter quality, food insecurity and poor coping ability.
"It's really a Nightmare scenario for this cyclone to hit areas with such deep pre-existing needs,
There is also torrential rain and devastating floods increased risk of landslides Ahead of the monsoon season, the OCHA official warned.
Concerns are high because the affected areas are home to hundreds of thousands of people displaced by the protracted conflict in Myanmar – most of them Muslim Rohingya from Rakhine – that erupted in a military coup in February 2021.
risk of disease
The "many thousands" who took refuge in evacuation centers now face a massive clean-up and major reconstruction effort.
Both the United Nations Refugee Agency (UNHCR) and the United Nations World Health Organization (WHO) said there is an urgent need for relief materials, shelter, water, sanitation and hygiene assistance to deal with it. high risk of waterborne diseases,
Health supplies have already been mobilized to treat 200,000 peoplewith water purification tablets, WHODr. Edwin Salvador, Regional Emergency Director WHO the regional office for South-East Asia told reporters in Geneva.
"In any flood zone where access to safe drinking water and sanitation is a challenge, there is still a risk of waterborne diseases such as Diarrhoea, caused by hepatitis and mosquitoes such as dengue and malaria,
urgent need to boost funds
Highlighting the urgency of the situation, OCHA appealed for international support without delay. "We need a huge amount of money to meet the huge requirements," Mr. Balakrishnan said. "Our humanitarian response plan is less than 10 percent funded as it stands now, and We simply will not be able to respond to the additional needs From Mocha
That appeal was echoed by the UNHCR in Bangladesh, where the 2023 funding request for the Rohingya refugee response is only 16 percent funded.
Bangladesh camps badly affected
As a result, food aid had to be done for the refugees. 17 percent reduction Earlier this year, UNHCR spokeswoman Olga Sarrado said. Although the impact of the cyclone could have been much worse in Bangladesh, there were refugee camps severely affected,
Cyclones are a regular and deadly threat along the coast of the northern Indian Ocean. Rising global temperatures contribute to their intensity.
"We are yet to get the full picture of damage elsewhere in the cyclone's path, but we fear for the worst Given that most shelters in this extremely poor part of the country are made of bamboo, there was little chance for them to withstand these winds," said Mr. Balakrishnan of the UN.
A community leader in one of the camps for internally displaced people in Sittwe, Rakhine's shattered capital, said the storm had left a huge trail of destruction and swept away shelters and toilets, killing thousands of people. People lacked even the basics of survival. ,
"They said The immediate needs are shelter, clean water and sanitation.the UN official said.