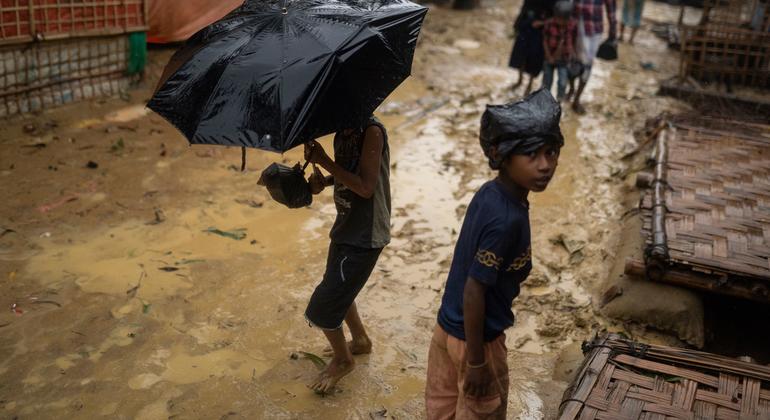 ocha said that the communities there had spent the day cleaning, and counting the cost The storm, classified as extremely severe, when it slammed into Myanmar's western states and regions on Sunday, brought gusts as strong as 250 kmph – with heavy rain continuing to lash some areas.
Authorities and humanitarian aid agencies launched a massive evacuation plan before the storm made landfall north of Sittwe.
six million are already in need
According to OCHA, as a result of years of conflict and displacement, humanitarian needs in Rakhine state and northwest Myanmar were already dire before the cyclone's arrival, with nearly six million people already in need of relief assistance.
Today, Hundreds of thousands of Rohingya living in temporary shelters where their movements are restricted by the military regime, which declared the whole of Rakhine a disaster zone in the wake of Mocha.
The first reports indicated that the worst of the cyclone spared the major Rohingya refugee camp complex in Cox's Bazar in Bangladesh, which is home to nearly one million Rohingya refugees, most of whom fled persecution and violence in Rakhine in the summer of 2017 Were. ,
Most of Sittwe destroyed
But news reports indicated that although not as dire as predicted, many were still killed in Myanmar, and hundreds of thousands of Rohingya were left homeless.
OCHA said there was widespread destruction in sitwe, with some houses standing. Many crude long bamboo houses were destroyed in the displacement camps.
,Communication with teams on the ground is still limited But early reports suggest that the damage is significant, particularly in Rakhine, and that Needs will be greater in all communities", the OCHA situation report said on Monday.
"Extremely strong winds downed power lines, uprooted trees, and damaged and destroyed homes. The storm surge broke bridges and flooded homes."
Health, relief materials, shelter, and water, sanitation and hygiene needs are already being added deadly danger of landmines In conflict-affected rural areas, after being relocated during floods.
cell tower damaged
Communication with partners on the ground was partially restored during the day but later still limited Extensive damage to telecom towersOCHA continued.
Water and power services have been severely disrupted throughout the day, with generators now the primary source of electricity for most people due to downed lines.
humanitarian partners are working to start Rapid need assessment in the area on Tuesday, To confirm the magnitude of impact from the cyclone and the immediate assistance required.
Initial reports of widespread flooding and needs have also started pouring in from the north-west – a region that is also heavily conflict-affected.
desperately need funding
OCHA said a must money injection There was a dire need to "facilitate a full-scale response to the impact of the cyclone and subsequent flooding" to aid in the recovery. To date, the $764M Humanitarian Response Plan (HRP) Only 10 percent is funded.
Some IDPs are still living in cyclone shelters near displacement camps Some reports of injuries and need for medical treatment, Those living in temporary shelters such as schools need support.
Movement is challenging and debris removal is in progress. Heavy traffic was reported during the day due to large numbers of people returning to their Sitwe homes from inland areas, as well as debris on the streets,
Rohingya shelter damaged
news reports suggest that around 3,000 Rohingya shelters were damaged During the passage of Mocha, some were completely destroyed. The country's refugee commissioner reported damage to 32 educational centers and 29 mosques.
In refugee camps where 120 landslides were reported, at least 5,300 refugees were reportedly relocated to more secure locations, while the Bangladeshi government said 250,000 needed food and shelter across the region by Sunday night.
Authorities in Bangladesh had evacuated about 750,000 people before the storm.