Building on the tremendous success of Beyerdynamic's DT 900 Pro headphones, the Beyerdynamic DT 900 Pro X promises immersive listening on any device without the need for external amplification. Priced at Rs 28,999, the Beyerdynamic DT 900 Pro X is an open-back circumaural pair of studio headphones designed for professional musicians, DJs, audio engineers and audio mixers. Between the DT 900 Pro and DT 1990 Pro, the DT 900 Pro X is a mid-range solution we were excited to try. Let us find out how it fared during our testing.
Beyerdynamic DT 900 Pro X: Build and Features
The Beyerdynamics feel luxurious for more than their cost; From the plush velor ear pads to the brushed metal headband, the DT 900 Pro X emit a premium air. At the same time, the headphones don't look ostentatious, allowing them to blend in easily with other equipment in the studio or your home set up. The open-back design means the cups are well ventilated but this design allows for leakage and ineffective passive isolation, so it's best to use them in a closed studio.
The build also uses plastic for the outer cover of the headband and ear cups, but it doesn't feel as cheap. The use of some plastic allows the company to reduce the weight to 345 grams, but these are still heavy headphones that cause some fatigue after a few hours of use. We especially felt a hot spot on the top of our head once in a while, which can be quite uncomfortable. We would have liked if the headband cushion was a bit bigger. On the other hand, the memory foam ear cups were soft and extremely comfortable over the ears.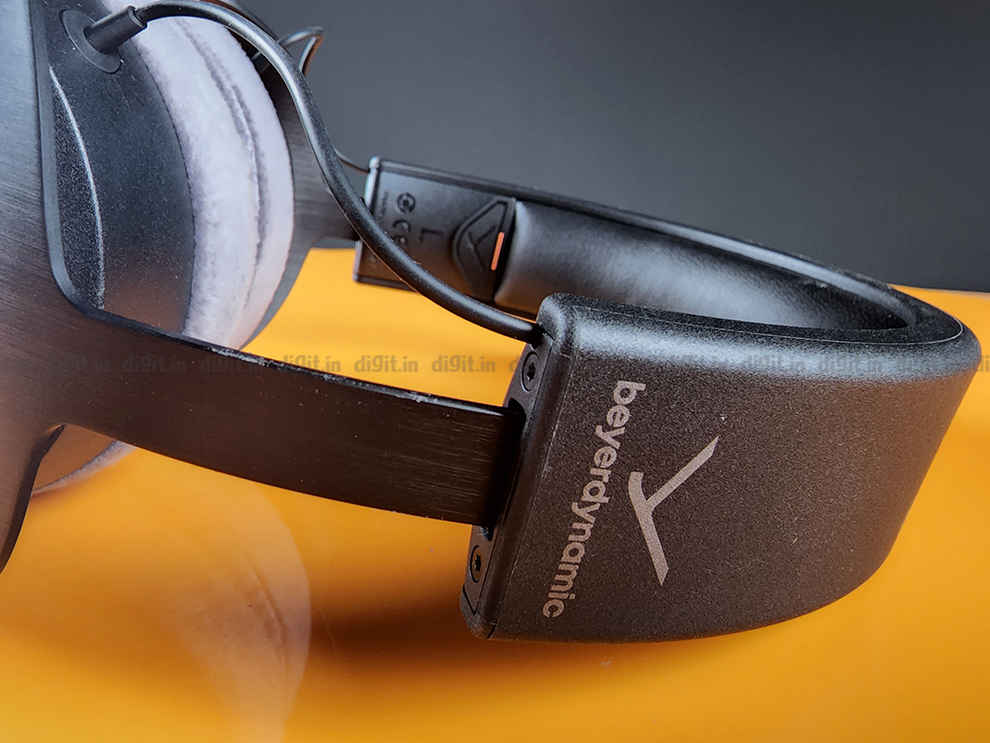 The headphones expand quite a bit, so even people with large heads will have no problem fitting these headphones. The clamping force is great and the headphones stay in place even when you walk briskly around your apartment. These are very comfortable studio headphones, but we've experienced a higher level of comfort on some of Sennheiser's studio offerings.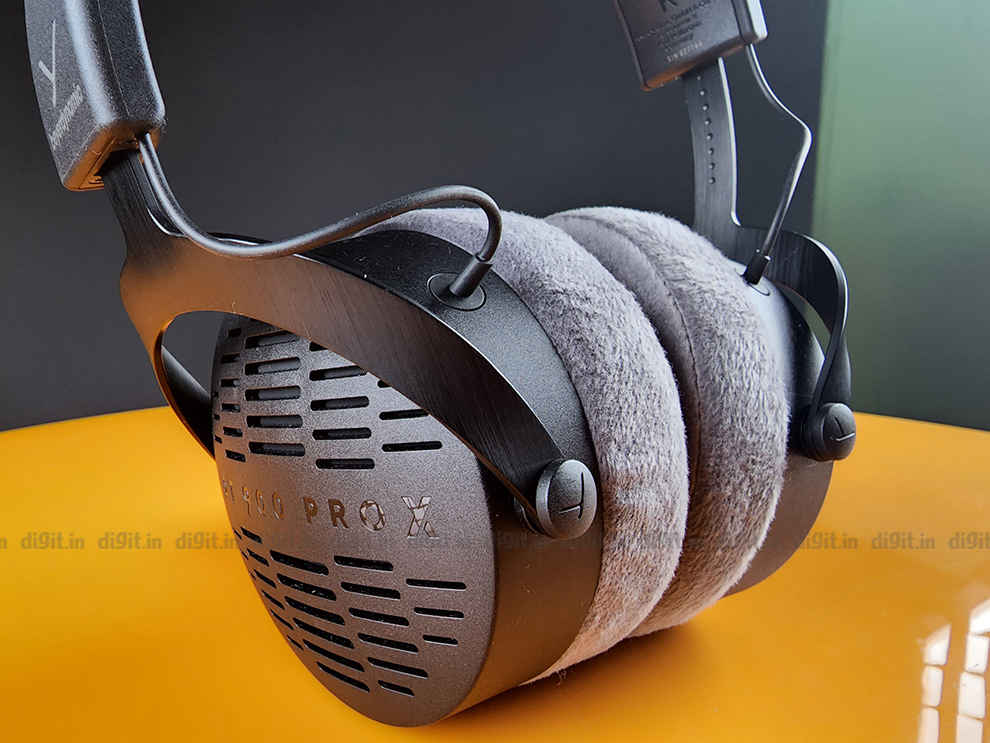 There's no folding mechanism and the ear cups don't rotate, so these aren't easily portable headphones. Either way, not many people will step out with these studio-grade headphones on a daily basis, but Beyerdynamic offers a cloth carrying case in the box if you need to transport them.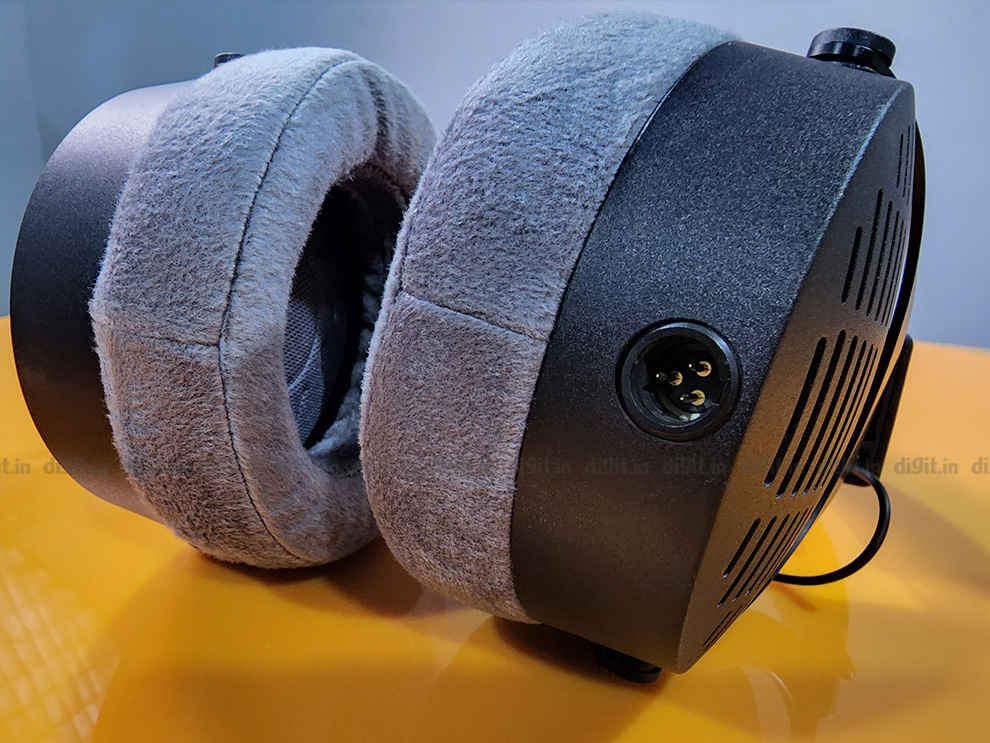 Coming to the box, the Beyerdynamic DT 900 Pro X comes packing two swappable 3-pin Mini-XLR cables in the box along with a 3.5mm jack for your device at the other end. Cables come in different lengths – 3-meter and 1.8-meter. Beyerdynamic also includes a ¼-inch adapter that screws onto a 3.5mm connector, so you can connect headphones to the audio interface if necessary. Additionally, the headphones come with a range of replaceable parts, including headphones, ear pads and even the STELLAR.45 drivers, but sourcing them in India could be a problem.
Beyerdynamic DT 900 Pro X: Performance
The Beyerdynamic DT 900 Pro X are open-back studio headphones, meaning that air and sound move freely through the grills on the ear cups, allowing for a more natural and open sound. This often comes at the cost of isolation. Open-back headphones are also more prone to leakage, so keep all of these things in mind before buying the DT 900 Pro X, or any open-back headphone.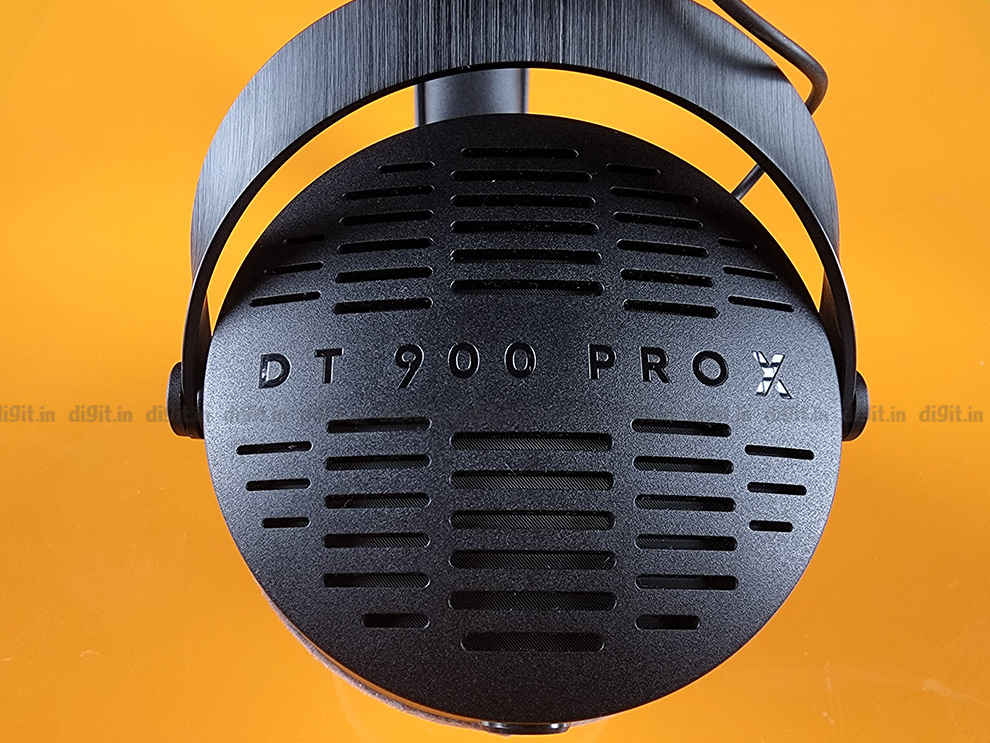 With a low impedance of 48Ω (ohms), the Beyerdynamic DT 900 Pro X can be powered by most devices including mobile phones, laptops, tablets, PCs and audio interfaces. There's no real need for external amplification as was the case with previous Beyerdynamic studio offerings with 250 ohms of impedance. These headphones come packed with Beyerdynamic's STELLAR.45 drivers with a frequency response of 5 Hz – 40,000 Hz.
The Beyerdynamic DT 900 Pro X is meant to serve as an upscale audio playback solution for sound engineers, mixers and critical listeners, and it does exactly that. For beginners, the sound can be a bit jarring, since these headphones do not try to reproduce the sound in a pleasant, pleasant way, but as it is. So, there are times when you will hear overly harsh high notes, unpleasant thump of low bass, which consumer headphones usually fall short of. But all of this is present in its full glory on the DT 900 Pro X because its job isn't to shelter you from unpleasant frequencies but to give you an honest, clear representation of the sound.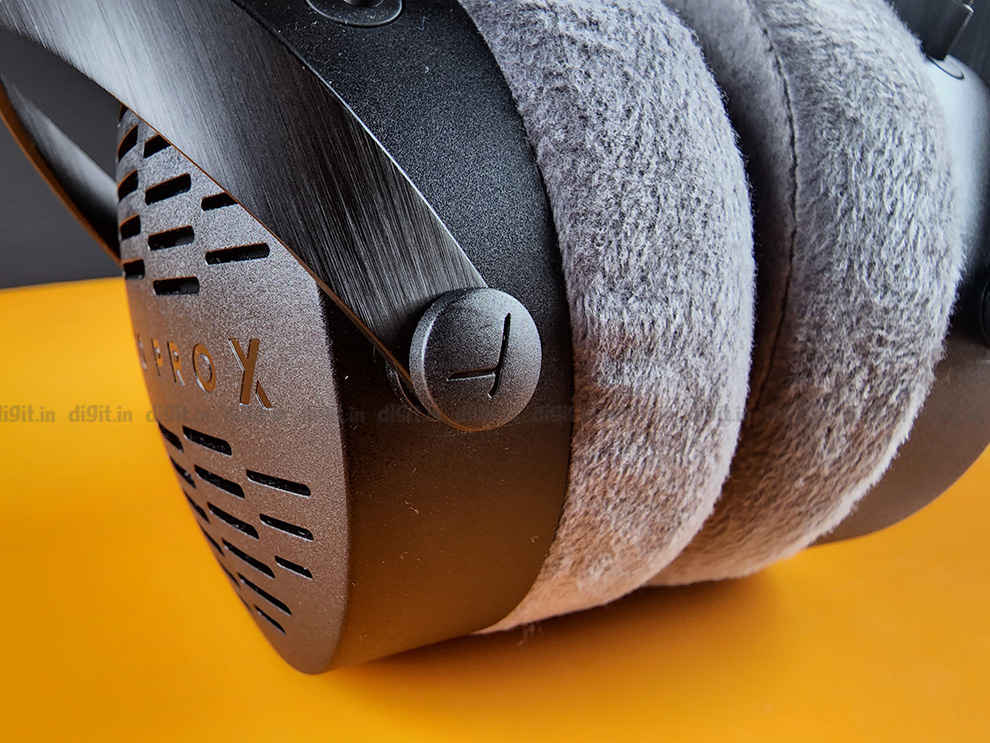 Result? You'll hear detail in tracks you've never really experienced before on consumer-grade headphones. In songs like Pull Me Under by Dream Theater, you can hear every guitar pluck or drum hit perfectly – and sometimes, you can even catch mistakes on older recordings. This really helps to allow musicians and mixers to create the best-sounding tracks possible. Of course, higher-end studio headphones produce this upscaled sound with slightly more accuracy and a wider soundstage. The soundstage on these headphones is quite limited which can introduce some inaccuracies in the imaging. However, for the price, these are natural-sounding studio headphones that can be powered by most devices you own.
Beyerdynamic DT 900 Pro X: Verdict
The primary difference between the Beyerdynamic DT 900 Pro X and the original DT 900 Pros is that the former brings with it better comfort, replaceable parts, and less impedance. If these features are not important to you, it would be prudent to buy the DT 900 Pro instead and save over 15K of your hard earned money. However, if these features matter, what you're getting for the price is a clean and natural-sounding pair of studio headphones with a sturdy build and the ability to be powered by most of your devices. It's one of the best mid-range options on the market for sound engineers, mixers, DJs, and musicians. An excellent alternative from the Sennheiser camp is the Sennheiser HD 600 which also delivers accurate sound reproduction.